The month of May is a really special month for Mobile Legends: Bang Bang, and plays host to such a wide array of events. In particular, the 515 E-Party events are having yet another interesting sub-event to pay attention to the Mobile Legends Indonesia All-Star Game 2021. Like most sports, fans will continue to imagine and wonder what the outcome will be like when their favorite celebrities play face-to-face with the best of the best in the league. This All-Star Game will satisfy exactly that and will showcase some of the most popular pro players and streamers in an epic duel.
---
Mobile Legends Indonesia All-Star Game 2021: Participating teams
Historically, there has been a fair share of celebrities, streamers, content creators, and of course professional MLBB players that have graced fans with their presence in these All-Star Games. Big names like Emperor, RRQ Lemon, Oura, and EVOS REKT will be part of the lineups this year, with the former 2 acting as Team Captains. Teams are assembled in a draft pick, similar to how the match will be played. You can find the video of the full draft here.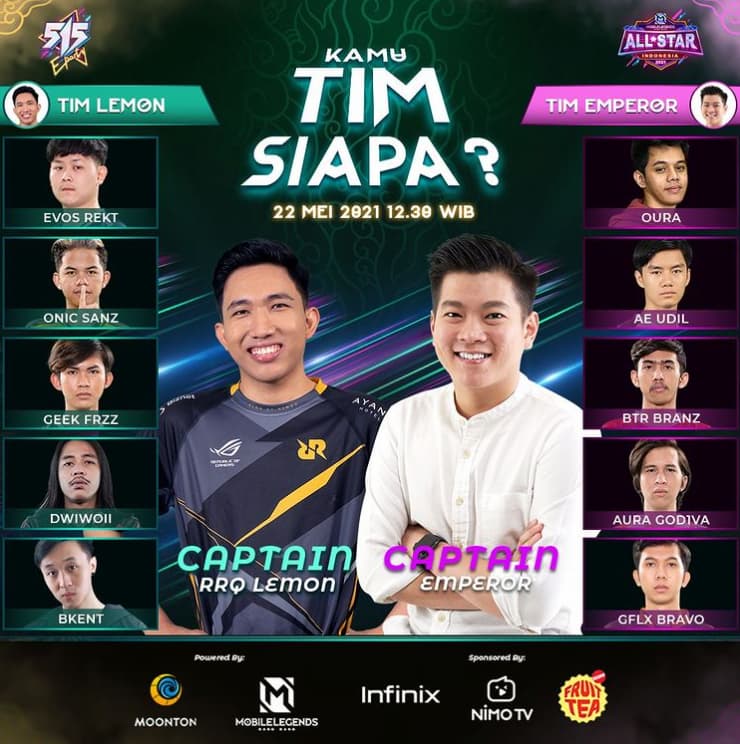 Both of these teams have quite the hurdle ahead of them, with a good balance of pro players and streamers to complement their skills and chemistry. For Team Lemon, Rekt and Sanz are good picks because of their historic performance in Season 7 of MPL ID. Dwiwoii and BKent are pretty renowned as popular streamers for their reactions in games and their uncanny ability to produce high-quality "freestyle" montage clips. Frzz serves as an anchor to the team, and Lemon rounds them all out with his enormous hero pool.
For Team Emperor, Udil and Branz are definitely the strongest picks, and will definitely have a good time together in the Mid and Jungle. Godiva and Bravo are both amazing Tank players, but will definitely pull out some surprises to stun the audience during the game. As for pro-streamers Emperor and Oura, they will certainly bring their years of expertise to the table and bring everyone a good time.
---
Where can I watch the All-Star Game?
The All-Star Draft may be over, but you can catch the All-Star Game as it premiers on the 22nd of May 2021 on the MLBB ID Youtube Page, as it will air starting from 12.30 pm (GMT+7). Mark your calendars, and be sure not to miss out on this exciting event!
---
What are your thoughts on the Mobile Legends Indonesia All-Star Game 2021? Let us know your opinions in the comments section below!
For more Mobile Gaming news and updates, join our WhatsApp group, Telegram Group, or Discord server. Also, follow us on Google News, Instagram, and Twitter for quick updates.