This post was last updated on
Like every other mobile game, when a new season comes out in Fortnite, players get reset all the way back to Level 1. They have to fight through different modes, battles and reach the top level of that season, which reaps a lot of rewards for them. If you're looking for an easy path to Level 100 while amassing all the Battle Pass rewards, then you've come to the right place. Here you will get to know the best tips and tricks to level up fast in Fortnite Chapter 2 Season 4.
---
How to level up fast in Fortnite Chapter 2 Season 4
The fastest way to level up in Fortnite Chapter 2 Season 4 is to earn as much XP as you possibly can. The best part is that XP is earned just by playing the game. However, just playing the game won't level you up as quickly as you may like to be in the game. To level up fast in, you are going to have to focus on certain key tips to farm XP.
1. Complete the in-game Challenges
Fortnite Chapter 2 Season 3 introduced skin-specific challenges. These challenges allow you to unlock things like emotes and skin variants for certain skin. Fortnite Chapter 2 Season 4 has Iron Man, Wolverine, and Thor challenges in the game. Focus on completing these skin challenges which is a great way to gain XP, as they don't require too much grinding to complete.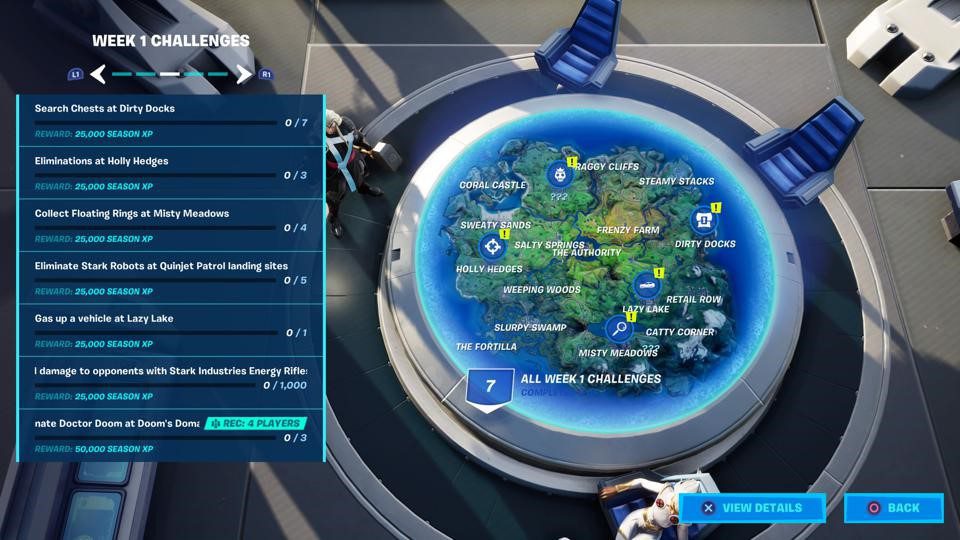 Punch cards will also give you a tremendous amount of XP because of how much grinding you have to do. Check your punch cards, and if you are close to completing, then try to grind it out for a nice XP boost. You can check the list of punch cards here.
2. Using XP Boosters to level up fast
There are a few different types of XP boosters in Fortnite Chapter 2 Season 4 that can help you get to the next level. You can earn them through the Battle Pass and will get more of them as you earn more tiers. Make sure to do your weekly challenges too, as that's another way to earn XP boosters.
The different types of XP boosters are:
Personal XP boost
Party XP boost
Flat XP boosts.
Personal XP boosts will double the XP you get for playing a game. Party XP boosts will only give an extra 40% XP boosts. But it applies to everybody in your squad instead of just one person. Flat XP boosts give you a large amount of XP, but only for one time.
3. Collect XP coins as much as you can
There are always new XP coins added to the Fortnite map every week. In Week 1 and 9 coins were put onto the map. Collecting XP coins is a very easy and quick way to level up fast in Fortnite Chapter 2 Season 4. They don't require much effort from your side. Moreover, all you have to do is find them and walk over them.
---
Conclusion
That is all about the tips and tricks to level up fast in Fortnite Chapter 2 Season 4. Even with XP coins, Punch Cards, challenges, and XP boosters, levelling up ultimately comes down to the daily grind. If you want to level up quickly, jump into a game everyday and take out those Daily and Weekly challenges. But even when grinding for XP, don't forget the most important part of Fortnite, having fun.
---
What do you think of the tips and tricks to level up fast in Fortnite Chapter 2 Season 4? Let us know in the comments section below!
For more Mobile Gaming news and updates, join our WhatsApp group, Telegram Group, or Discord server. Also, follow us on Instagram and Twitter and Google News for quick updates.