SpongeBob's Idle Adventures is a tap and collects idle game by Kongregate, an American video game publisher, and web gaming portal. Based on Nickelodeon's popular TV Series SpongeBob SquarePants, the game was released recently in 2021. If you are new to this game, we have compiled a guide of essential beginners tips that will come in handy as you progress through SpongeBob's Idle Adventures.
---
Gameplay Overview
Idle games, also known as Clicker or Incremental games are all about managing revenues and collecting currencies by performing simple and easy in-game actions where players spend earned currencies for the sake of earning more. And complete missions to get promoted to a new one. SpongeBob's Idle Adventure is similar to the other clickers with an interesting story behind it. The story is set in a way so that developers can continuously incorporate new locations, characters, events, and items into the game.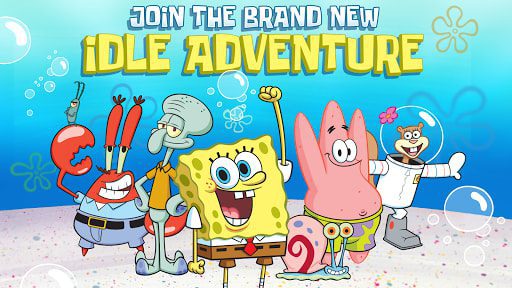 The game features iconic characters from the TV series. SpongeBob and Patrick made some errors to the vortex machine, a portal to travel other dimensions created by Sandy Cheeks, resulting in a catastrophe in Bikini Bottom. Now, players have to travel through different universes to fix everything in Bikini Bottom while interacting with doppelgangers of them.
Players have to complete the quests to reach the end of a dimension to travel into a new one. Completing a dimension will reward players with chests, upgradable items, and more. We don't have any data on how many levels the game has to complete the story. As the missions always get a new look just by increasing the target amount, update characters, or others, it will take time to reach the end.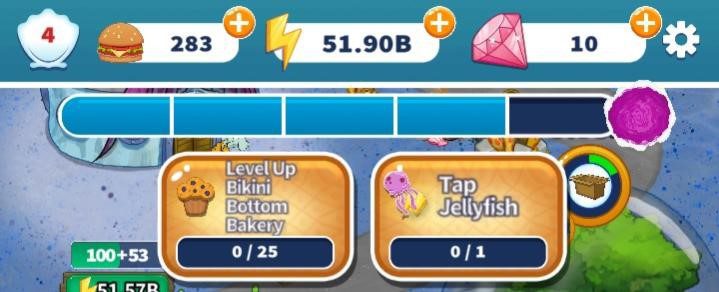 Players have to earn ranks to help SpongeBob, Patrick, Squidward, and the gang to rebuild Sandy's Vortex Machine. Besides, you can assign managers to run the Krusty Krab, the Chum Bucket, and other iconic Bikini Bottom locations.
Learning the basic items
So, the objective is to get out of a dimension as quickly as possible to enter into a new one. Charging the vortex machine is the only way to get out and it can be done only by completing quests. The list of quests is shown at the top of the screen.
The top left end shows the level you are at currently. The next three items are in-game currencies. Diamonds are the premium class currency with the highest value. The burger-looking item is called Krabby Patties, used for upgrading and the energy item is the often used currency. Your job is to earn as much as you can.

Just below the currencies, there's a bar showing progress to power up the vortex machine to get out of the dimensions. Players have to complete these to power up the vortex machine. On the middle right, there is a map and inventory. Maps are not much use as it is only for collecting rewards after completing a dimension. The bottom of the screen contains a shop, events, workers, home, and Ads. Boost item.
SpongeBob's Idle Adventures Beginners Guide: Tips and Tricks
The game though features tapping job only to collect currencies, but management is not easy every time. You have to focus on the numbers before spending and collecting. The game resets after completing each dimension but you can keep the progress. But, as the game is all about making currencies, a few tips to guide you make more sense if you want to progress faster.
1. Hire characters according to their abilities
Before hiring a character for any business you should always focus on its ability. Means, what outcome that character is going to give you. For example, Patrick's house needs residential-class workers. There are plenty of residential class workers comparing to other classes. So, before hiring one, just check their ability. Look if there are any high-ability characters are available. A character giving 6x profit is better than another giving 4x, simple math!
2. Converter class is important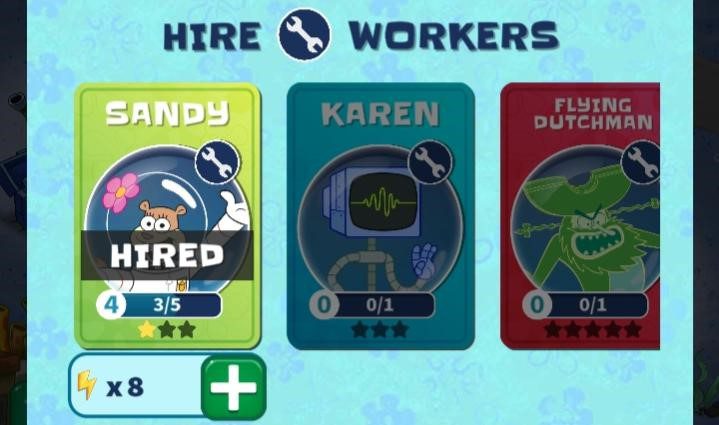 This class works for the vortex machine. And vortex machine is the primary source of earning energy. There are six converter class workers namely Sandy, Karen, Flying Dutchman, Harold, Muttonchop Cheeks, and Sharen. As there are not many, they are unlocked at a later level. So, you start with Sandy at first. Keep him in a continuous upgrade so that you get the best possible outcomes or earnings.
3. Jellyfish is not harmful here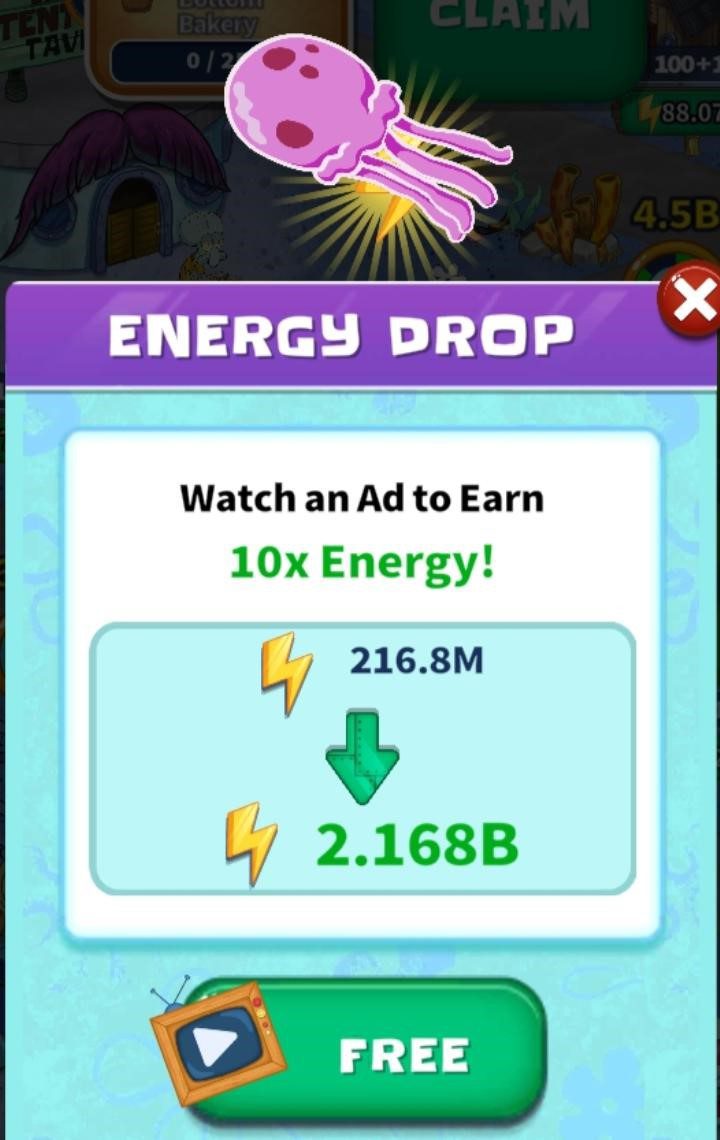 The Bikini Bottom has several types of species. While playing the game, you'll see a JellyFish just swimming over the screen showing you like catch me if you can. There are two of them by color, pink and blue. The pink one comes with an energy drop where players can watch Ads. To earn a 10x bonus on their earnings. The blue one comes with gems for you, and of course by watching Ads. to get them.
4. Upgrading business at the same pace
So, every time you start a dimension, the first business to build is the vortex machine. As this is a primary source of income, you may want to upgrade it whenever you've enough money. But slow down a bit as the businesses around you are closely related to each other. Keep your focus on those who complete around quickly, meaning that you're getting energy points often from them.
Upgrading a particular business will leave you with a lot of boxes to convert but not enough capability to turn them into energy. So, upgrade everything at the same pace. But give more focus to the vortex machine.
5. Do not hire the required class blindly
Some businesses like the vortex machine just require converter class workers while some can be run by different classes. For example, Spongebob's house needs food class mainly but can be run by hiring entertainment class as well. Just like our first guide, look at which one's going to give you more. If the entertainment class can give more than the suggested class then don't hire the suggested class blindly.
6. Look out for the fresh Krabby patties shop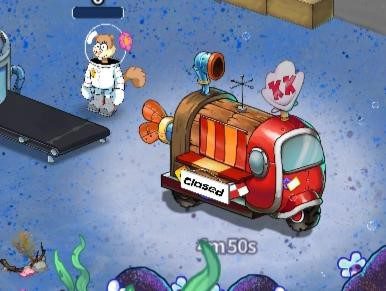 Just beside the vortex machine, you'll find the Fresh Krabby Patties Shop. It opens every five minutes. If you click on it, you'll see an invitation to watch Ads. Watching Ads. Will give you Krabby Patties. A bonus item is always good. So, watch the Ads and earn patties to upgrade the workers.
7. Play the events
Events are another useful source of income. You will earn unique characters from those. As the game is a new one, only one event has appeared so far. The most useful feature of an event is you can bring the unique characters and rewards from the events to the main game.
That's all for today's SpongeBob's Idle Adventures beginners guide. Did you find our SpongeBob's Idle Adventures beginners guide helpful? Do let us know in the comments!
For more Mobile Gaming news and updates, join our WhatsApp group, Telegram Group, or Discord server. Also, follow us on Google News, Instagram, and Twitter for quick updates.