Trailer Park Boys: Greasy Money is an idle strategy simulation tapping game developed by Canadian company East Side Games Studio. The game is based on the popular Canadian mockumentary television series Trailer Park Boys, created by Mike Clattenburg. Being released in 2017, the game is available on both Android and iOS. If a player wants to understand the game's basic mechanics, here is our Trailer Park Boys: Greasy Money Beginners Guide with some basic tips and tricks to help you to progress faster in the game.
Gameplay Overview
Trailer Park Boys: Greasy Money features the popular characters from the TV series. Ricky, Bubbles, and Julian manage their illegal business at Sunnyvale Trailer Park but the problem is to be constantly being hunted by their former trailer park supervisor, Jim Lahey, and his shirtless naked assistant, Randy. The business starts to make some bucks after they get out of jail but ended in the same jail after the boss fight at the end of each season.

Canada's economy is broken and so is the rate of its money. So, the numbers defining the cash are immense. Gamers will play to earn cash, hash-coin, character cards, liquor and will be completing missions to get promoted to the next season. New characters can be unlocked by collecting cards, level up by collecting liquor, hash, and cash to make idle money. Though the game said idle money, it's not idle at the beginning. Players have to grind hard to make progress as the game is slow.
The game often brings new adventurous events. The objective is not only to become the business tycoon of Sunnyvale but a target to see your name on the world leaderboard as well. The game is not for those below 18 years aged as it has so many f-word and mature talks.
Learning the Basics
The game has a wonderful tutorial to make you understand how the game works. In case you skipped it or didn't want to go through it, here you go again. Because the basic things will make you progress faster.
So, the game is about making money but to reach the end of each season, players have to complete the missions. They're shown at the top middle of the screen. Completing all of them will end in a fight with the boss of each season. After the fight, you'll be sent to jail and lose all the amounts of cash (dollars only) you generated, but the progress is saved. The initial build is shown at the bottom of the Sunnyvale map, the bottom bar includes a hammer icon for unlocking new business collections, the avatar icon next to it shows the collected characters and upgrade options.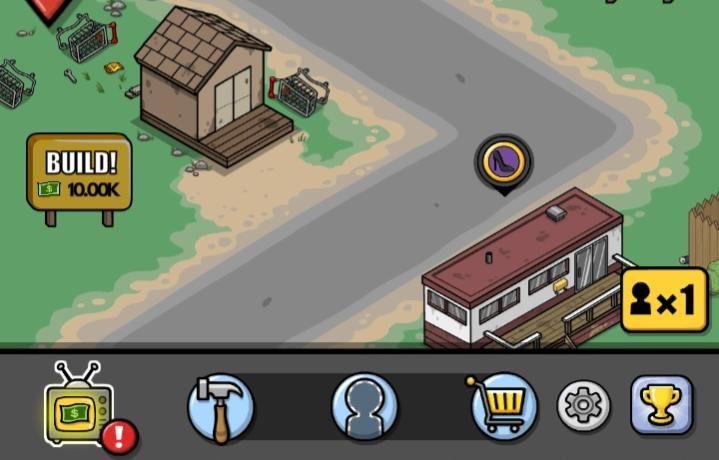 The TV icon at the left end is a very useful one. This offers to watch an ad. Which will increase the earnings by double. The leaderboard is on the right end, and another icon showing 1x or max is another important part that is used for adding maximum customers by one click. Every time you see an exclamation mark on any icons, meaning that you have enough cash, hash coins, or liquor to upgrade a character or business to the next level or to buy a trunk, or to open a business, etc.
Trailer Park Boys: Greasy Money Beginners Guide: Tips and Tricks
Running an illegal business and the management is not easy especially when everyone is watching over you. You'll fall into a pre-planned setup, lose everything except the progression, and end up in jail every time. But, as the game is all about making greasy money, a few tips to guide you make more sense though you're going to jail at the end.
1. Complete your primary objectives: The Challenges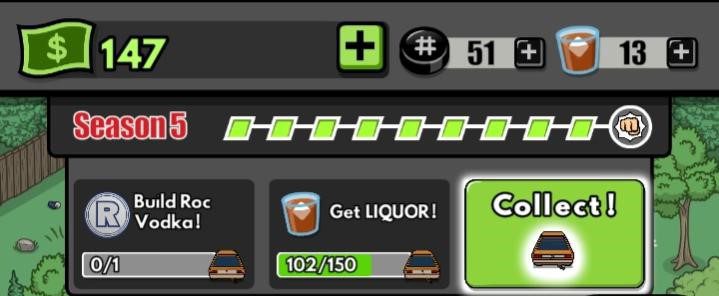 The objectives are simple and easy to complete and you'll complete them without any effort. The fastest way to complete a season is by completing the missions. Keep an eye on them and your focus should be on them.
2. Spend your money wisely
Each business needs a basic amount to build. After that, players have to invest in them to attract more customers. There's a customer number bar shown over each business. But we want you to look at the businesses that need less money to add customers but gives higher returns.
The values are shown, so it is simple to track them. The rate of profit of starter businesses decreases, but the rate is higher in the businesses which unlock later in a season. So, when enough money is earned to add more customers in a later built business, spend on them only. But you'll need to spend if the initial businesses do not have maximum clients, though you're not getting much profit.
3. Ads are the key to make greasy money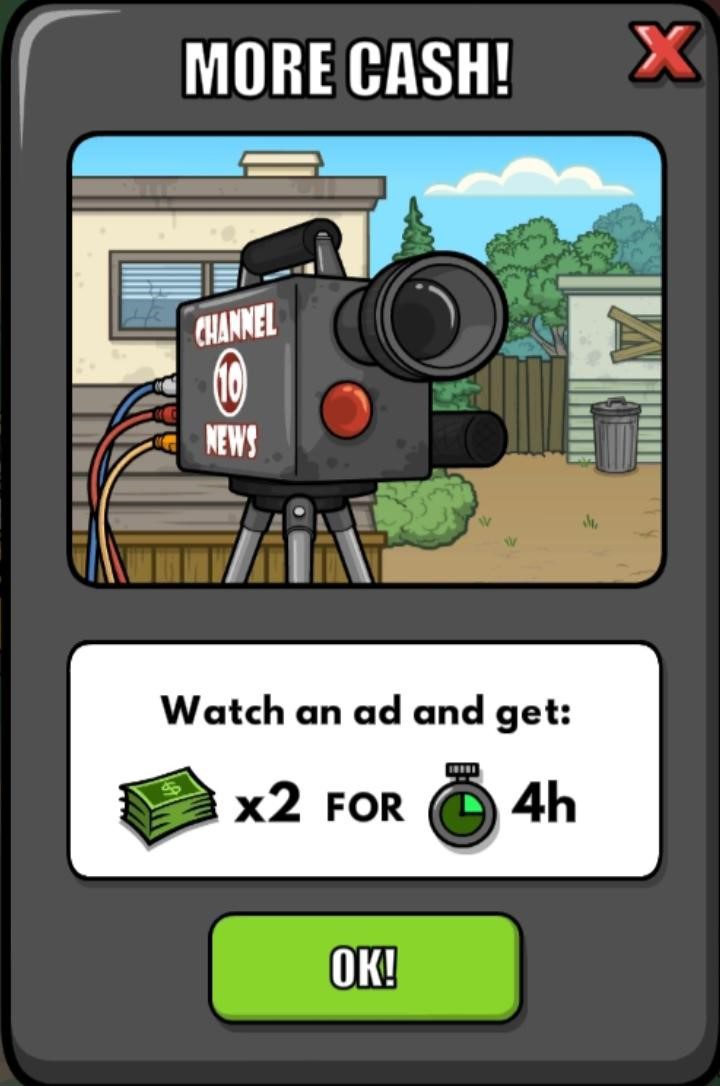 The game has a TV icon on the bottom left. Clicking it will offer you to watch an ad to double or boost your earnings. Apart from this option, there's another one to maximize your money. The Sunnyvale Trailer Park often gets reporters from TV channels (this reporter thing is shown in a metaphoric way to click on ads.). Whenever you see them, click on them without hesitating because they will double your money. A 30 seconds Ad. Is more efficient than a 30 minutes long season.
4. Participate in Special events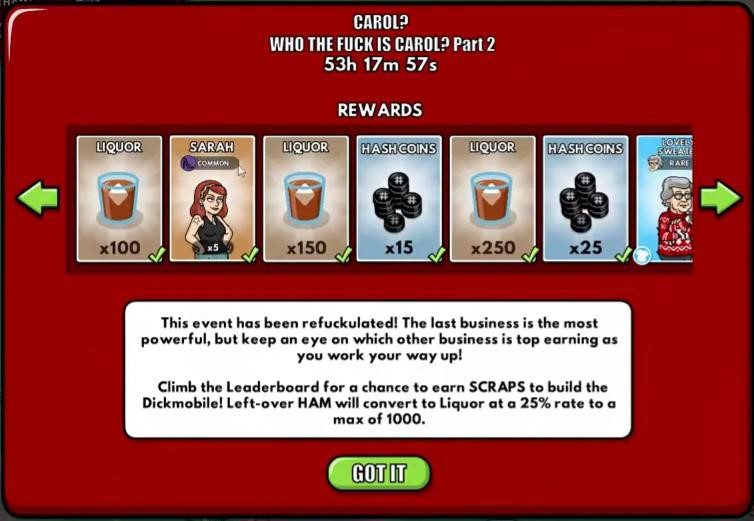 The game often brings special events. These are simple and mostly contain easy actions like just tapping. Based on your tapping speed, you'll earn freebies as extra income.
5. Keep upgrading the Characters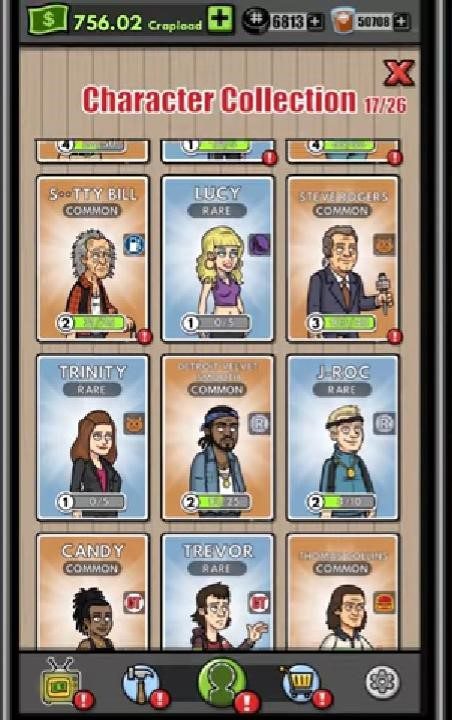 The game has two types of updates, business renovation, and character upgrade. Business renovation gives you a permanent increase in items like cash and liquors. But upgrading characters will improve powers to perform more taps in a boss fight, generate more cash in businesses. Upgrade the characters whenever you have the required items. In the end, it is all about money.
6. Improve your Auto-collector from time to time
The game lets you collect your profits from the businesses by appointing auto-collectors. They are your employees to collect the money when you're not in the game. Upgrade them frequently to improve their ability to collect cash from more businesses at the same time.
7. Use your Hash coins and Liquors efficiently
The hash coin is the premium currency and liquor in general. Use the hash coins only on the liquors as the game doesn't give many liquors in each season. Use hash coins to buy liquors only because the other upgrading items will come organically.
And, don't spend liquors on anything except to upgrade a character. You may want to use them to buy cards but don't. As we said earlier, cards will come organically. Spend them to upgrade characters only. Go ahead and give it a try and if you are finding trouble, don't hesitate to fall back to this Trailer Park Boys: Greasy Money beginners guide and tips!
That's all for today's Trailer Park Boys: Greasy Money beginners guide. Did you find our Trailer Park Boys: Greasy Money beginners guide helpful? Do let us know in the comments!
For more Mobile Gaming news and updates, join our WhatsApp group, Telegram Group, or Discord server. Also, follow us on Google News, Instagram, and Twitter for quick updates.