It is now easier for the public in China to report irregularities or exploits about gaming companies as National Press and Publication Administration (NPPA) has created a website as a "reporting platform for gaming companies' implementation of anti-addiction regulations", which is currently in a trial phase.
Such tight restrictions have been triggered by the spree of exploits by children around the verification system, along with the recent event in China where a child was found to have exploited the in-game verification system to play Honor of Kings that have sparked some attention.

Procedure to report gaming companies
A Chinese ID and a mobile phone number are required to report any gaming company's irregularities to the regulator through the website. The website runs under Beijing's regulation updates last month that limits gaming time for under 18 years-olds to between 8 pm and 9 pm on Fridays, weekends, and public holidays.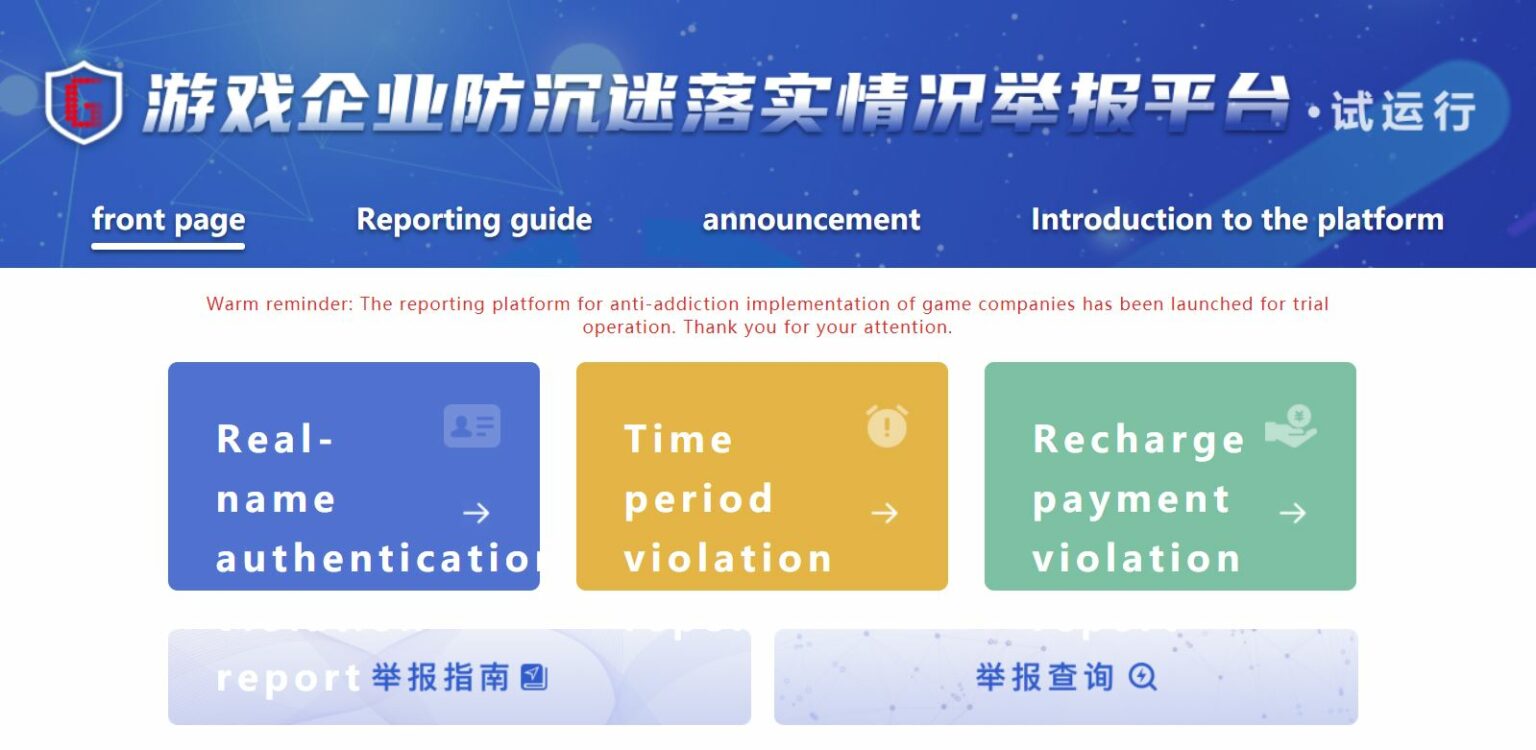 There is also a spending cap of 200 yuan a month for those aged between 8 and 16 years old and 400 yuan per month for those aged between 16 and 18. Further details on the spending amount can be found below.
Reporting conditions
Currently available are the 3 reporting categories:
Real-time authentication violation report: No-real name certification or falsified authentication using another real name.
Time period violation report: Game services provided from 20:00 to 21:00 on non-Friday, Saturday, Sunday and legal holidays, as well as a 1 hour time limit
Recharge payment violation report:
Users under 8 years old can recharge.
For users over 8 but under 16 years old, a single recharge exceeds RMB 50.
For users over 8 years old but under 16 years old, the cumulative monthly recharge exceeds 200 yuan.
For users over 16 but under 18, the single recharge exceeds RMB 100.
For users over 16 but under 18, the cumulative monthly recharge exceeds 400 yuan.
Reshaping the game industry
The gaming industry regulator in China encourages the public to report gaming companies for any violation of state regulations that are designed to prevent video game addiction in children. Last week, the Chinese Governing body, the NAPP, and other regulators held a meeting with more than 20 video games companies based in Shanghai, which included Tencent Holdings and NetEase, to plan and implement a strategy to effectively put Beijing's new video game restrictions in action.
Along with China's wide array of censorship, the video game companies also receive another criterion to censor in video games. Content in the video games that, as the authorities described, promote the "wrong set of values", "worshipping money", "effeminate portrayal" and "homosexuality" needs to be regulated. They were also asked to not focus purely on profit, rather protect children from the dangers of game addiction.
What are your thoughts on the public in China now being able to submit violation reports against gaming companies? Drop your opinions in the comments!
For more Mobile Gaming news and updates, join our WhatsApp group, Telegram Group, or Discord server. Also, follow us on Google News, Instagram, and Twitter for quick updates.