Hot Lap League: Racing Mania! is a brand new arcade racing title from Ultimate Studio Pty Ltd, a studio that is partnered with Supercell. The game is a high-quality title that features single-player racing with a bunch of different race tracks (more than 150 in fact) to zip around on at breakneck speeds. The game is a paid title available on both Android and iOS. Here in this article, we will review Hot Lap League: Racing Mania! and share our first impressions of the game.
The game looks quite impressive and well made as soon as players jump in. It looks like an actual high-quality racing title and not like a lot of those generic and cheaply made titles that are common on mobile app markets. The first thing that would probably catch players' attention would be the game's soundtrack, which is actually quite snazzy and something to listen to for a while before you jump into the action.
Personalize your car's look and master a range of extraordinary tracks
Starting off with the Hot Lap League: Racing Mania review, the gameplay in itself isn't all too unique. We've seen such games before where players have to clear the track in a certain amount of time. However, what this game does differently is it cuts out all the upgrade elements.
Players can make visual changes like changing wheel rims and applying cool decals but there's nothing that can affect the performance of your vehicle, which is actually a pretty cool thing. In most other games you end up having to grind to be in the race with better engines and wheels and other such stuff and a lot of it turns into just predatory monetization.
The game's all about racing skills and the ability to optimize your racing lines as all cars are equally good. Now one thing to note here is that the game is missing something. Now while the game is pretty good on its own, one single game mode could really have made this experience much, much cooler. And that would be an actual multiplayer race, not just a race against ghost cars where players can clip through their opponents.
Compete, drift and race your car over 150 exciting tracks
That being said though, even though the game might not have full-on races, the point of the game sort of is all about doing your best time out on the track. Speaking of tracks, it's got a whole lot of them and in the campaign, it also has four levels along with two different regions, Metro and Alpine.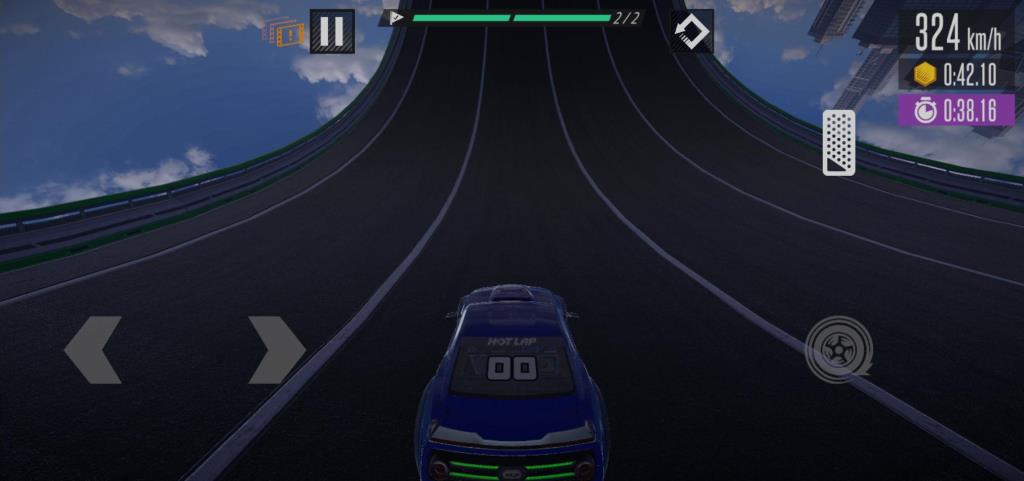 Some tracks can be challenging and there are some unique ones too like magnetic asphalt and certain ones where players have to make a jump above sheer falls which makes the experience better. There are also Daily Events along with some more competitive championships being held by the game's developers.
Overall, the gameplay is quite solid and enjoyable. It requires skill and experience handling the game, pitching players against others on the top of leaderboards. There's plenty of content and no major bugs or glitches.
Hot Lap League: Racing Mania offers vibrant graphics and comes with full controller support
The game has pretty good-looking graphics (nothing too special but above par), especially on the higher settings. While it works fine on mid-range devices, the game will present some serious issues if you have a lower-end device.
As mentioned before, the game has a killer soundtrack to vibe with, and aside from that the audio effects are standard and work just fine. The game runs on 60 FPS for most devices that meet the requirements but for higher-end phones and tablets, it's possible to get up to 120 FPS, something which not a lot of games are doing even in this day and age.
The controls work fine, although one cool feature is that the game has flawless controller support. If you've played a racing game with a controller then you probably prefer that more than touch controls even though in this game they are perfectly responsive. The UI works alright for the game and no complaints there either.
The game has no ads and all IAPs are exclusive to cosmetic items only
The first positive of the game in this aspect, there are no ads. Second net positive, IAPs are only exclusive to cosmetics (which even then can be unlocked for free with some hard work). As mentioned before, there are none of the predatory "mechanical upgrade" mechanics here and that makes the game quite a bit better. Players can focus on racing instead of getting frustrated when whales outperform them just by investing in upgrades.
Final Verdict
For what this game is meant to do, it's awesome. Multiplayer races with collision and chaos are still something racing fans would probably love but considering the number of maps and variations between them, cosmetics make your car look awesome and unique and the skill requirement instead of IAPs that affect gameplay make this one of the better racing games out there.
If you're looking for a well-designed racing title then this game is absolutely worth the five bucks. The whole "console-quality" tagline is thrown around quite loosely but this game actually feels like it deserves that label.
Hot Lap League: Racing Mania review by Gamingonphone
Gameplay Mechanics - 8
Graphics and Music - 8
Controls and UI - 8
Value for Money - 7
7.8
Good
Multiplayer races with collision and chaos are still something racing fans would probably love and considering the number of maps and variations between them, make Hot Lap League: Racing Mania a decent title
What are your opinions on the Hot Lap League: Racing Mania game and your review of it? Do let us know in the comments below!
For more Mobile Gaming news and updates, join our WhatsApp group, Telegram Group, or Discord server. Also, follow us on Google News, Instagram, and Twitter for quick updates.