Rumble Stars Soccer is one of the Most Ambitious Clash Royale rivals. The game is an explosive fast-paced soccer game, combining sport and strategy. Rumble Stars won Google Play's Award as one of the best Competitive game of 2019. Therefore, we decided to try the game ourselves and write our first review.
Gameplay and Mechanics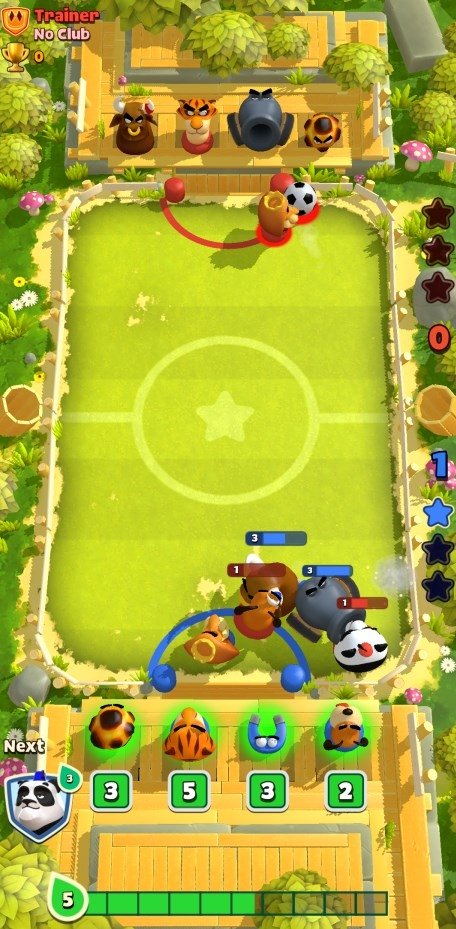 Rumble Stars is a pvp-oriented game, players need to score goals in order to win the match. To do so, they have to create a team of 8 Rumblers by choosing from a variety of Animals. Additionally, each character has a role, a cost and unique talent. Players spend energy to play Rumblers, which generates at a fixed rate, doubled in the last minute. Ties throw an additional ball on the field, thus making the Goalkeeper have a hard time stopping attackers.
Rumblers System
Rumblers have levels, and obviously a higher level means a stronger Rumbler. Players must get copies of the Rumbler from chests, once they have enough they can upgrade it by spending gold.
Chests and Rarity
Chests and Rumblers have rarity, starting from Base up to Legendary. It should be noted that despite finding Legendary is harder, Tier is not sufficient to grant players Victory. As a matter of fact, a combination of skill and Card Level is much more important.
GoalKeeper
Each Player has a Goalkeeper, the most important Animal in the field. His role is to protect your Net, however, he's vulnerable to Rumblers attacks. Moreover, if the enemy defeats it, it will be removed from the field for a few seconds. Goalkeepers too have levels, however, they increase by collecting experience from Cards Upgrades.
---
Easy to Learn, Hard to Master
Rumble Stars Soccer seems very simple at the beginning, a mixture of Chaos and Luck. However, the more you play, the more you realize skill and experience are the core of the game. Matchmaking chooses players depending on their trophies, allowing players with the same skills to fight each other. Importantly, RumbleTV is a helpful tool to watch replays and learn game mechanics efficiently.
---
Daily Missions and Challenges
As a general rule, logging regularly is mandatory in order to progress fast. Every day, you'll receive 4 Missions asking you to play a specific rumbler or to donate Animals to you Club, however only 1 mission can be active at a time. Moreover, you have regular challenges every few days, with helpful rewards to help you progress. The game receives regular updates to keep you playing and that's fantastic!
---
Worldwide Competition and Clubs
Unlike other games, Rumble Stars has a unique Worldwide challenge. Your country competes with countries all around the words to win the World Championship Cup. Moreover, joining a club is of the utmost importance in Rumble Stars. Not only you'll be able to get donations from your associates, but also participate to Club vs Club. Each time you score a goal, you'll earn Stars that will add to your Club score. As a result, the club with the highest number of stars wins and get a helpful chest.
---
Read – Into the Dead 2: A Great story-driven continuation of a zombie runner
Pros & Cons
Pros
Completely F2P
No ads
Funny, easy to learn
Competitive potential
Constantly Updated
Good Design and Animations
Cons
Few Innovative Mechanics
Offers may give early advantages to players
Switching more than 1 active missions costs gems
Final Verdict
The game is very fun to play, every match you play is very comical and chaotic. I suggest everyone try it out for a few days and enjoy this hilarious game.
---
Love reading our reviews? Don't forget to subscribe to our newsletter to get the contents delivered to your inbox!