Sekuence is a number-based puzzler by Massimo C. available on the Google Play Store and the Windows Store (currently available for Windows 10 and Android devices). Sekuence is for those who like taking a break every once in a while and like to challenge their mind. The game's core mechanics aren't too hard to grasp but it still offers a challenge to tickle your brain and stuff like bonus points and color sequences make it even more stimulating. Here in this article, we will review Sekuence and share our first impressions of the game.
---
Put on your thinking cap and solve challenges
Starting off with the Sekuence review, your objective is to create a sequential- sequence of numbers. For example, 1,2,3,4 is an option while 1,3,2,4 also works. You get a predefined number of moves and you have to reach the goal within those moves. That's pretty much it! The numbers can be matched horizontally or vertically and you have to tap on them to create a working sequence. Now the game does get harder as you progress and that's where stuff like bonuses comes in.
You get bonuses for joining a whole row or column or if the numbers in the sequence have the same color. There are also golden levels that unlock new challenges to stop the game from getting too repetitive and add something new you need to keep in mind while playing.
---
If stuck, power-ups can save the day
In case you get stuck, you can also scroll down the rows or columns to gather up the numbers required to make a sequence. At higher levels, you absolutely would need bonuses to get through which makes it quite fun. There's a few powerups as well in case you're out of ideas. There's a power-up for a hint, a power-up to get 10 energy points in case you're out of moves, a power-up to add 10 seconds in case you run out of time, a power-up to decrease a number, and a powerup to increase a number.
Keep in mind that these powerups are very limited and while they can be purchased with golden squares, they're quite expensive, Golden squares are the in-game currency that you get as a reward for completing levels and as a daily reward. The game currently has 200 levels. The game does have banned ads down at the bottom when you're solving the puzzles but that's pretty much it for the ads. In-App Purchases do exist and they do charge for buying additional Golden Squares. But still, if you want, you can easily play and grind the game without the worries of it.
---
Clean colorful graphics with quick simple controls
There's not much when it comes to graphics. It's clean-cut with colorful backgrounds and a simplistic design. The music, however, is something which can be worked on. The current soundtracks aren't bad. You can even pick a particular one from the game's collection for yourself if you want. But they could have been better. The loops are quite abrupt and are one of the only aspects of the game which aren't as good and could be improved on.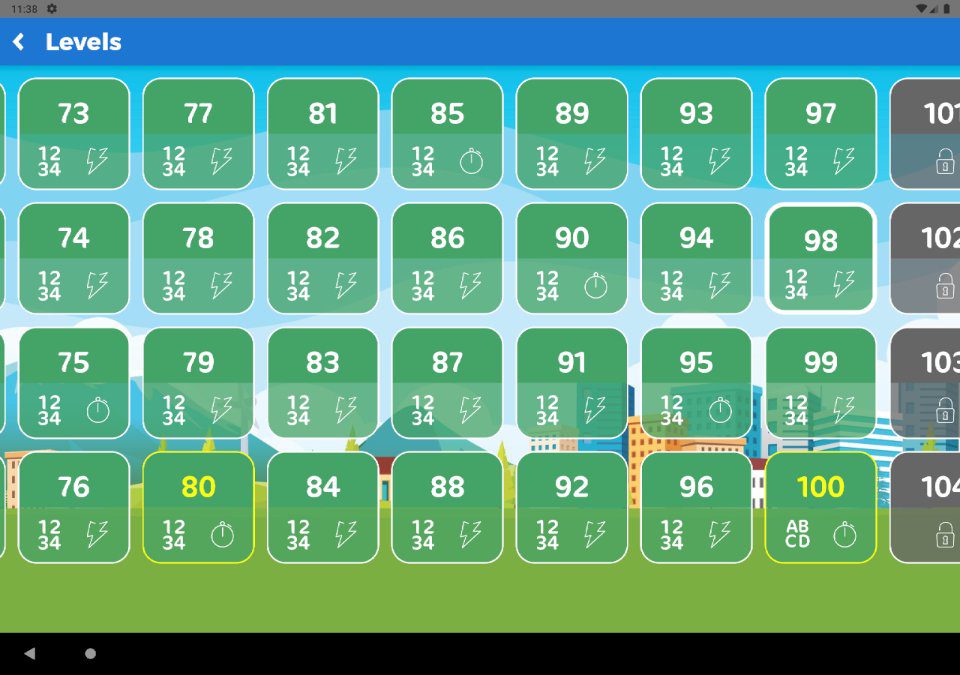 The controls are very simple. Tap on three or more numbers that make a sequence allowed by the game and then click the button to finish it. Moving the rows and columns around is a bit clunky though and is a bit frustrating. The UI is clean and polished and simplistic just like the rest of the game.
---
Final Verdict
Sekuence is a simplistic yet challenging puzzler that requires you to actively put your problem-solving skills to the test. It's a game which you can play in short bursts or in longer sessions where you take on puzzle after puzzle. The ads aren't too intrusive and you can get around without having to invest real money. The only thing which in any way disrupted the experience was the music which could definitely be improved and the scrolling controls but aside from that, it's an enjoyable ride.
Also, power-ups are probably the only thing in the game that are of value and their price makes the game a bit grindy. The limited moves and time definitely add to the game's difficulty and a certain amount of practice is required to get acquainted with all the mechanics. All that being said, if you're a sucker for numeric puzzles, Sekuence is a must-play with its simple and fun gameplay along with clean graphics.
---
What are your opinions on the Sekuence game and your review of it? Do let us know in the comments!
For more Mobile Gaming news and updates, join our WhatsApp group, Telegram Group, or Discord server. Also, follow us on Google News, Instagram, and Twitter for quick updates.
Sekuence Review
Gameplay Mechanics -

8/10

Graphics and Music -

7.5/10

Controls and UI -

7/10

Free to play elements -

7.5/10
Summary
If you're a sucker for numeric puzzles, Sekuence is a must-play with its simple and fun gameplay along with clean graphics.