Townscaper looks really simplistic from the get-go yet there's something really good about its simplicity and how it is a casual game player can enjoy anytime. It's got a really serene and quiet vibe to it while the buildings you can make look pretty cool. Here in this article, we will review Townscaper and share our first impressions of the game.
---
Build cute looking structures in this casual city building game
Starting off with the Townscaper review, the gameplay is really simplistic since the game has a point-and-click type of interface but it's mildly addictive and a really peaceful experience. The basic mechanisms are pretty easy since tapping on a grid plants down a block. Scrolling around on the screen allows you to look around in the world although there are a few issues with controlling the viewing angles. More on that later.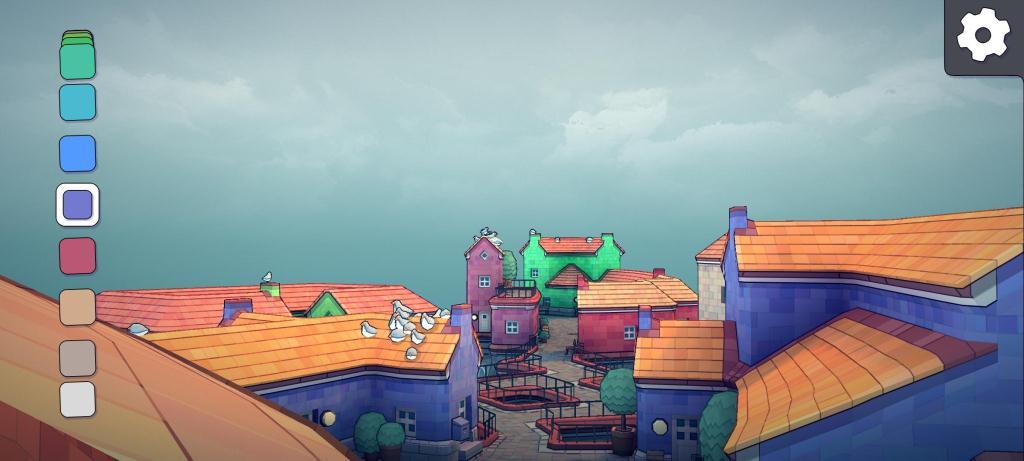 Now the basic thing that players need to know and understand is that building up structures isn't something they have complete control over. They can place blocks according to their choice and color them with any of the colors available but the grids that players can build on are completely random in terms of shape and that makes the shapes that buildings will have, random as well. Whether it's a good or bad thing is something that players can decide for themselves. Buildings also morph to fit the different kinds of block placements to look as natural as possible.
There are no restrictions, just pick colors from your palette and plop down colored blocks of house
Another fun detail is the buildings that you build will take the style of a coastal town from a place like Venice and you can control the lighting by changing the position of the sun to get some really beautiful views. Now this does mean players can be left feeling a little limited due to the linear gameplay.
Overall, the gameplay is quite addictive and calming. Creativity in this game really knows no bounds and you can go on building endlessly. As mentioned before, the gameplay is pretty linear but it's not necessarily unenjoyable as players figure out where they want to place different blocks and what they want their creations to look like.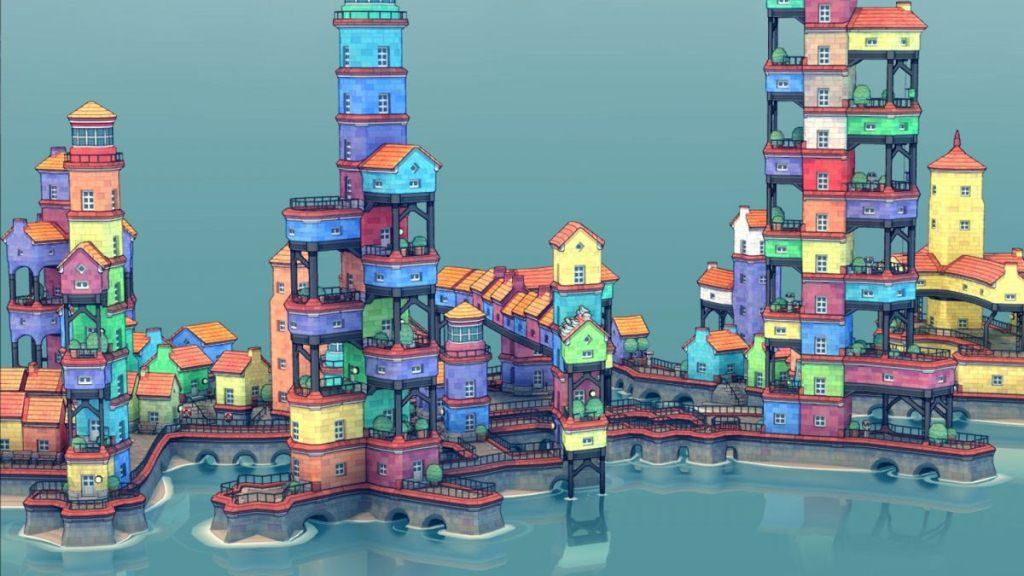 The last cool little feature to be discussed is the way the game stores your worlds. Who needs cloud storage or having to manually transfer data from one device to another when you have a link that can load up your world! This game actually allows players to copy the link to a world and then use it in case the app gets deleted off their phone or they need to swap devices. This can also be used to share worlds with friends.
---
The game comes with good visuals but quirky controls
Graphically, the game is beautiful. It's got some really good visuals and the good thing is that while zooming in, the view doesn't clip into buildings and everything looks crisp and clear. There's not much in terms of audio in this game and this is one of those other games that can be played while you have music or something like a podcast going on in the background.
Now the controls are where there were a few issues and quirks. Firstly, there's quite a bit of jostling that players might have to do to get the ideal viewing angles and that can certainly be worked on. Also, a short tutorial on the basics wouldn't hurt either. Aside from that, the UI is clean and simple as can be.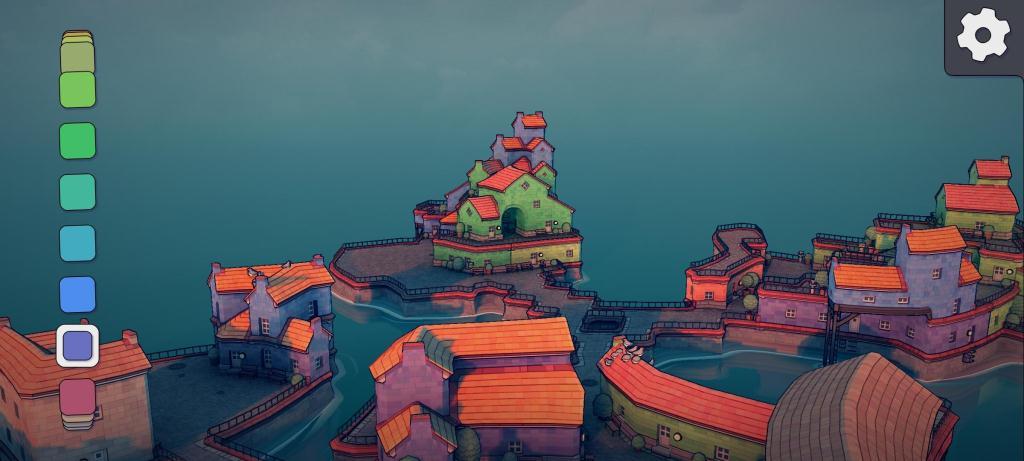 No ads, no IAPs but Townscaper is a bang for one's buck
This game does not have any ads or in-app purchases. But it is a paid title and that does bring up the question of whether it is worth the asking price or not. And honestly, it's a decent price for the enjoyment that players can get out of it. Buying it on a sale would still be a better option as is with any game.
---
Final Verdict
All things considered from our review perspective, Townscaper is a decent game with a lot of play hours to offer. It's practically endless and players can keep on building up a world for as long as they like. It's an offline game and for a lot of players, worth the price it retails for. Aside from the viewing angle issue, there's not really much to complain about. But the biggest flaw in the game is how it feels like there could be more tiny little details.
There's already a lot of details with the different doors and windows and birds perched on top of the roofs of houses but you can't help but feel like street lights and different kinds of lights from the houses at night time or cats and people walking around would be good additions. The game makes you crave for more details and that's not really the game's fault but just how it pans out. But the biggest positive here is the creative potential that each new world has and just how much cool stuff you can build. That being said, Townscaper is definitely a game we recommend to players.
---
What are your opinions on the Townscaper game and your review of it? Do let us know in the comments!
For more Mobile Gaming news and updates, join our WhatsApp group, Telegram Group, or Discord server. Also, follow us on Google News, Instagram, and Twitter for quick updates.
Townscaper Review
Gameplay Mechanics -

9/10

Graphics and Music -

9/10

Controls and UI -

8/10

Value for Money -

9/10
Summary
To conclude, Townscaper is a decent game with a lot of play hours to offer. It's practically endless and players can keep on building up a world for as long as they like.