DogLife: Bitlife Dogs is a bit life simulation game, which randomly generates a character for a game life, which you can change according to the decisions you make in the game. This one, in the series of other bit life games, is a dog life simulation, where you can take certain decisions, which will influence the direction of the story that is being built randomly. If you are new to this game, we have compiled a guide of essential beginners tips that will come in handy as you progress through DogLife.
Although the game is mostly text-based, it is fairly elaborate in the sense that there are many options that will help in the diversification of the routes and choices that you can make, aside from the main storyline that is being played and described.
Introducing the basics of DogLife
1. Starting the game, progression, and plotline
The game always starts with a randomized character, unless you have paid for the game! Once you have started your life, it assigns you a random breed of a dog or a cat, a random name, and a random location, which will become the starting point for the entire life story of that character. Once you are started, make sure to perform various introductory actions, smell stuff around you and try and act friendly to all, before advancing your age. There are 5 tabs that will show you what all information you can access, and what all actions and activities you can do right now.
Progression is possible by pressing the +age button on the screen, which will advance your age, and also provide you information about how the decisions that you have been taking in between growing up, have been influencing the storylines, and the major events! These major events will be a deciding factor on what twists and turns may occur in your life. Thus, it forms a chain, where your small actions will influence your bigger ones, and so on. By progression, you can have events where you may be moved to a new location, or change the owners, or change your homes or places you live.
The plotline is one of the most important features, as it goes on with your storyline, describing it in a concise, story-like pattern, and creates a record of the particular story, for you to look at it afterward in the graveyard. It records the events in the order of their occurrence, and also records Their consequences, so that you can keep note of the actions that can be repeated in order to improve your vital bars.
---
2. Five parameters and the Action Bar
There are five parameters that need to be looked after throughout the whole life of the pooch or the kitty- these are- happiness, health, cuteness, love, and respect.
1. Happiness
Happiness fluctuates with how much you play, and how much you interact with others around you. This is to be maintained in order to let you live an adventurous life. This will increase along with the interactions you have with the other animals and humans, leading to fulfillment, and not getting sick with mental illness.
2. Health
Health meter quantifies how healthy you are at the moment! It can fluctuate with your daily activities, and also If you have had fought with other animals or humans. This also gives out limited events, which can boost a major part, for completing some hygiene or health-related tasks through the timeline.
3. Cuteness
Cuteness is what enables you to have smoother interactions in the actual confrontation with other animals and humans. It is also affected by the environment you have been living in, and changes accordingly, as your environment changes.
4. Love
Love here is a relative parameter, which is affected by how your relationship is with the other people and animals living in that area. The better your relationship, the higher will be your love parameters.
5. Respect
Respect increases when you have enough interaction with others, and they begin to submit to you or have a really good relationship with you. It is one of the more volatile parameters, and can easily decrease if not careful.
Above these parameters is the actions bar, which has 5 buttons that can be used in order to perform various activities in the game, and also affect the parameters! Going from left to right, the first one will be the area tab, which will display where you live, and who exactly lives with you. This displays how happy they are with you, what is your relationship with them, how you can get close to them by performing certain types of pet-like behavior.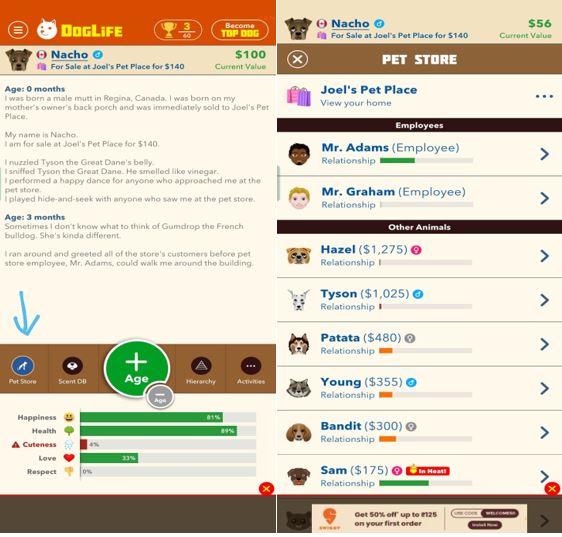 You can also edit their information to a certain extent- this gives out to you, the freedom of customization of characters while playing with a randomized character. You can also view their values, and determine what do they feel towards you! This will allow increasing your parameters, and also influence the other decisions that you can take, for example by going out on a walk with your owner, and not running away, which will increase your owner's satisfaction, and will increase your happiness and love.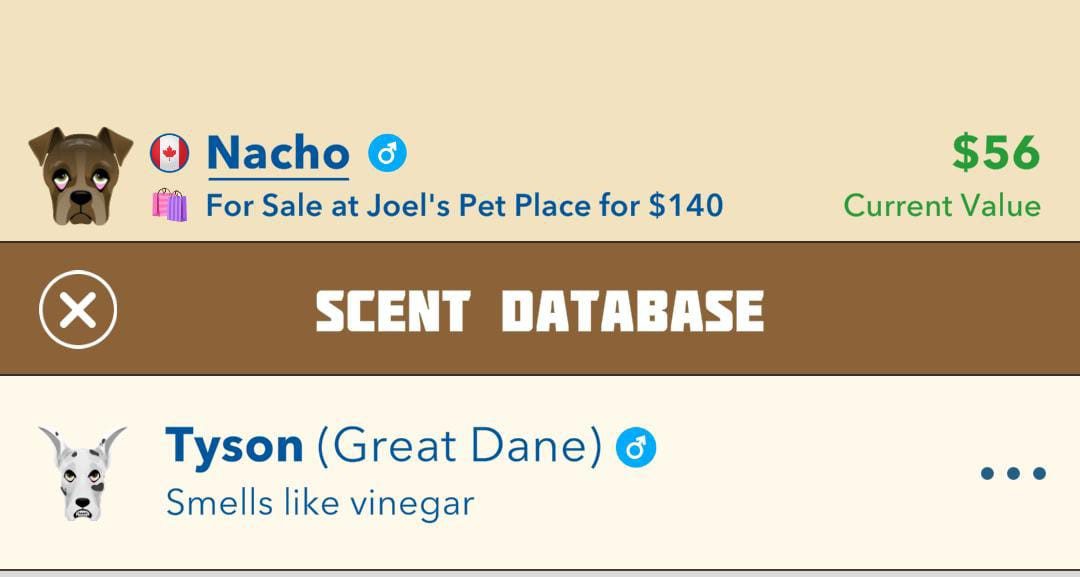 Scent database will be the next tab, which will record the scents that you have encountered on all of the characters, that you have sniffed! Yes, you have to sniff all of the humans and animals, in order to add their scent to your scent database! These come in handy when you want to find someone after running away or to locate someone.
After that, comes the +age button, in green color. This button allows you to age your character, after you are satisfied by completing all of the actions you wanted to do, before increasing your age once again. Increasing your age comes with pros and cons though- if you increase your age too fast, you may leave out various activities which can lead to your early death, or you may not Want to age at all, but your story will not move forward then.
Next comes hierarchy- which displays the standings of everyone living in the area, and where you stand in there! This also then opens up to a similar menu as in the area tab, where you can perform certain actions in order to improve your standings and also improve your relationship with everyone else. To be clear, the relationship is really necessary as it will form goodwill around you, and make sure that you do not suffer from the disease, and remain happy!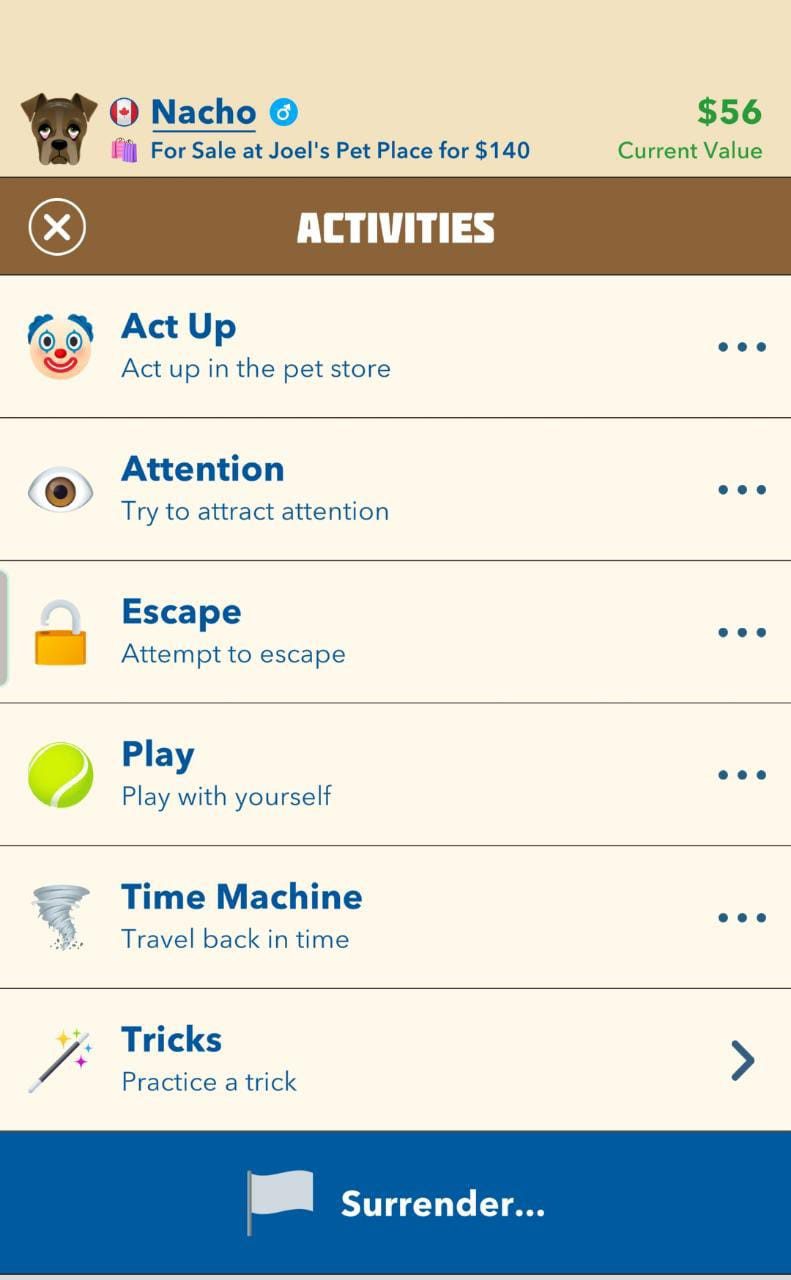 Lastly, we have general activities, which vary according to the area you are living in! This means, if you are up for sale in a pet shop, you may receive activities such as playing with others, licking others, etc., in order to increase your chances of being bought to a new home. This also has the option to travel back in time, or surrender if you think you have made some mistakes that you think that will take too much time to correct, or will not be able to correct at all.
---
3. The Side bar and the Information bar
The sidebar is accessible from the top left corner. This is the main menu of the game which contains all of the major controls and the catalog of the storylines you have played previously, and other various types of customization options.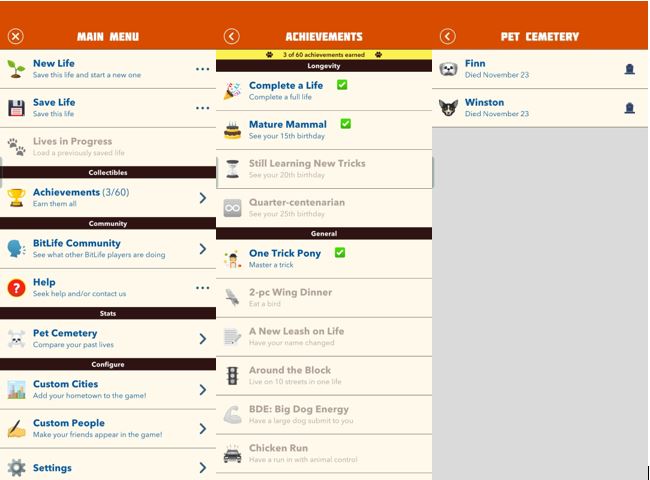 You can start a new life, or save an already existing one so that you can play it later. Then, there is the achievements section, which has 60 achievements to accomplish over the course of your playtime. There is also a pet cemetery, where your past lives are stored as a form of data and will be available for comparison with your current lives. You can also create custom cities and custom lives, which can be added to your current plotline.
On the main page, if you click on the information displayed for the life for the story, you will be led to the information page, where you will be able to see the data which you have been born, and also your parameters.
DogLife: Bitlife Dogs Beginners Guide: Tips and Tricks
Here are some of our additional tips to kickstart your journey easily in the world of DogLife.
If you want to play a new life for the first time, make sure you reset for some time to get a storyline where you start in a home or a pet shop, as it is easier to learn how to play the game there.
Always remember to save whenever you quit the game, or don't want to continue the storyline.
Always ensure that you increase the happiness and love bar for everyone around you, to max possible, before increasing your age! This will help move your story in a positive direction.
That's all for today folks! Go ahead and give it a try and if you are finding trouble, don't hesitate to fall back to this DogLife Beginners Guide and Tips!
That's all for today's DogLife: Bitlife Dogs beginners guide. Did you find our DogLife: Bitlife Dogs beginners guide helpful? Do let us know in the comments!
For more Mobile Gaming news and updates, join our WhatsApp group, Telegram Group, or Discord server. Also, follow us on Google News, Instagram, and Twitter for quick updates.