Despite Moonton, the Chinese game developer behind Mobile Legends: Bang Bang being based in Shanghai, China, that doesn't stop players from all around the world from playing this game. Hotspots include Brazil, Myanmar, Indonesia, Malaysia, Singapore, and the Philippines. But have you ever wondered why playing in your server means you never get to match up against players of other countries? MLBB divides up their servers regionally, which means players usually only match up with players in the same country or nearby countries. If you live in Asia, you would probably not match up against players in Europe or America, and vice versa. Unfortunately, MLBB does not have a dedicated option that allows players to switch servers as of now, so if you would like to experience playing in a different country, here are three ways you can try to change your server in Mobile Legends.
---
Ways to change and play on a different Server in Mobile Legends
1. Using a VPN to change your country
Almost everyone is familiar with the term Virtual Private Networks, or VPNs for short. Essentially, they are applications or software that allow you to temporarily encrypt your IP address and disguise it under a different country. Conventionally, people can use VPNs for a multitude of reasons, such as accessing online content not found in their own country, security and privacy reasons, or such as yourself, wanting to play with people from different countries. It is possible to use a VPN to play on different MLBB servers, so long as you follow the steps below.
Although there are both subscription-based (paid and premium) as well as free VPNs available to download, not all VPNs are easy to use and allow users to choose the country, so here are a few recommended VPNs that are a compromise of both.
NordVPN: One of the best VPN on the market right now, offers over 100 countries to choose from, but is paid and will require a monthly subscription.
ExpressVPN: One of the top VPNs as well but is also paid; however they offer a 30-day money-back guarantee in case of an unsatisfactory experience.
Turbo VPN: A free VPN that offers paid premium services at a higher cost; the free version allows users to choose from a small pool of servers.
Hotspot Shield Free VPN: Offers up to 500MB of data per day, but is limited to one server only.
Step-by-step guide to setup VPN
Open up App Store/Google Play Store and search for your VPN of choice
Download and install the VPN
Open up Settings, go to Apps, and look for Mobile Legends
Click on Mobile Legends: Bang Bang, and click on Storage
Click on Clear Data to delete your account data from your phone.
If you wish to keep your old account, be sure to bind it to either a Moonton, Google, Facebook, etc. account so you can log back in after creating a new account in a different server.
Run Mobile Legends Bang Bang again and let it re-download all the data.
Activate your VPN when creating your account. Congrats! you should have created an account on a different server
2. Playing in the Conquest of Dawn Contest
The second way to play on a different server is through the Contest tab in MLBB. Here, you will find the Conquest of Dawn, which is basically a game mode that bests players across the world against each other to earn points for their country.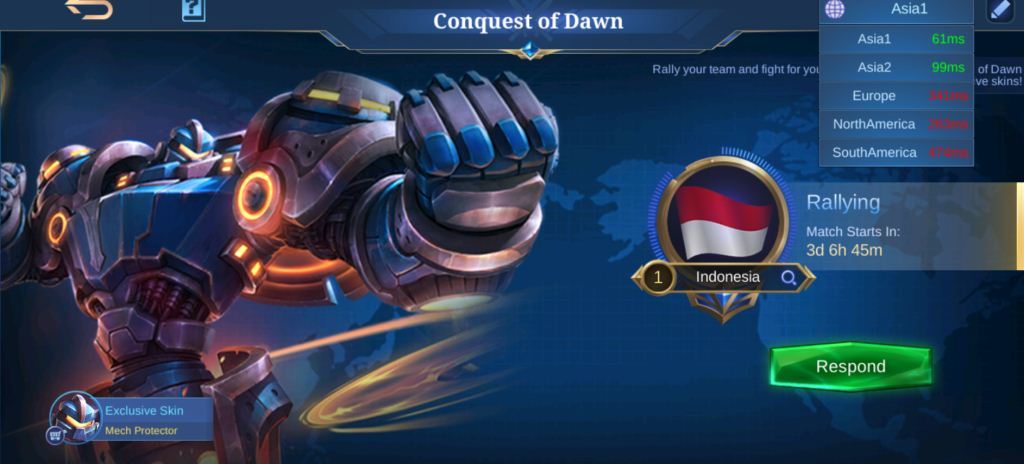 You can play in a different server by simply clicking the top left corner and selecting a different server, but be prepared to face lag issues
3. Using a country-specific app
Another way to play MLBB on a different server is to use a completely different app! This method involves downloading and installing an APK, so sorry iOS users! One of the alternative MLBB apps is Mobile Legends VNG, which is the Vietnamese version. Simply search for Mobile Legends VNG APK in your browser and download the APK from a reliable source.

Be careful, as some APK sites will feed viruses into your phone instead of the actual game, so there is some risk involved here. Once you have downloaded the APK, you can open your File Explorer, install the APK, and run the game.
Mobile Legends is indeed an international sensation, so hopefully, Moonton can integrate the option to switch servers in-game in the near future. For now, let's stick to using VPNs, playing Conquest of Dawn, and playing on MLBB VNG.
---
That's all about how to change your server in Mobile Legends! Feel free to drop down your opinions in the comments!
For more Mobile Gaming news and updates, join our WhatsApp group, Telegram Group, or Discord server. Also, follow us on Google News, Instagram, and Twitter for quick updates.