Free Fire is a massive Battle Royale game on Play Store and to maintain their position as top-grossing games they have to add something new in-game. Amongst various unique catchy skin, here is the brand new evolution gun series and the number one skin on this series is The Blue Dragon AK47 skin. So in this article, we will be covering the details regarding Blue Flame Dragon AK47 skin and also the level-wise description of the skin in Free Fire.
---
What is the Free Fire Evolution Series?
Everyone is thinking what is Evolution Gun Skin Series? In simple words, these skins can be categorized as ultra legendry skin and will have a Red background. These skins need to be upgraded by Using in-Game currency Diamonds. There are several Levels in this skin, lets check them out one by one.
---
Different levels of the Blue Flame Dragon AK47 skin in Free Fire
There are in total 7 levels to be upgraded and 5 new exclusive effects and features of the Blue Dragon AK47 skin in Free Fire.
Level 1
An exclusive Structure of AK skin is obtained at the very starting level. Purple-Blue aura can be seen surrounding the gun which is very well animated according to this skin color.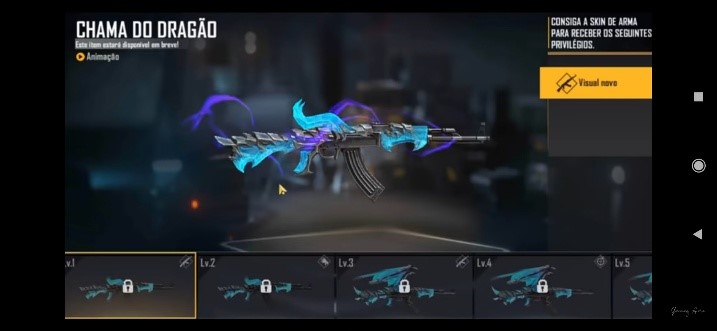 Level 2
A new Killfeed can be called Evolution Killfeed. As known, in-game there are two types of killfeed. One is Legendary/Incubator Skins killfeed which is yellow. Then comes the legendary/Crate guns which are pink. But now there is a third killfeed ultra legendary/evolution skins killfeed which will be Dark Red. You can obtain the killfeed stats at level 2 of this gun.
Level 3
Everyone knows how the Dragon has those Beautiful but terrifying wings, and also the signature body part of a dragon, and dragon wings in AK means a perfect combo. Like mentioned, there are blue wings in level 3 of the Blue Dragon AK skin.
Level 4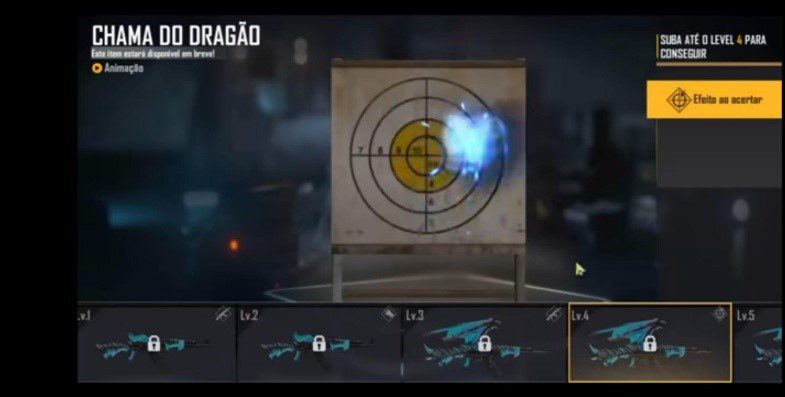 A new blood/hit effect on the new gun skin, Yes game needed some new hit/blood effect so there it is a blue blood/hit effect. And this effect can be seen by the opponent himself also when he gets shot by this skin as damage effect as till now there is a black blood effect, red blood effect. Also with no blood effect but for this skin, we will get exclusive blueish purple blood/ damage effect
Level 5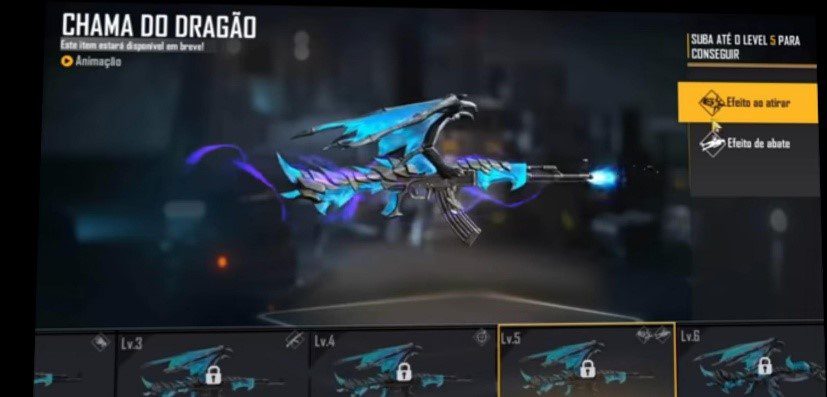 An exclusive Blue Bullet travel animation on the new AK skin but Garena doesn't stop here. There are 2 new features at level 5. One is bullet travel animation which is a blue bullet and a purple trail behind the bullet which can be seen only in ultra graphics.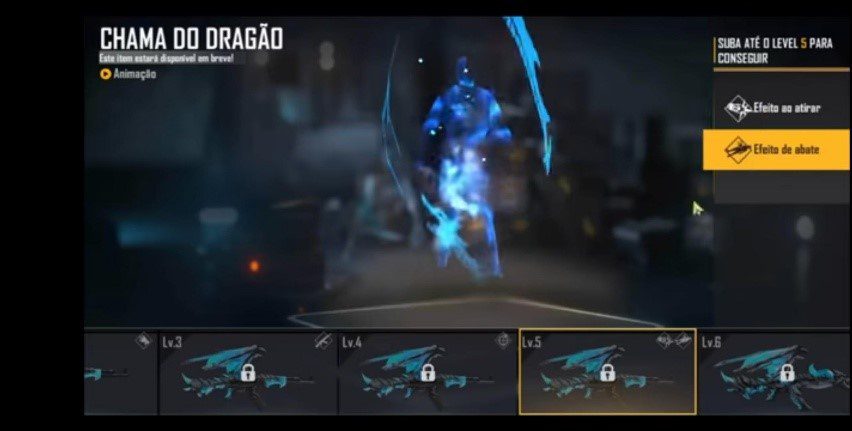 Another feature is the first-ever Soul Travel effect in the Free Fire game which in detail is Souls in blue and purple and blue dragon roaming around that soul. But this is only level 5 here, where there are still 2 more levels to go.
Level 6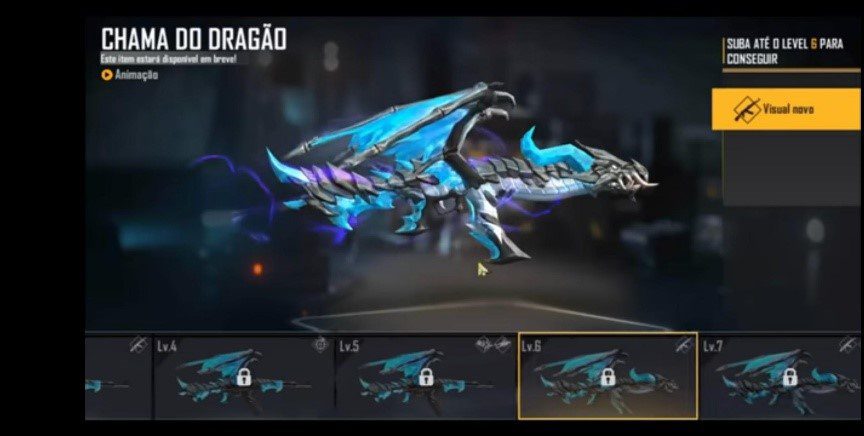 Now, the blue dragon AK is kind of complete with that horrifying but cool looking dragon face with long teeth and advance in visual effect. Now, check the details of this skin, there will be symbolic Blue Horn and translucent blue fire wings animation. But level 7 will make diamonds worth it for such expensive skin.
Level 7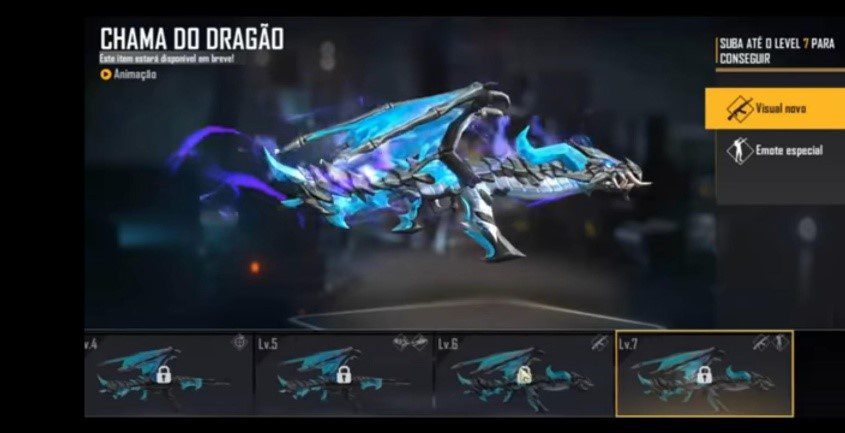 Not a major change in visual effect but there is now a flaming animation over the whole gun but the main item/ emote of this skin is the exclusive emote which will be obtained at level 7. Level 7 is the max level and that emote will be again Ultra Legendary emote.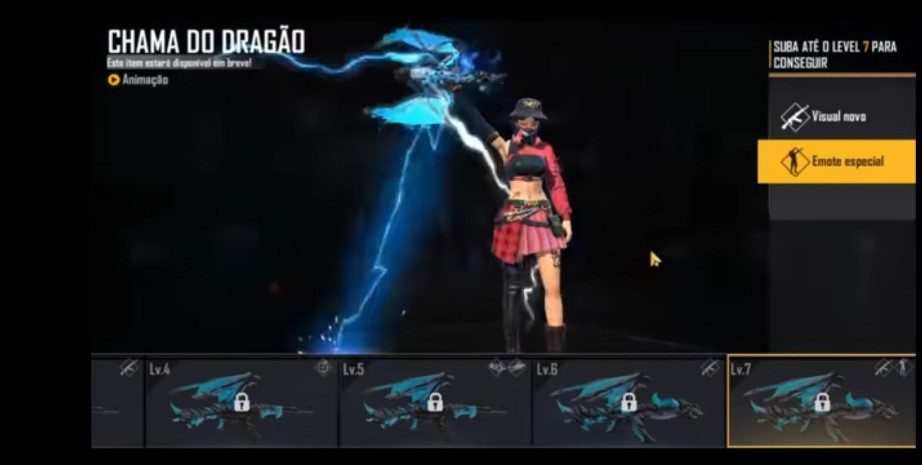 This emote depicts the character to summon Majestic Blur Dragon AK which will lead to blue lightning. After that character shoots in that emote which have Blue bullet travel animation but which have a trail of lightning.
---
Conclusion
This will be the most expensive gun skin and will cost more than 2,000 diamonds. But it will be worth it, as it comes with every new exclusive emote, gun structure, kill feed, and blood/damage animation. It will come in OB 25 update as the emote and bullet trail is not finished. But this surely will be the return of Garena in the competition of making the best unique skins in battle-royale history. So stay tuned for more upcoming updates and news
---
Are you excited about the new Free Fire Blue Flame Dragon AK47 skin? Let us know in the comments below!
For more Mobile Gaming news and updates, join our WhatsApp group, Telegram Group, or Discord server. Also, follow us on Google News, Instagram, and Twitter for quick updates.