Ninja Chowdown comes to Android devices on September 23rd as a pre-order delight. This colorful pixel art runner adds a side of arcade mechanics to enrich the mobile genre. Ninja Chowdown is free to download, so remember to click the order button now of this opera prima dish by Dummy Dojo.
If you're looking for a game that you can't stop playing for hours, both because it's enjoyable to watch and engaging to play, this is one of the best options you can find on Android right now.

A dive into Ninja Chowdown's thrilling story
When you see Ninja Chowdown for the first time, you can't get its bright colors and cartoony vibes out of your head, but when you play it you're hooked by the charisma of the characters – even the villains – and the pun-filled story.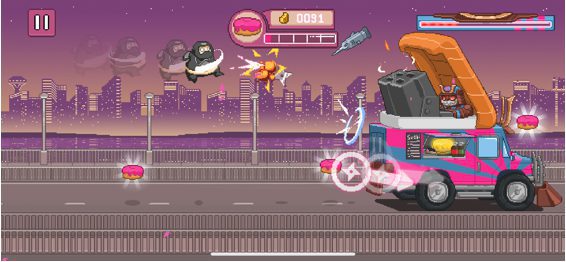 Think you can't have a passion for food and be a professional ninja? Then ask Donatsu, our protagonist, who trains relentlessly at the Dough-jo Donuttery under the tutelage of Dango-sensei. But things get complicated when the Traveling Rollnin's leader, Sushi Sam, steals the Doughnut of Ultimate Knowledge, which of course our chubby friend will have to retrieve.
That's when a frantic race begins – literally – through the different levels where you will face other tasty villains. This may sound like a lot. But Donatsu has an ace up his sleeve: if you get enough donuts you can unleash your Doughjutsu and become invincible for a limited time.
Ninja Chowdown is a journey worth the effort
Two guys began an adventure in 2019 under the name of Dummy Dojo to create video games with a lot of passion despite their little experience. Ninja Chowdown is the jewel in the crown where they have not hesitated to integrate references from their previous projects, as they are well aware of the road they have traveled to get to where they are now.

His personality and spirit shine through in every part of Ninja Chowdown, from the hilarious dialogue between characters to the design of each level, as well as his passion for food!

Android users, the wait is over
Abylight Studios are experiencing the launch of Ninja Chowdown as something very special, as it's a project that we are very fond of, as well as being the first game we are launching on Android, and we hope that all players enjoy it as much as we do. You can download Ninja Chowdown for free right now on the App Store and pre-registration will go live on Google Play from 23rd September!