Playdigious, one of the popular Indie publishers have announced the release of their port of Northgard for iOS devices on April 13th, 2021. However, Android users will have to wait a little longer, with the game set to arrive on Google Play later this year. The iOS version will launch with the major updates Ragnarok, Relics, and Conquest included in the game.
Playdigious has earlier, also ported other incredible games to mobile, like Dead Cells. Their upcoming port Northgard is currently available at the Steam store. The much-acclaimed strategy game has already sold over 2 million units on PC and console and holds a very good Metacritic score of 75+.
---
Gameplay Overview
Northgard, much like other successful RTS's, brings challenges to the player by requiring it to prosper within its own village. Based on Nordic mythology, you control a Vikings group on the discovery and control of new lands.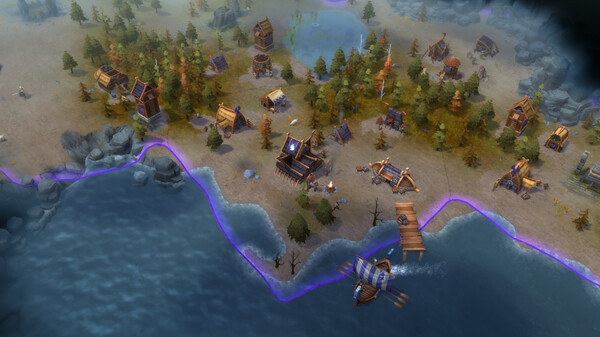 The game released on March 7th, 2018 for PC and consoles, and currently has 12 clans available for the players. From there, the player has to manage 12 available resources, used to build civilian units, military units, buildings, do researches, evolve, win the game and so on.
You may win the game in a wide variety of ways, including domination, great merchant skills, fame, or even divine intervention. The game also comes with a campaign mode. Here you can explore a story and learn some of the mechanics in the game. Moreover, the game has pleasing visuals with a great soundtrack. It has been nominated for the steam awards and is praised for its micromanagement.
---
Head over to App Store now to Pre-Register!
The fans of strategy games with resource management can rejoice the release of another great game. Northgard is available for Pre-Registration iOS devices as of now. Head over to the App Store to pre-order for the game ahead of its release on April 13th. It will be a premium title that will cost $7.99. The game will also arrive on Google Play for Android devices later, as confirmed by Playdigious in their recent tweet.
In the meantime, don't be late to pre-order for this much-acclaimed strategy game as it comes to mobile. More details about what players can expect from the mobile version of Northgard are set to be announced in the coming weeks. Keep checking back to keep yourself updated on the latest developments in the game.
---
Are you excited on Playdigious's announcement for the release of Northgard on iOS devices? Drop your comments in the comment section below!
For more Mobile Gaming news and updates, join our WhatsApp group, Telegram Group, or Discord server. Also, follow us on Instagram, Twitter, and Google News for quick updates.