Recently PUBG Mobile featured T-Rex and new outfit skins Dinosaur Jockey for their new event Jurassic Wrath. The event is limited to ten days starting from 3rd June and will end on 13th June. The primary focus was on the Dinosaur Jockey skin both in the trailer and recent tweets by PUBG Mobile. This event is only available to players from North America and South America.
From the 33-seconds teaser, it featured characters riding a T-Rex! And apparently, it chases others. It also features the cute outfit skin Dinosaur Jockey. In another tweet from 2nd June, they invited players not to miss the opportunity to get a pre-order discount on new skins. The price will be as low as 1400 UC.
How to get the Jurassic Jockey set in PUBG Mobile
They set the original price for the Jurassic Jockey set to 1400 UC. To get the Jockey set, players will have to draw 5 times. You can get a 10% discount by pre-ordering which will cost 100 UC. There is also a chance to get up to a 30% discount, players must complete 8 conditions to get the offer.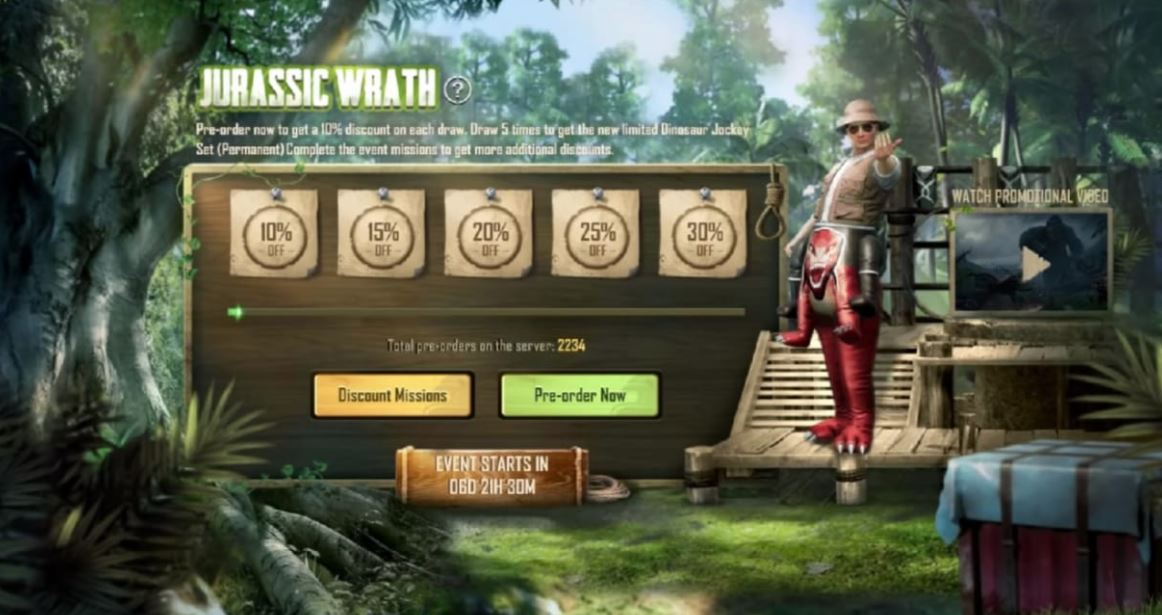 Go to the event page and watch the Jurassic Wrath trailer from their official website
Purchase 1 UC
Purchase 100 UC
Purchase 500 UC
Login for 5 days
If the event reaches the milestone of 20,000 pre-order for the set
If the event reaches the milestone of 50,000 pre-order for the set
Complete the pre-order that costs 100 UC only
Other ways to get the Jurassic Jockey set
Without pre-ordering, players can still get the Jurassic Jockey set. From the Predator Crystal and Ultimate Predator Crystal draw, you have to gather five predator crystals for an ultimate reward. Each draw cost 30 UC in predator crystal and the ultimate predator crystal guarantees the set at one attempt costing 400 UC. Pre-ordering will increase the chance to win. Players might need to spend more during the event period.
How to play the Jurassic Wrath event
So far it looks like just a mere sale event and free to play for all players whether you pre-order or not. Normal pre-order will get you a 10% flat discount by completing all the conditions will make it increase by 30%. If you are not from the NA and SA region, you can have the access to the event by using a VPN. However, we don't recommend doing so as it might cost you getting a permanent account ban.
For more Mobile Gaming news and updates, join our WhatsApp group, Telegram Group, or Discord server. Also, follow us on Google News, Instagram, and Twitter for quick updates.