The PUBG Mobile Pro League Americas 2020 eSports tournament which was ongoing for a couple of weeks has finally come to an end today and left players with a surprising outcome of results. The top 8 teams after the final result secured their berth in the upcoming PUBG Mobile World League. The Loops Esports team became the champions as they ended the PMPL Americas tournament with a total of 6 Chicken Dinners throughout the tournament.
Timeline of the PMPL Americas 2020
The PMPL tournament commenced on June 14th and rounded up on 29th of June 2020. Every day there were 4 matches, and the overall standing was counted based on the performances of the teams after summing up all 64 matches played over these 16 days.
---
The overall PMPL Americas 2020 leaderboard
The results came in on the official PUBG Mobile eSports twitter handle. The official PUBG Mobile Esports twitter handle congratulated all teams for their participation in the high voltage tournament. The overall standings listed the top players at the end and showed their highest points after 64 matches.
The overall standings displayed the players kill points, matches played, place points as well as their total points. The Loops Esports team who took home the cup got an impressive total of 812 after 64 games. There was a huge gap between the 1st and 2nd placed teams, as 2nd placed X-Quest Gaming finished 91 points behind the leaders. Overall, the competition was on a very high level except for the first position.
---
Which teams will be promoted to the PMWL West Season Zero?
With the PMPL tournament over, and the overall leaderboard revealed, the top 8 teams of the PMPL Americas will be promoted to compete in the upcoming PUBG Mobile World League West. This tournament will definitely prove more challenging as the best teams from each area will fight against each other there.
The top 8 teams which earned PMWL Season Zero berths are:
Loops Esports
X-Quest Gaming
B4 Esports
Cloud9
Wildcard Gaming
Team Queso
Tempo Storm
Pittsburgh Knights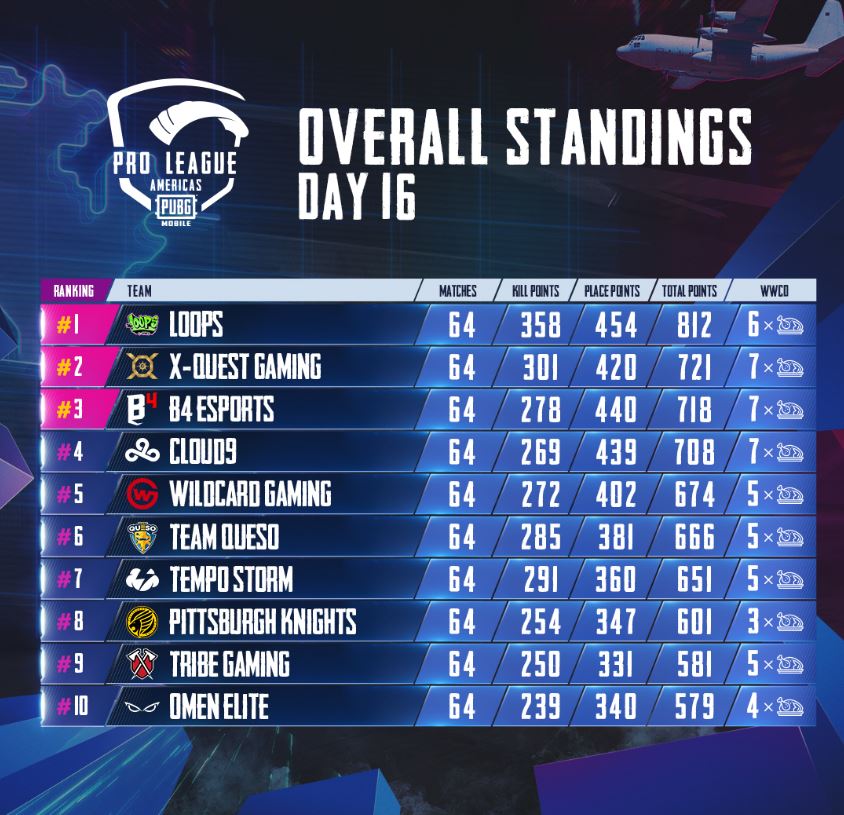 ---
When will the PMWL Season Zero begin?
The PMWL commences on the 9th of July 2020 and will likely end in the first week of August. Tencent is reportedly calling it Season Zero. The tournament will commence at the above-specified date for both east and western regions around the globe. But Tencent also said that the tournament schedule is tentative. To know more about PMWL, you can check here.
---
What are your thoughts on the final PMPL Americas tournament? Which was your favourite team? Let us know in the comment section below!
If you find this article helpful then make sure to follow GamingonPhone on Facebook, Twitter, and Instagram for more gaming news. And if you are looking for a group of mobile gamers to hang out, jump into our Discord server today.