Bloons Pop! is the latest mobile game from the creators of the highly successful Bloons and SAS: Zombie Assault series, ninja kiwi. Taking a detour from their usual tower defense games, ninja kiwi has ventured into the puzzles genre with their new balloon popping game that has already bagged a heavy number of downloads on Google Play and App Store. Refer to this Bloons Pop Beginners Guide for tips, tricks, and strategies to be an expert player in Bloons Pop.
Gameplay Overview
Bloons Pop! may seem to be a simple game at the beginning, but players will eventually find it more complex as they level up. Players are tasked to aim their Monkeys at the balloons and pop all of them with a few tries as possible. The balloons or so-called bloons need to be popped so that players can help the Monkeys reclaim Monkey Town.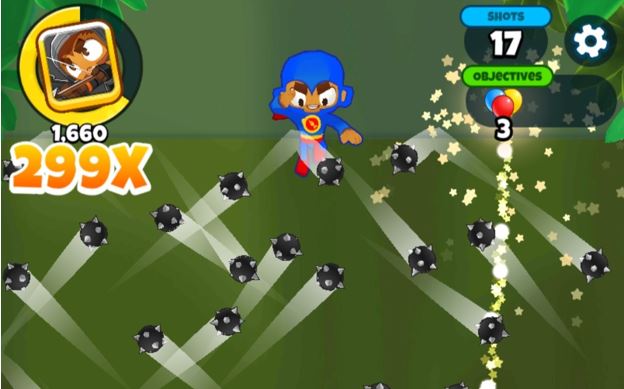 The game enables players to try to create villages in any way they imagine by providing pets, decorations, buildings, and different Monkey characters to play with as players level up. There is also a Team Goals mode that helps players avail cool gifts with the help of other players.
Bloons Pop Beginners Guide: Tips and Tricks
1. Make sure you know the objectives and the number of shot
Players are highly recommended to check the colours of the balloons they are supposed to pop for the level and the number of shots available to them. The objective can be viewed in the top right corner while playing the game and it shows the number of balloons left and the colours of the balloons that players must pop. Players can view how many shots they get to pop all the balloons in the top right corner too. Beginners also need to stop the balloons from reaching the top as the level will end as a failure immediately.
2. Please check Bloonspedia for more insight
If beginners are having trouble passing levels, they are recommended to go to the Bloonspedia. This is the book icon in the bottom left corner of the main screen. Here, players can check the icon for each type of monkey and get to know what each monkey is capable of. Knowing more details about monkeys' strengths and weaknesses, players can pop more balloons with fewer shots. Bloonspedia also gives players free rewards when players tap on each new monkey or powerup that they unlocked. This is usually in the form of Bloonstones.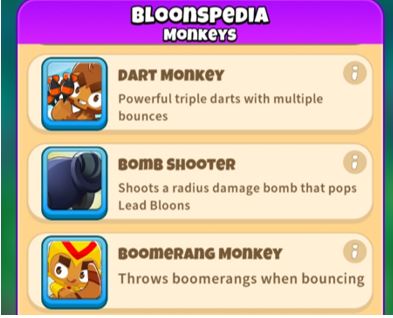 3. Choose the monkeys for each turn wisely
Using the stronger monkeys can feel exciting, but players are recommended to not use powerful monkeys the second they get the opportunity. This is applicable especially when the set is almost over and very few balloons are left on board. Players can use the comparatively weaker monkeys to get rid of the balloons and use stronger monkeys for the next set when many balloons can be popped.
4. Play Golden Bloon Time
After completing a level with a few shots left, players will have the chance to play Golden Bloon Time with the shots available from the completed level. This is a very fast and simple way of earning bonus rewards. Players can let the gameplay itself and after a few seconds, will be able to multiply their rewards from completing the level for completing Golden Bloon Time. However, players need to be quick as the option to play this mode disappears within 5 seconds of completing the level.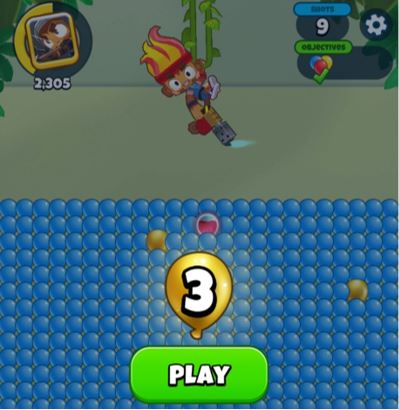 5. Follow these helpful in-game tips regarding when to merge specific monkeys
All monkeys can be merged to become stronger versions of themselves, but there are some monkeys that we highly recommend you merge to get the best out of them. Here are some examples: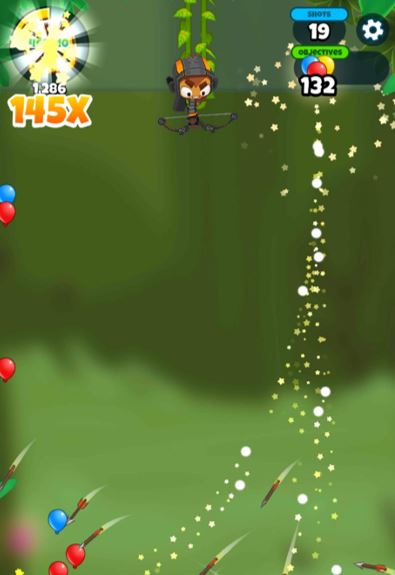 6. Avoid Dart Monkeys for attacks
It is recommended that players do not use the Dart Monkeys for attacks. Players can merge two Dart Monkeys when the opportunity arrives instead and create the very powerful Mega Dart Monkey. Please note that the balls will vanish the first time they fall to the bottom and thus make sure to use this monkey when the bottom is mostly covered by balloons.
7. Merge Boomerang Monkeys
It is better to merge Boomerang Monkeys as the Mega Boomerang Monkeys is much more useful. It is not only more predictable but also deals more damage by using more boomerangs. Players can make sure this Mega version reaches its full potential by dropping it in areas where it can bounce as many times as possible.
8. Learn when to use Mortar Monkeys
The damage Mortar Monkeys deal is very low. Comparatively, Mega Mortar Monkeys tend to destroy almost every balloon on the board. This is a very powerful Monkey.
That's all for today's Bloons Pop Beginners Guide. Did you find our Crash Arena Turbo Stars Beginners Guide useful? Do let us know in the comments below!
For more Mobile Gaming news and updates, join our WhatsApp group, Telegram Group, or Discord server. Also, follow us on Google News, Instagram, and Twitter for quick updates.