Clash of Avatars, also known as Honor Commander is the new release by Dayu Tech, which in the wake of its previous successful release – Survival: Man vs Wild- Island Escape which crossed the mark of 500K+ downloads has come up with Clash Of Avatars. The storage value of Clash of Avatars is 570MB and has over a thousand downloads. It is a new launch in the Real-time Strategy genre with even a 3v3 mode which is a first-time initiative in this genre, this game should be given a shot. So today in this Clash of Avatars beginners guide, we will be diving into some tips and basic tricks to help you out to play this game.
---
Getting Started
Initial Stage
As a player signs in and enters the game, the early-stage player enters is 1v1 in a battlefield which consists of two sides: Red and Blue which are assigned to the player and the opponent randomly. The role player plays is to be a commander who would choose the troop which would protect their God of War. Players stand out their troop with the help of a deck of cards that keep updating when the player levels up.
The mode player comes up with when they keep leveling up is 3v3 which, as the name suggests, consists of 3 lanes. Of which, once the King's lane is defeated the game gets over. The God Of War player protects has combat power which is depicted on the top corner, on the side assigned to the player just above the player's username, and just along with it shows player battle currency as well as the count of the round which is taking place.
Players are assigned specific spots to place troops over the battlefield. The one great feature it has is that troops the player set up don't actually move but sets up a copy of itself and charges it whenever the players Charge or Defend. Results that the troop's players select are permanent for the entire process of battle. There is even one more option that is to Ascend which is available when the player has 1000 Power and 350 Coins. It takes 25 seconds to occur and gives players a choice of a hero to be accessed at the battlefield.
3v3 Mode available
First time in this genre of game, this mode of 3v3 is being launched, which opens up to you at level Gold V. It is played between 6 players which are assembled on the three lanes present on either side. Each side of the battlefield consists of the bottom lane, mid lane, and top lane. The top lane is also referred to as King's Lane which once defeated, ends the match. Players can help each other by sending their troops to another lane to help their mate, it also displays a small map which helps the users to sight at the situation going on either side. Other functions such as those of troops, heroes and Charge, Defend and Ascend remain the same as that of 1v1 mode.
---
Mastering your Character
There are four categories of characters available, known as:
Troops: They are categorized as Fighter, Tank, Supporter, and DPS. Players use troops as the basic army structure for defending and charging. There are a total of 43 troops available.
Heroes: They can be accessed on the battlefield only when players ascend, which gives them the option to select between. They are depicted by a golden wing on the top left corner of the card. There are a total of 8 heroes available.
Avatars: It is the God Of War which players aim to protect, they can be upgraded up to three tiers. As the tier of Avatar increases the HP rate or the Heart Power rate of the avatar increases.
Spell: It is the magic potion that is a total of 15 in number and is categorized as Status, Healing, and Damage.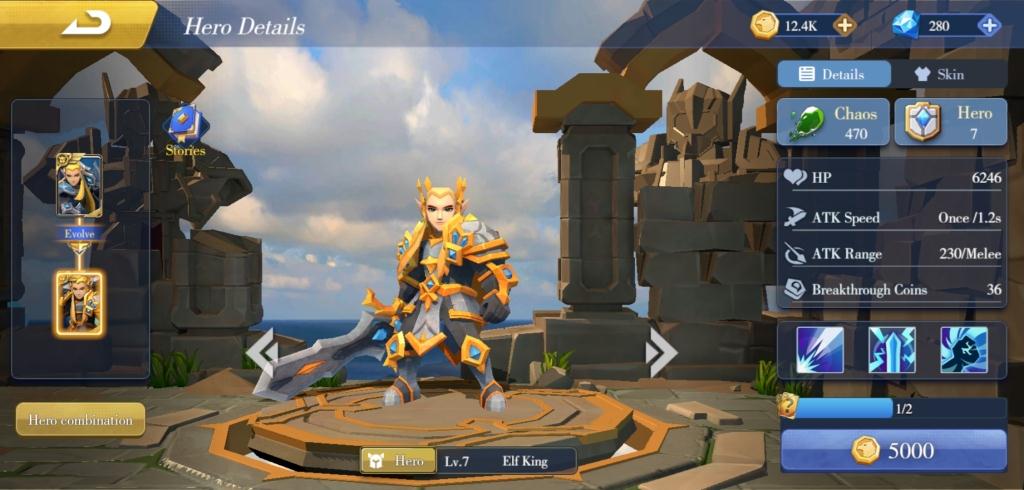 Charge and Defend
Foremost, it is the most specific step for the player to select if the player would Charge: let out the troop to attack the opponent's field and lower the combat power of player opponent's God of War or Defend: allow the opponent's troop to enter player's field and attack at the God of War. Each, Charge as well as Defend lasts for 45 seconds. The troop can only reach the God of War once they pass through the portal which is aligned at the center of the battlefield.
---
Global Connect
As players start becoming more and more precise, new aspects start getting into the game. One of which is Global Chat where players can send text messages or even stickers and start a conversation with anyone around the globe using this application. A player can send 20 text messages or stickers at a time. Even when players are bored playing and defeating, players can sight other master players doing so in 1v1 or even 3v3 live.
Just in case players are tired of playing with anonymous players, players can even connect with other players or friends all along and chase victory. On the condition that a player wants to join a team, players are provided with a guild, players can form one of their own to invite players or even join one of the player wishes so. Each guild has an application requirement which is the level the player has reached presently. If the player fulfills the requirement and the guild is vacant, the player can be a part of it. Once a player is a part, the player will be able to see the members of the guild who are going to accompany the player, the guild events in which even the player can participate, chat with members, and even can do card change.
---
Practice makes a 'Troop' perfect

There are different options and ways to get practice regarding a particular troop and master it with perfection. Here in our Clash of Avatars Beginners Guide, we have stated a few ways into how you can be a master of your troop.
Story Mode
Here it provides the player an option to get to know the heroes or characters more efficiently, as players are designated to not descend the God of War but get the victory by defeating a particular character. Players aren't provided with an army to do the same but just a character with the help of which player needs to defeat the opponent character. This mode expands the player's choosing mindset which would help the player in the setting up of the player's army also.
Preparation
All the information players want to source about a troop or hero, is found here. Their attack speed, attacking rate, at what level it would evolve, physical strength, etc. Accompanying this, it also helps players to create a deck that would consist of a certain number of Hero Cards and Troop Cards. Players would be able to make a deck for both 1v1 and 3v3 modes.
Event
As many other gaming applications have come up, Clash of Avatar too had this feature where players can use a certain amount (designated in the dollar) in order to get great gifts in return that have a great value. It has certain packs, out of which some are permanent, some are time-bound, and come up with seasons that bring up new and advanced heroes which players can equip. Not just with an amount, a player can enter but every day players play this game till Day 8, they can collect a free gift which is available in the Honor Battle.
Army
When players keep leveling up, players earn in rewards coins, diamonds, cards, etc. The cards players collect may not be different every time, it is so as when a player collects a particular number of cards of a particular character the player gets eligible to upgrade the character to empower their performance
Other miscellaneous functions
Journey
This allows players to see the levels they have achieved to date and lets the player collect the reward they have earned while leveling up.
Piggy Bank
It is used to store diamonds which can be used once the piggy bank gets filled. The Piggy Bank can be accessed for free by completing certain kinds of tasks it lists, including logging in, winning games, completing daily quests, etc. It can even be operated once a player buys it in exchange for dollars.
Quest
It allows users to chase tasks which are known as quests. There are Seasonal Bounty, Weekly Bounty, and Daily Bounty which possess new challenges which when completed make the player earn rewards in coins, cards, or even diamonds.
Barrack
If the user gets bored playing 1v1 or even 3v3, they have an option to explore adventures here. This includes Heritage Exploration, Avatar Rank, and Army Training which unlock at certain levels.
Mall
Mall provides users an option to buy a large variety of cards, costumes, diamonds, and even limited edition cards which can be bought in exchange for coins, diamonds, or dollars. It even has a King's Mall where products can be bought with the help of crowns.
Market: It has three kinds of Mall in itself:
Story Mall: User can buy products such as cards here with the help of adventure scrolls which the user can collect from the Relics Adventure.
Honor Mall: Users can buy products here with the help of Honor coins which can be earned by completing daily quests, signing in, completing bounty tasks, etc.
Ad Mall: Here the user is access to the product just by clicking on the option for watching ads, which plays the ad helps the user to get access to the product.
---
Clash of Avatars Beginners Guide: Additional Tips and Tricks
Here are some of our additional tips and tricks on how to progress in the game easily as an amateur in the initial stages of the game.
Players must not wait for the opponent to start Charging or Defending, take the first step, and start decreasing the combat power of the opponent's God Of War.
Players must keep an update on the army option as it helps the players upgrade the character, which helps the player increase the character's power and strength.
Players must not forget to collect the daily reward which may be in coins or diamonds.
Players can even switch accounts, the option of which is available at the login option.
Go ahead and give it a try and if you are finding trouble, don't hesitate to fall back to this Clash of Avatars Beginners Guide for tips!
Did you find our Clash of Avatars beginners guide useful? Do let us know in the comments below!
For more Mobile Gaming news and updates, join our WhatsApp group, Telegram Group, or Discord server. Also, follow us on Google News, Instagram, and Twitter for quick updates.