The latest update in Clash Royale introduced us to the most-awaited Clan Wars 2. With the update released on 31st August 2020, fans are excited to get to know the latest Clan Wars system. Although there was a lot of anticipation regarding the update, several players have already mentioned disappointment over the update. So, to make things simpler, this guide will help you to understand the latest Clan Wars 2 system in Clash Royale.
---
Engaging in Clash Royale Clan Wars 2: Step-by-Step Guide and tips
1. Competing in the River Race
First and foremost, to participate in Clan Wars 2, you need to join a clan. Since the events are simultaneous, you just have to jump into any clan that is currently taking part in a war. There you will find the clans competing to win the River Race. These will continue for 4 weeks until the Final Race. Within the event, you have to build a war deck and also complete River Tasks using these decks.
River tasks include Head-to-Head Battles, Duels (Best of Three), and Boat Battles. Complete these tasks to achieve fame for your clan.
---
2. Creating your War Deck
When you draw comparisons to the previous Clan Wars setup, you can see all cards which you have will be available to use in Clan Wars 2. Although this removes the fun of using limited cards by playing battles, it does give an unfair advantage sometimes and isn't very F2P friendly. War Decks must have unique cards (you cannot use the same card in more than one War Deck) and once they are used, they will have a cooldown period. Four war decks = 32 Unique Cards.
The best suggestion to use war decks is in the way in which you are handy. Although you might have 2-3 decks which you are familiar with, it isn't difficult to try out other decks. Always try to keep two defensive decks, one counter, and one heavy pushing deck, as they can be used in situations accordingly.
---
3. Boat Battles
Then comes the Boat Battles, which is something new in the update. You can attack enemy boats and then will have to defend when you are attacked. However, you can't attack until the boats are shielded.
Basic rules
Clan members can set up to a total of 10-15 Boat Defenses depending on your Clan League. You can see the list of clanmates on the same page.
A Boat Defense consists of 3 Defense Towers, known as the Gatling Cannon, each loaded up with 4 cards of a player's choice. Some cards are unavailable for use.
Boat Defenses will defend a Clan Boat automatically, will target both Air and Ground troops.
Defense Towers will only be activated when they are damaged.
Once activated, the Defense Tower will summon the troops that you have loaded to defend the Clan Boat.
Once all of a Clan's Boat Defenses are destroyed, the Clan Boat is damaged and can not move until it is Repaired. You can repair the boat in the Boatyard Repair.
Victory/Defeat Conditions
To WIN a Boat Attack, you need to destroy at least 1 Opponent Defense Tower.
You will LOSE a Boat Attack if you either get your Tower destroyed by the enemy troops, or fail to destroy an enemy Defense Tower before the timer runs out.
Tips for Boat Battles and Defense
Setting up your defense is another important part. It is simple, you have to add four cards to each Defense Tower, then save it. For each tower, make sure you have a mixed combination of troops. One heavy damage ground target troop (Giant Skeleton, Sparky, Mega Knight, etc), two ground + air cards and the other can be a spawn building or a defense. A good mix of air and ground, with a troop that deals heavy damage to opponent troops, will help in defending for a longer duration.
Once you have saved the cards for each tower, try testing them against all four battle decks, and also try it against a quick cycle deck, heavy pushing deck, and pump decks.
From the attacking point of view, focus only on one Boat Defense at a time. It is because to avoid triggering other boat defenses, as troops from the tower will be summoned, and you might get overrun. Also do not forget that your king tower will be will sit with low hit-points, so remember the opponent troops can't approach your tower.
---
Other tips for Clan Wars 2 in Clash Royale
When you play Duels, try getting a win within two battles. It is to help you use the other two decks in Multiplier battles.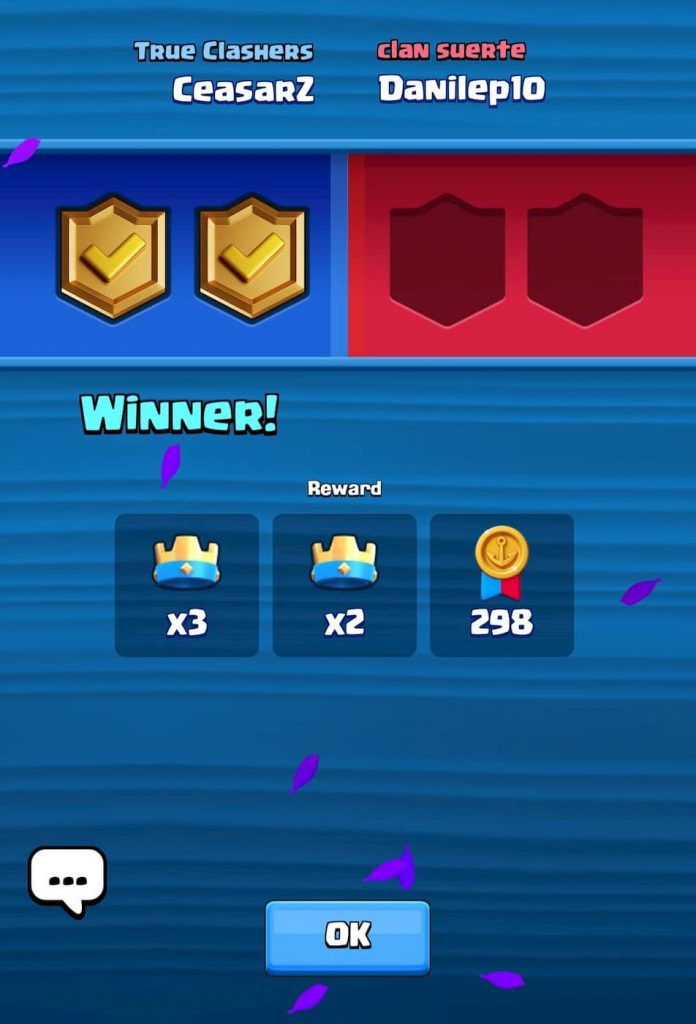 Even if you have two decks in cooldown and two available, avoid playing another duel. It is a risky move as you might need a third deck to play another game/tie-breaker.
Repair Clan Boats as soon as they get damaged else they won't move further. Also, this makes sure that your clan earns more fame for a repair and thus move ahead in the boat race.
Repairing boats is possible only if you have a certain amount of Repair Rewards. Complete River tasks to earn them.
Make sure to set up your Boat Towers/Defenses while the Boat Shield is active.
Although the Clan Wars 2 update is likely favorable to P2W (Pay to Win) players, we suggest players that they wait and see how things will go. We expect Supercell to bring some changes to the new Clan Wars system in the future.
---
Did you find our Clash Royale Clan Wars 2 guide helpful? What is your opinion on this new update? Do let us know in the comments!
For more Mobile Gaming news and updates, join our WhatsApp group, Telegram Group, or Discord server. Also, follow us on Google News, Instagram, and Twitter for quick updates.