eFootball PES 2020 is getting great profits for the company ever since Iconic Moments were first introduced. In the Datapack 5.0, Iconic Moments were scheduled to launch after maintenance every week. Till now, lots of players under excitement, try to pack them via a Special Agent. While some of them have a great collection of Iconic Moment Legends, the rest of them have nothing special to show off, with a fewer count. It all depends on luck, isn't it? Many clubs got their Iconic Moments in the game available; where later, better and higher rated players came into the picture. This increased the interest of getting these players, which were exciting for most of them. The first IM Legends Special Agent released were the Barcelona Iconic Moments and Bayern Munich Iconic Moments. We have already covered the Bayern Munich Iconic Moments players review and this article is about Barcelona Iconic Moments.
There are four Barcelona Iconic Moments in the game currently, so the reviews will be on those four. All the reviews are only after trying them out, both in online and offline matches. Whenever any new Barcelona Iconic Moments are available, the review will be updated.
---
Barcelona Iconic Moments
We currently these Barcelona Iconic Moments available in the game:
Carles Puyol
Xavi Hernández
Andres Iniesta
Diego Maradona
Carles Puyol
Playing Style: The Destroyer
Key Stats: Jump, Aggression (99 at max level) and Physical Contact, Ball Winning (99 when Icon Boosted)
Looking back at that iconic moment match
Regarded as one of Barcelona's most successful captains, and also one of the finest defenders of all time, Puyol is another featured Barcelona Iconic Moments player. Known for his absolute aggressive prowess and clean last-ditch tackling, his Barcelona Iconic Moments card reflect the same. Puyol led the Barcelona squad against Arsenal in the 2006 Champions League Final. Even with a promising start, Puyol committed a foul which eventually was a set-piece then converted to a goal by Campbell. But that was it, the rest of the game Puyol gave one of his finest defensive performances ever.
Puyol pushed his limit for some fine tackles. Throughout the game, he kept on running and encouraging his teammates to put their best. Arsenal's Thierry Henry experienced trouble because of Puyol's last-ditch tackles. Finally, Barcelona won the game 2-1, thanks to Eto'o, Belletti, and Henrik. But Puyol's performance in the final is of more importance than statistically viewed. For performances throughout the tournament, it earned him UEFA Champions League Defender of the Year 2006.
Player Analysis
Puyol was one of the most anticipated cards in PES. When the announcement of his release on PES was official, players to try his card were excited. Well, he deserves the hype. You would love him if you prefer a fierce, aggressive and perfect last-ditch tackler. Puyol has to be one of the best defenders in the game. Puyol is a very aggressive card, something that suits the current PES version; where COM/Opponents prefer to maintain the possession. Puyol is also the strongest defender in the game, you can experience that physicality of his while defending.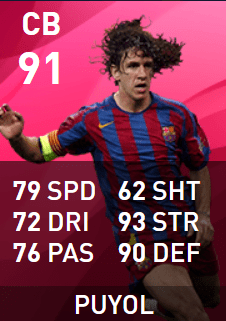 Puyol is not the tallest among the defenders, but his Jumping and Heading is amazing, wins headers almost 9/10 times. While Puyol has the Destroyer playstyle, he has the tendency to move forward, which might leave some space behind. So, better pair him with a Build Up style defender, so that he can cover Puyol. His slide tackles are the cleanest, you can trust him with his tackles even inside the box. He is very quick to approach loose balls, thanks to his Defensive Awareness. Good on the ball, passing is better than what the stats suggest. In conclusion, Puyol can be your best defender if you have a good backup for him to cover his void spaces.
Formation discussion
Puyol works wonders at CB/RB. While we prefer using him at CB, at RB he acts like a Defensive Fullback, but with less movement. Puyol fits in a 2 CB formation, but if you prefer a 3 ATB manager(Ex: A.Conte) and have Puyol, he's the best option you can get. Puyol fits in the centre perfectly, with two Build Up style defenders supporting at his left and right.
---
Xavi Hernandez
Playing Style: Orchestrator
Key Stats: Low Pass (99 at max level) and Ball Control, Lofted Pass (99 when Icon Boosted)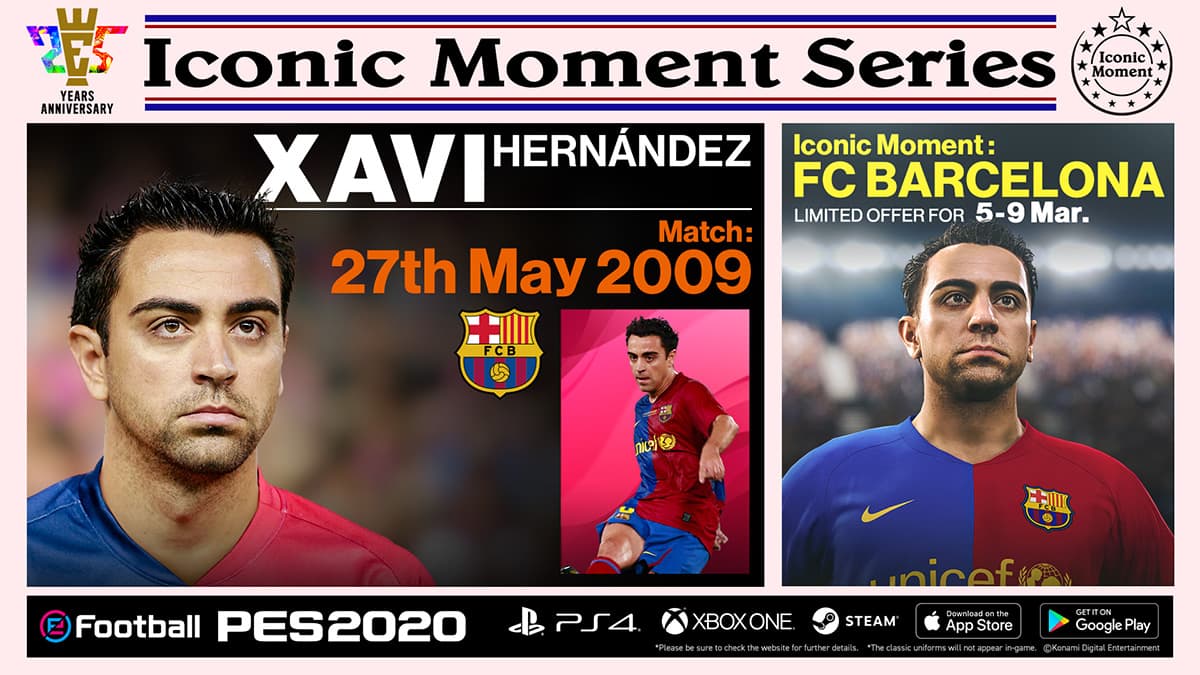 Looking back at that iconic moment match
The stage was set out for the final of the biggest club football competition in the world where Barcelona and Manchester United locked horns at the Stadio Olimpico in Rome, Italy. Barcelona scored first in the 10th minute from a ball exquisitely played by Xavi to Eto'o who danced past Nemanja Vidic to beat Edwin Van Der. The iconic moment was in the second half where Xavi got the ball in the edge of the box and his pinpoint cross found Messi who jumped high to head in an iconic looping header into United's net.
The Barcelona midfielder ably controlled the tempo of the game and provided great moments when in possession of the ball. Xavi was instrumental for Barcelona that season. His performance in the Champions League final was the icing on the cake, leading to another Barcelona Iconic Moments. Xavi was the UEFA Man of the Match in the game. Barcelona won the Champions League and earned its first treble, later concluding with a Sextuple.
Player Analysis
Xavi is having great stats for a midfielder, which he positively reflects on the pitch. He is neither a pure offensive nor a defensive midfielder, he's a mix of both but leaning towards to the offensive buildup. Xavi's passing is brilliant. He can find space for through balls to attackers and overlapping fullbacks, which can split the defence. He is basically the passing machine of the team and can orchestrate attacks brilliantly. The style of orchestrator makes him stay behind and help in the build-up. But that doesn't stop him from involving in the attack often.
He won't make runs into the box; as he is not your pass and run forward type. Just like in Barcelona, he has brilliant set-piece taking qualities. Again, another great card for dribblers, has a number of skills to support the statement. Xavi's playstyle makes him sit back, as the majority of the players were disappointed. But it is the same role he had in his Barcelona days, which is a closer look in this case. Overall, a very controlled and creative midfielder.
Formation discussion
Xavi is the perfect creator for your team, his passing is very accurate. He can be paired as a midfielder in the 4-2-3-1(Ex: D. Deschamps) or 4-3-1-2(Ex: N. Manalt) alongside a Destroyer or an Anchorman DMF preferably, in a Double Pivot role. He fits better in a Possession-based formation where he can intercept the defence lines to find attackers.
---
Andres Iniesta
Playing Style: Hole Player
Key Stats: Dribbling, Ball Control, Tight Possession, Low Pass (99 at max level) and Balance (99 when Icon Boosted)
Looking back at that iconic moment match
One of Barcelona's best players ever and undoubtedly one of the finest midfielders in Football history, Iniesta is featured as a Barcelona Iconic Moments in the game for his added time clutch goal against Chelsea – in the Champions League Semifinals on 2009. Following a deadlock in the first leg at Camp Nou, Chelsea and Barcelona faced in the return leg at Stamford Bridge, in a very controversial fixture on the talk till now. Essien scored a cracker of a volley to start things off in the 9th minute.
Trailing by one goal, in the 93rd minute, the game was about to be done. But it wasn't. Messi found his way to pass to an unmarked Iniesta, where the latter broke the hearts of millions of Chelsea fans from a top-right corner stunner with his right foot. In terms of an away goal, Barcelona qualify. His celebration is still etched as one of Barcelona's Iconic Moments.
Player Analysis
His playstyle is the reflection of his offensive game for Barcelona in that game, as well as in general. Iniesta in PES is really good on the ball, thanks to his stats in the Ball Control and Dribbling side. Iniesta is one of the best passers of the ball in the game, just like in real life. A bigger misconception is that Iniesta should play like Cruyff, another legend in the game, both being Hole Players. However, Iniesta isn't a pure attacking forward like Cruyff. He is not physical enough to push defenders, so expecting to score goals with him like you do with Cruyff is not the right way.
Instead, use him for your creation of chances, utilize his dribbling abilities to beat a man or two, use quick balls into the box. Avoid long shots, try to score when you are near the box or inside. Iniesta is a passing maestro overall, skills like No-Look Pass and One Touch Pass is very helpful for your quick buildup. Use his Through Passing skill to feed your forwards some defence-splitting passes to initiate good counter-attacks. Avoid pressing with him, he is not aggressive on the pitch.
Formation discussion
Iniesta can fit in any formation, can play in any midfield position (except DMF) without dropping familiarity. He can play under both Counter Attacking/Possession football managers. It is highly advisable to give him a free role, without defensive duties. Best formations would be a 4-3-3(Ex: R.Koeman), with an AMF it would be even better as Iniesta will fit perfectly. In a 4-3-1-2(Ex: F.Santos), use him at the sole AMF formation.
---
Diego Maradona
Playing Style: Classic No. 10
Key Stats: Dribbling, Tight Possession, Balance (99 when Icon Boosted)
Looking back at that iconic moment match
A big El Clasico match was the final in the Copa Del Rey 1983. Undoubtedly the two biggest Spanish clubs in history clashed for the title. The Cup final was held on 4th June 1983 in Zaragoza. The epic rivalry had huge faceoffs: Barcelona vs Real Madrid, Luis Menotti against Alfredo De Stefano, Sanchez vs Santillana and Maradona against Stielike. Barcelona started positively, where Victor Munoz scored the opener in the 32nd minute, thanks to the assist by El Diego himself. Barcelona dominated the first half, where Maradona masterclass helped them create good chances.
Real Madrid were quick enough for an equalizer, within 5 minutes into the second half. Santillana stepped up as the captain to score. Maradona kept on dribbling past players and did a lot of magic on the pitch, before Marcos Alonso Pena scored a late winner in the 90th minute, just 10 seconds before the stoppage of play. Maradona was the best player of the game, and his performance is regarded as one in many of Barcelona's Iconic Moments.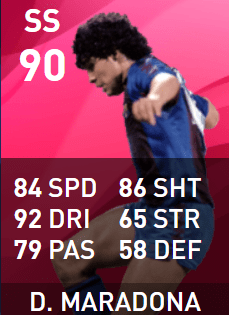 Player Analysis
Maradona has to be one of the lightly taken Iconic Moments in the game, either because he is bad in-game or he is awarded as a free gift by Konami. Most of them prefer drawing comparisons with his legend version, which even we reviewed. The Legend Version is super good on the ball, better possession and control. On the other hand, the Barcelona Iconic Moments version feels to have better pace and stamina. While both versions have the Classic No.10 playstyle, the IM version tends to move forward more times, compared to the Legend one.
Maradona is a good player but faces criticism as he is not a perfect forward that players want him to. Maradona rarely poaches to the box, which is not his natural style of play. On the positive side, Maradona curls the ball so good, you can attempt some amazing long shots. Well, the chances of scoring are high as he has the Long-Range Shooting skill. Maradona will be a perfect choice for those who prefer dribble and shoot. Deadly when he's got a lot of space to operate. On the not so good part, his Gamesmanship trait makes him dive/fall for the slightest of touches by the opponents. This harms your game tempo, where the Ref won't call such fouls often. He is surely not the best, but not as bad as everyone claims him to be.
Formation discussion
Maradona is not a pure forward; he works best as an attacking midfielder in the game. So, his best positions will be at AMF, preferably in the right if you use a manager with 2 AMFs. He works well under Possession tactics, works perfectly in a 4-2-1-3(Ex: M.Arteta) or a 4-3-2-1(Ex: R.Schmidt). You can use him as a right SS, to take some curled shots when you find space to shoot.
---
That's all we have as of now for reviewing the Barcelona Iconic Moments players. We are going to review more Iconic Moments players from other clubs soon, so stay tuned! Meanwhile, if you want to read reviews of normal Legend players in PES 2020, we have it ready for you:
---
Did you find this review helpful? Read more of our PES articles here. Which Barcelona Iconic Moments players do you have in PES 2020 and what are your thoughts about them? Let us know in the comment section below!
For more Mobile Gaming news and updates, join our WhatsApp group or Discord server. Also, follow us on Instagram and Twitter for quick updates.