Fantastic Beasts' Legend is a strategy title by Hong Kong-based game developer company Dreamstar Network Limited. Players will have to capture a variety of fantastic beasts that broke through the ancient seal and entered this world. With a powerful lineup of beasts, the game lets the player join in real-time auto-battle. With a fairly large player base already, players were interested to get to know whether some gifts or gems within the game are gettable via codes or coupons. Well, the good news is that this is possible by following easy steps. Here's a quick guide to getting free Fantastic Beasts' Legend to redeem codes and also redeem them.
How to get free promo codes in Fantastic Beasts' Legend
Redeem codes are provided on any update, reaching some set targets, or celebrating other things. But one of the best things about Fantastic Beasts' Legend is that the game often gives free coupon codes. These codes are delivered from the game's social handles on Facebook. But we recommend following this article because we're consistently looking for new workable codes for you.
In this article, we'll provide you with a list of the latest codes of Fantastic Beasts' Legend, explaining how the codes work and how to redeem them, with some of the free codes with their redeemable in-game rewards.
Fantastic Beasts' Legend free redeem codes
Redemption codes can be used to claim various in-game items like Adv. Beast Egg, Jade, Cultivation Elixir, Spiritual Stone, etc. The game provides a new redeem code each day. So, players need to redeem each code promptly. There are many promo codes available at the moment, and we have got them all covered for you. Make sure to redeem all before they expire.
Here's a list of all working codes for Fantastic Beasts' Legend. Make sure to redeem them all to get in-game reward items.
| Free Code | Rewards you can Redeem |
| --- | --- |
| easterday | 5 Adv. Beast Egg, 200 Jade, 88.8K Cultivation Elixir, 66.6K Spiritual Stone |
| Lucky | Exclusive Rewards |
| LoveU | Exclusive Rewards |
Fantastic Beasts' Legend Redeem Codes
Make sure you enter the codes exactly how they appear in the table. Enter the codes and redeem them as early as possible before they expire. We will be updating the list from time as new promo codes arrive and remove the expired ones from the list.
How to redeem Fantastic Beasts' Legend free codes from the redemption center
Unlike other games, Fantastic Beasts' Legend has an in-game code redemption center that you can access easily within the game. Therefore, like most mobile games, you do not have to go to an external site and enter the codes then return to the game to see if they are working. Just follow the steps below and you will be able to redeem the codes and get cool rewards in no time!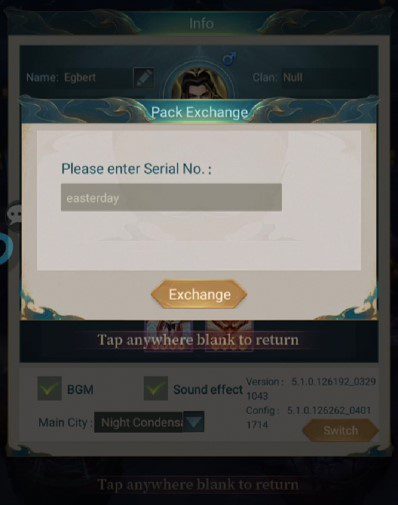 Open the Fantastic Beasts' Legend app from your app drawer.
Click on the Avatar icon to open the Profile menu. You'll find it in the top left corner of the screen.
Clicking on it will take you to the next screen. Tap the XCHG Code icon and you'll see a blank box.
Copy a working code as it is written in the box above and paste the code into the blank box.
Tap Exchange to receive your rewards right away!
These are all the codes that are working and tested, for now, we'll update this space as soon as we get to know more free redeemable codes for Fantastic Beasts' Legend.
For more Mobile Gaming news and updates, join our WhatsApp group, Telegram Group, or Discord server. Also, follow us on Google News, Instagram, and Twitter for quick updates.