Lords Mobile is an Android, iOS, and Steam video game developed and published by IGG. If you've just started playing Lords Mobile or are in the midst of your quest for glory, you are at the right place. Might is Lords Mobile's most significant stat, but it has no impact on your hero. But even a newbie will realise that Might plays a vital role in the late game. It essentially demonstrates how strong you are and how you can improve it. Here's our Lords Mobile guide with 10 tips and tricks to increase might faster.
What is Might in Lords Mobile
Before jumping on the tips, first, let us understand what might actually is? and will Might define how cool you are in the game? In simple terms, Might reflects players strength. The Hero screen will open when you click the player icon in the top left corner. A fist icon appears directly beneath your name; the numbers next to this icon represent your might points. Now, click on the bar icons next to your name to access the statistics screen. Scroll down until you reach a section labelled "might" (as displayed in the image above). In the game, players earn points by completing quests, training troops, and completing buildings. And your Might power is calculated as the sum of these points. In this guide, players will find some important Tips and tricks to help them in increasing Might faster than others in the race.
Lords Mobile: 10 Tips to increase Might faster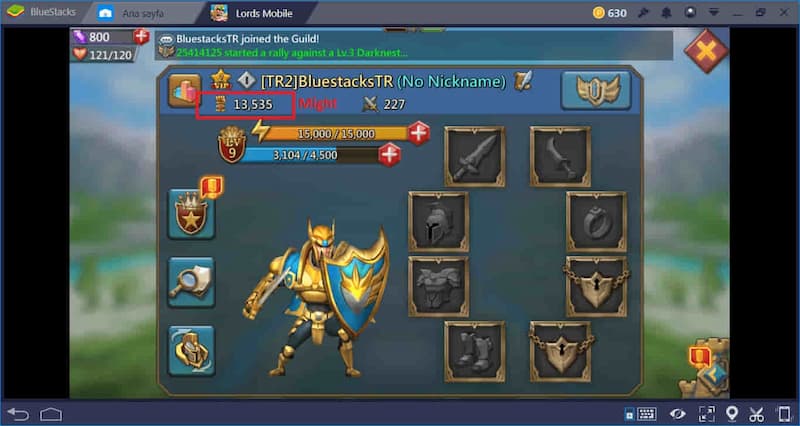 Here are some recommended Tips and tricks to boost up your Might faster than other players in the game –
Build up your Army as much as possible but make sure your barracks are upgraded to the max required level.
Concentrate on troops in the T3 and T4 tiers. They will endow you with considerable might. T1 and T2 troops do not contribute nearly as many might points.
Try to level up your Castle as fast as possible. It will provide you with additional opportunities.
Concentrate on research.
Acquire experience as quickly as possible.
Don't forget to complete the admin, guild, main tasks timely.
Exp Boost ups are also effective. Use them to gain extra 20% experience.
As you might guess, levelling up your hero is another way to gain Might. Completing guild and admin quests will earn you the most experience points, allowing you to level up more quickly.
This is the most certain method of boosting your Might. By constructing and upgrading your structures, you can earn Might points.
Troops and traps are the quickest methods for gaining and losing might. In addition, keep in mind that losing troops would have a negative effect on your power. You gain might quickly with this choice, but you lose it just as quickly if you lose wars.
---
Bonus Tips to boost up your Might power
Training troops without adequate infirmaries is a bad practise that many beginners frequently engage in. However, if you want immediate might, you should build up your army. If you really want it faster, We recommend using gems to expedite the training process.
You can also pay for additional boosts. Increasing your research, construction, and troop strength will undoubtedly boost your might.
Concentrate your efforts at the start of the game on improving other aspects. Troops and traps will become more important as the game progresses. Many players keep upgrading a single building which wastes time and resources.
Speed up buildings with money if you don't want to wait for so long.
Because you can only train one type of troop at a time, it is pointless to have numerous barracks. It doesn't give you many advantages except for increasing your barrack capacity, but you'll spend more time training more troops.
Avoid losing your Might
Assuming you have a large number of troops and traps, each attack will result in a massive loss of might. Above all, once you heal (or rebuild) your army, you will regain your might. Many players typically freak out when their troops are lost and their might is diminished. There is nothing to fear. Might can be easily regained. Players should remember that even casual gameplay will earn you sufficient Might points. Naturally, this will take longer, but remain active and engage in battles with your powerful army. Your might isn't a fixed number: It is a dynamic value which keeps on changing. Once it drops, it will quickly rise again if you follow our Tips properly.
Conclusion
Lords Mobile is certainly a highly polished MMORPG mobile game. The game has different choices and is extensive. All in all, this is a game you definitely should check out. Gradually, as you proceed further in the game, players with lower Might can defeat anyone with proper strategy. Above all, Might is just a numerical value and it depends upon players' actions. Avoid building might in ineffective ways, as you will eventually be surpassed by players who are doing it correctly. Getting more Might is a hard job to master for beginners but not the impossible one. In particular, if you're stuck somewhere, visit our guide to shine out in the game at all times.
Did you find our tips to increase might faster in Lords Mobile helpful? Do let us know in the comment section below!
For more Mobile Gaming news and updates, join our WhatsApp group, Telegram Group or Discord server. Also, follow us on Google News, Instagram and Twitter for quick updates.