Mobile Legends Bang Bang (MLBB) is a wide constantly growing MOBA game. This game is regularly updated by Moonton in order to improve the in-game performance which includes: The addition of new Heroes, Skins, Events, Balancing hero abilities, and also to fix bugs, etc. After an update, one can still play the game undisturbed after some days without updating, but after some time players will be forced to update their game in order to play the game. Luckily, this game can be updated either manually or automatically based on one's choice. Here are both the possible ways on how to download the in-game latest patch and update Mobile Legends quickly.
Steps to update the latest patch in Mobile Legends
1. Automatically updating the game
MLBB has a feature that helps to automatically download patches and updates made to the game. This auto-update is done before or after one has started a match. To Enable Auto-Update In Mlbb, follow these steps:
Tap on the Settings Option in the main lobby.
In the Basic tab, tap on the Update Settings option.
Choose between Updating Only In a Wi-fi Environment– this option allows updates to download only when connected to a Wi-fi Network OR Update In Any Network Environment– where it will download updates under any network connection.
Tap on Confirm and the game will be automatically updated when there are new patch updates.
After pre-downloading updates made to the game, one can enter the game directly undisturbed whenever the new version is released. Do note that during major updates, the game will need to restart in order to add the new contents to the game.
---
2. Manually downloading the update
In spite of the auto-update feature in MLBB, one might sometimes face some problems or bugs that will not let the game automatically download patch updates made to it. If this happens, then one will have to update the game manually. Follow the following steps, to update MLBB manually using Google Play Store for Android Devices or the App Store for iOS Devices.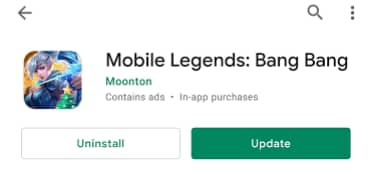 For Android users
Open to the Google Play Store App and search for Mobile Legends: Bang Bang.
After searching for the game, tap on update and let it download.
After the update has finished, open the game and let it automatically complete the update process.
For iOS users
Open the App Store.
Tap on the Updates Tab to know which apps need an update. Once you find MLBB in the list, tap on it and start updating the game.
After downloading the update, open the game and let it complete the update process
Do you prefer auto-update or manually downloading the update patch every time in Mobile Legends? Let us know in the comment section below!
For more Mobile Gaming news and updates, join our WhatsApp group, Telegram Group, or Discord server. Also, follow us on Google News, Instagram, and Twitter for quick updates.