State of Survival is a zombie apocalypse strategy survival game with tens of millions of downloads worldwide. Published by KingsGroup, the game enables players to team up and combine their efforts to fight back against the undead enemies and protect the last remaining humans. With a fairly large player base already, players were interested to get to know whether some gifts or gems within the game are gettable via codes or coupons. Well, the good news is that this is possible by following easy steps. Here's a quick guide to get free State of Survival redeem codes and also to redeem them.
How to get free codes in State of Survival
We all would never miss out on anything that we would get for free in State of Survival. Game Codes play a major role in getting us freebies, and the developers would drop a couple of events so that we get some freebies in return. The same goes for State of Survivals' codes.
The good news is that State of Survival do have free promo codes that can get you all sorts of in-game resources such as Food, Wood, Metal, Gas, and Epic Hero items. To get the in-game rewards, you will need to redeem the codes which is a very easy process.
In this article, we'll provide you with a list of the latest State of Survival codes, explain how the codes work and how to redeem them, along with some of the free codes with their redeemable in-game rewards.
State of Survival free redeem codes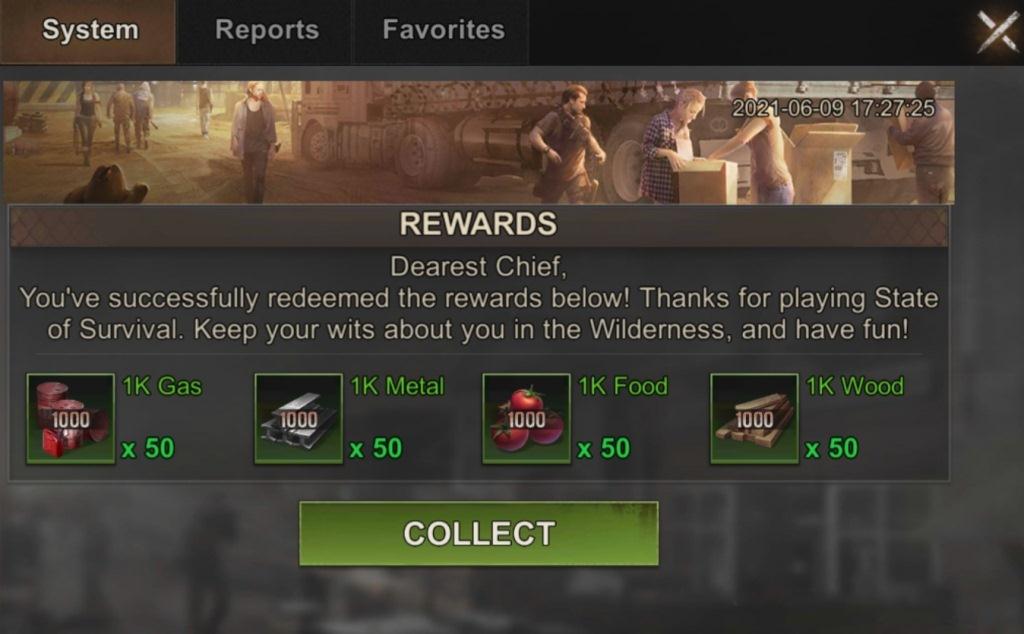 There are not many promo codes available at the moment, but we have got quite a few covered for you. Keep in mind that some of the codes may have already expired or expire soon by the time you redeem them.
| | |
| --- | --- |
| Free Code | Rewards you can Redeem |
| sos8282 | 500 Biocaps, 2 Epic Search Maps, 1000 1K Food, 1000 1K Wood, 20 5m Speedup |
| darylsos | 50 1K Gas, 50 1K Metal, 50 1K Food, 50 1K Wood |
| SFA773217A67 | 1 Epic Hero Badge, 1 Elite Hero Fragment, 2 1K Gas, 2 1K Metal, 2 1K Food, 2 1K Wood, 2 5m Training Speedup, 2 Combat Manual |
| s13a9a1d3804 | 50 Biocaps, 1 Advanced Search Map, 3 1K Gas, 3 1K Metal, 3 1K Food, 3 1K Wood, 3 5m Training Speedups, 3 5m Research Speedups |
| SD406B202C12 | 50 Biocaps, 1 Epic Hero Badge, 1 Epic Hero Fragment, 1 Advanced Search Map, 5 1K Gas, 5 1K Metal, 5 1K Food, 5 1K Wood, 4 5m Speedups, 4 5m Training Speedups, 4 5m Research Speedups, 4 5m Construction Speedups |
Make sure you enter the codes exactly how they appear in the table. Enter the codes and redeem them as early as possible before they expire. We will be updating the list from time as new promo codes arrive, as well as, remove the expired ones from the list.
State of Survival Code Redemption Center
Unlike other games, State of Survival has an in-game code redemption center which you can access easily within the game. Therefore, like most mobile games, you do not have to go to an external site and enter the codes then return to the game to see if they are working.
Tap on the Profile icon on the top left-hand corner of the screen.
Head to the Settings option in the bottom right-hand corner
Tap on the Gift Redemption option, with an icon of a box wrapped in red.
Enter the redeemable code.
Hit the Redeem button and receive your rewards from the mailbox!
These are all the codes that are working and tested, for now, we'll update this space as soon as we get to know more free redeemable codes for State of Survival.
Did you find our guide to obtain and redeem the free codes in State of Survival useful? Do let us know in the comments below!
For more Mobile Gaming news and updates, join our WhatsApp group, Telegram Group, or Discord server. Also, follow us on Google News, Instagram, and Twitter for quick updates.