Nordeus has introduced a new kind of training bonus called Team Play Bonus or "TPB" in Top Eleven Football Manager. Now the game has two types of bonuses. One is Training Bonus and another one is Team Play Bonus. Now, the question is how to keep both bonuses on the maximum level?
Importance of Team Play Bonus in Top Eleven
Before rushing to the method let's understand what is the importance of these bonuses, and what is the impact of this bonus on a match. We already have an article on how to maintain a 40% training bonus easily before Top Eleven introduced this additional team play bonus. So, we will mainly focus only on the newly introduced team play bonus. Although will explain how to combine training to get both of them to a maximum level easily
Like the Training bonus, the team play bonus is important for the better performance of the entire team. From the various survey, it is found that managers playing with low team play bonuses are not getting the desired result even though they were playing with maximum training bonus. So for a better result, we need to maintain both bonuses at a maximum level.
But managers often struggle to maintain the 10% Training bonus (10×4) and 10% Team Play Bonus every day and end up burning half of our player's energy while trying to maintain it. This makes the players tired before starting the match. So, we must find a way out to maintain 10% bonuses and also our players don't get tired.
Top Eleven training methods
There are two methods to train. The first one drains 12% of your player's energy but can be done in one step. The second one takes only about 9% of your player's condition but it requires more than one step. Let's discuss both methods here. we are assuming the team has an 8% team play bonus and 32% training bonus (8×4) from the previous day. As there is a 2% reduction of bonuses on both types. So our goal is to make both bonuses 10% and 40% (10×4) from 8% and 32%.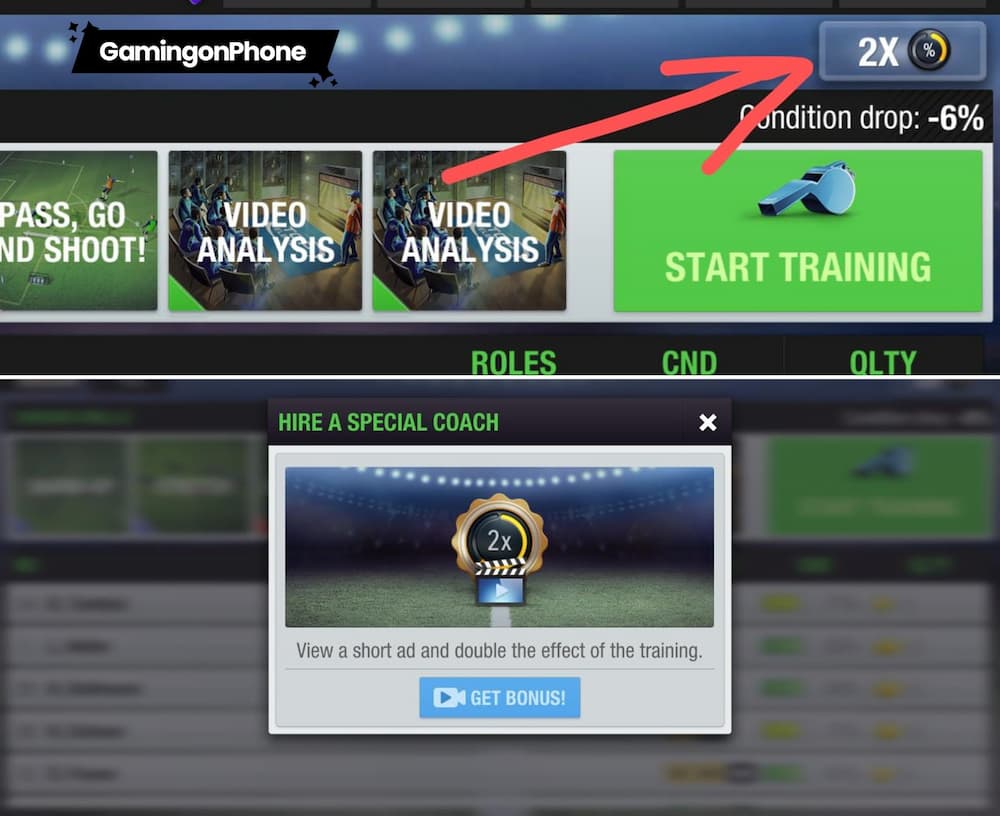 However, for both methods, a manager must use the "Hire a special coach" feature via watching a video or ads at the time of training. So make sure not to use all the ads for getting boosters and keep at least 2 ads to watch for training purposes. If a manager doesn't use the 2X video feature he/she has to drain twice the condition mentioned above (i.e. 24% and 18.4%) which is indeed a bad idea.
Method 1: Using 12% condition
This method is quite simple. First, select all the players in your squad, then choose drills as given below. Then train two times using the 2X video feature. So with this, a manager will be able to make both bonuses 10% and 40% (10×4) at the cost of 12% condition.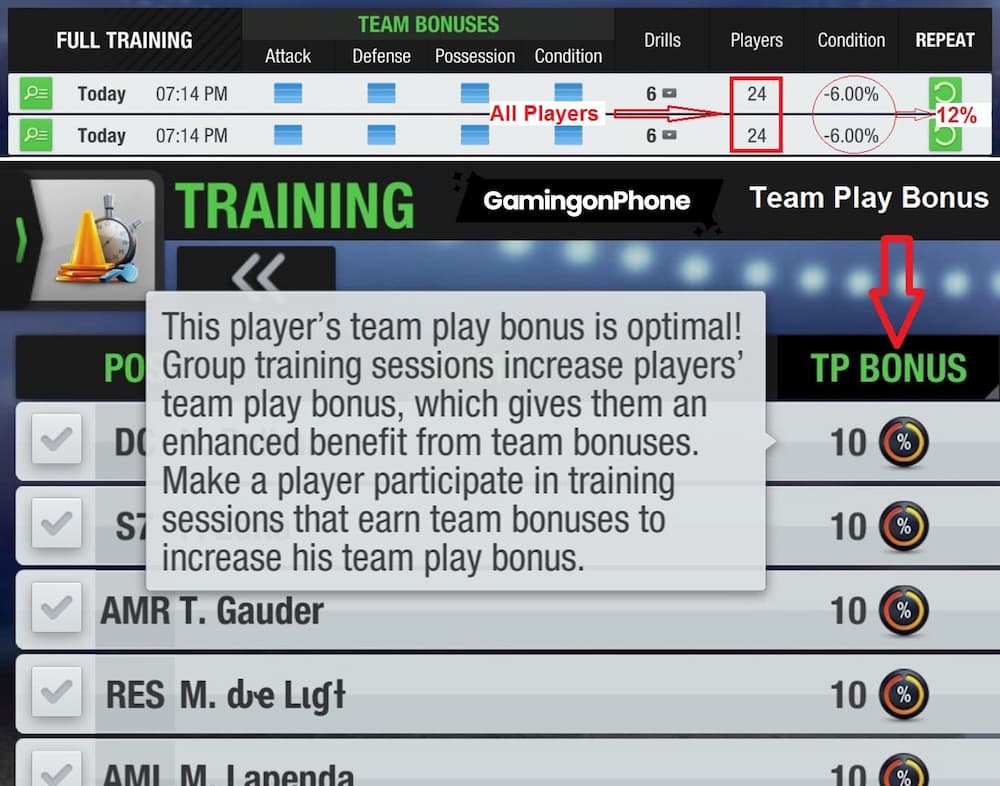 Method 2: Using 9% condition
This method needs two steps of training but it will drain less condition compared to the other method. This method is for those managers who use unused (nonplaying) substitute and reserve players to make training bonus 40%. In this method, both bonuses are trained to maximum separately.
First, select only those players who play for the team or 1st team players, then choose drills as given below. Then train two times using the 2X video feature. This will result in a 10% team play bonus on every player that you have selected at the cost of around 9% condition.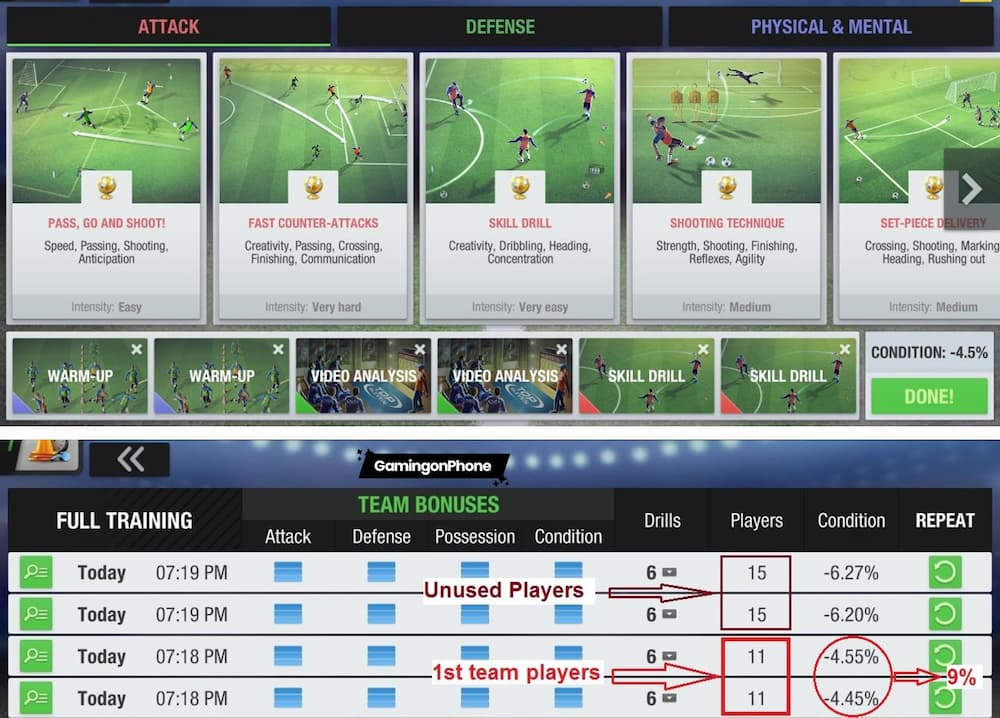 Now, the next aim is to make the Training bonus 40%, which can be done using unused substitutes and reserve players by the method 1 described already.
Let us know if the article was helpful or not and feel free to ask if you have any doubt about anything. We will appreciate your valuable feedback.
For more Mobile Gaming news and updates, join our WhatsApp group, Telegram Group, or Discord server. Also, follow us on Google News, Instagram, and Twitter for quick updates.