Blooming Moonlight, a game by Chinese game developer Zishi Technology based in Korea has featured a female character wearing a traditional Korean costume 'Hanbok' which led to a controversy regarding plagiarism and intellectual property theft in South Korea, reports The Korea Herald.
The controversy was specifically sparked because the game showcases the hanbok which has the exact same design as that of Baekoaksoo, a renowned hanbok company based in Seoul, which is an outfit designed by the company last year for the music video "Daechwita" by Suga of BTS.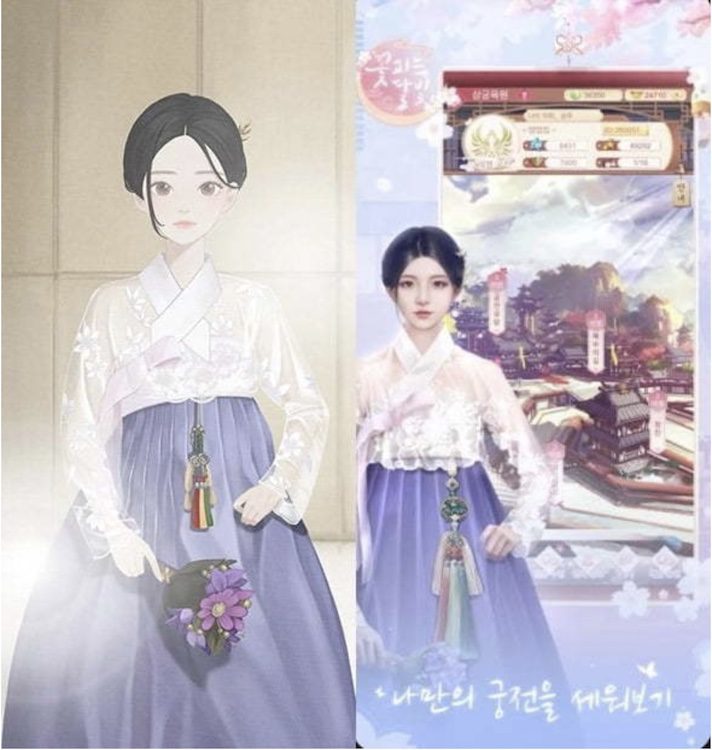 In light of the situation, the Korean game company Aircap, which has exclusive rights to use Baekoaksoo's hanbok design in video games, denounced the Chinese game developer.
The stolen hanbok costume, according to Aircap, was one of the prize items provided to customers in the early phases of Girl Globe, the firm's mobile dress-up game. The Chinese developer merely changed the item's name from "Purple Scent" to "Lake Fog" after copying the outfit to Blooming Moonlight.
"Hanbok is the national attire infused with the identity of the Korean people, and using it without permission is equivalent to stealing our unique spirit. I hope the Chinese game company apologizes with the utmost sincerity." – said Cho Jin-woo, chief executive of Baekoaksoo. To Cho, this incident was more than just a simple case of intellectual property theft, it was a disrespect to the essence of Korean culture.
Plagiarism instances before the Blooming Moonlight case
This is not the first time that Chinese games have engaged in similar behavior. The recent attempt to outfit the game's characters in hanbok enraged Korean users, who saw it as an attempt to appropriate Korea's traditional heritage.
Call Me an Emperor, a Chinese mobile game sparked a similar outrage in April 2021 for featuring a female character in another hanbok attire similar to that worn by UI, a Korean singer-songwriter and actor in the drama series "Moon Lovers".
A more critical case was faced in November 2020, as the Chinese gaming firm Paper Games' Shining Nikki had to shut down its Korean server due to the controversy that had grown over the hanbok featured in their game, as can be seen below.
What are your thoughts about the plagiarism controversy surrounding Blooming Moonlight? Drop your opinions in the comments.
For more Mobile Gaming news and updates, join our WhatsApp group, Telegram Group, or Discord server. Also, follow us on Google News, Instagram, and Twitter for quick updates.