The first anniversary of Genshin Impact has not gone to miHoYo's expectation, what was supposed to be a high point in the game history has turned into a massive disappointment, making the fans putting bad reviews and taking the rating down on app stores.
Since the announcement of anniversary rewards fans have been vocal about paltry rewards, the players were also hopeful that there might be a slight chance of the Chinese developer announcing more rewards but nothing of such sorts happened.
Soon comparisons with anniversary rewards of other gacha games started doing rounds which further showed how lacklustre the anniversary rewards are. To voice their concerns players got onto social media which was followed by a review bombing Genshin Impact on the Play Store.
Fans outrage grows
The fans have been voicing their grievances for over a week on various social media platforms. The situation has aggravated since there has been no response from miHoYo and several other decisions have also added fuel to the fire.
Players are upset over the fact that Genshin Impact did not even acknowledge the game's anniversary with an in-game mail, only a mail for Ayaka's birthday which happens to be on the same day were sent out to players. Genshin's official discord and forums are filled with Qiqi sticker spam.
miHoYo took action against leakers which they are justified to, but the fear among fans is the lack of communication from miHoYo to show a roadmap of upcoming content, characters. Whereas others are annoyed with miHoYo's censorship of content on HoyoLAB and the release of characters that have an incoherent kit.
Review bombing on Google Play Store to lower the rating of Genshin Impact
One thing has led to another, and now in their last attempt to gain the attention of the developers many players from the community have started review bombing Genshin Impact which have plummeted the ratings to an abysmal 1.9 stars.
Honkai Impact has been caught in the fire between the players and Genshin as some of the fans have started even review bombing Honkai Impact 3rd. Genshin Impact's youtube channel also lost 0.6 m subscribers on youtube and the latest video has over 40k dislikes.
What does the future hold for Genshin Impact and miHoYo
The fans outrage doesn't look to be dying and it is likely that the community will keep the movement alive until some changes happen. All this could have been easily avoided by miHoYo by simply responding to the community. A look at the reddit forums would reveal how players have been asking for transparent communication.
It remains to be seen whether miHoYo will officially address the situation and add new rewards or explain the current choices. The game's status as one of the highest-rated gacha games has come to a sudden end and will it ever be able to regain its former glory is something only time will tell.
Fans are eager for the patch 2.2 live stream to see if GenshinImpact would make amends. The live stream will be featured in the Tokyo Game Show on the third of October and will be broadcast on YouTube and Twitch.
miHoYo gives bundles as reward after backlash
Post the review bombing on Play Store, miHoYo has tried to do damage control by giving out the Boundless Symphony bundle ( Speculated price US $ 30) for free. Players from the Asia server have already received the first of the four rewards through the in-game mail. For the first reward, players will get 400 Primogems along with a glider "Wings of Shimmering Galaxy".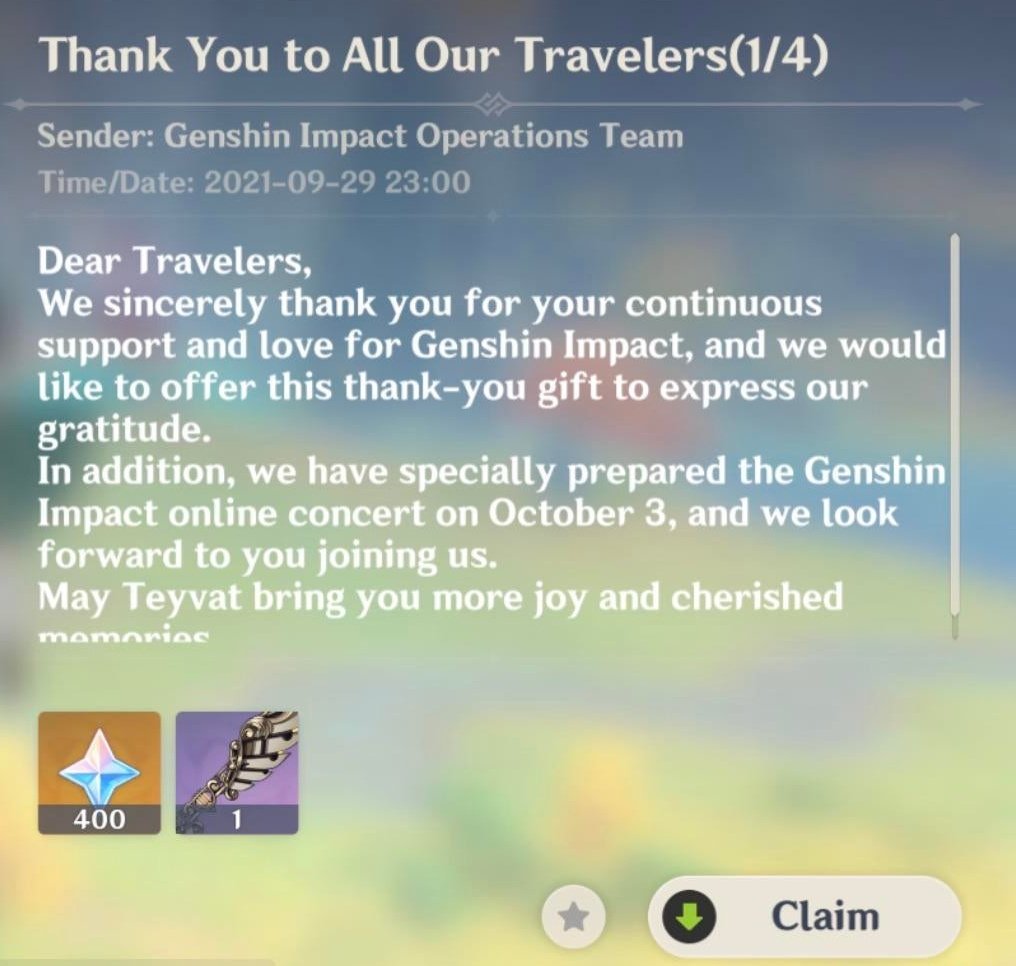 The other rewards include 1200 Primogems, a Special namecard and harp-shaped furniture. miHoyo was also helped by Google in taking down reviews. Google has perceived them to be bot reviews, thus increasing the rating back to 2.8 at the time of writing the article. This is a standard policy that is meant to prevent review bombing and has happened previously as well for other apps in a similar scenario.
For more Mobile Gaming news and updates, join our WhatsApp group, Telegram Group, or Discord server. Also, follow us on Google News, Instagram, and Twitter for quick updates.