Combat Master is now back in the app stores after facing quite a lot of issues when it first launched. The game got a large following because it was considered by many to be a ripoff of CoD: Modern Warfare. Since its removal from the Play Store and App Store, the game has now been brought back with most of the elements that could be copyrighted removed. But now that it's back, it's being heralded by many to be among the best FPS games to release on mobile. Here in this article, we will review Combat Master after its revamp and share our first impressions of the game.
When you join a game, you are immediately dropped into a fast-paced experience. However, it's better to take some time to customize the controls. The maps are pretty small and if you don't constantly move around, the chances of getting hit and killed are very high.
Engage in fast-paced and intense combat over comparatively shorter maps
Starting off with the review, Combat Master features intense first-person gameplay in short-medium range maps. It feels like an accelerated version of CoDM at times although the movement styles and gunplay can be a little different. Currently, there are four total gamemodes. Team deathmatch, mini-royale, free for all, and Rabbit Hunt. And the number of maps feels sufficient for the moment however more will likely be added in future updates too.
The movement certainly is pretty sped up and players can sprint and jump around with more mobility than CoDM offers. However, the gunplay could use a little work. While SMGs and ARs work fine, snipers and shotguns feel clunkier. This in part is due to the fact that players can only either hip-fire or ADS. Despite there being two triggers, if players decide they want to go with ADS (changeable in the settings), both triggers ADS only.
Lack of enough firepower and gamemodes leave room for minor improvements
However, CoDM and a lot of other games allow players to hip fire with one trigger and ADS with the other. There's a lot of minor improvements that could be made to the gunplay to make it better. Another thing that is missing is the gunsmith however it isn't really a major requirement. Some games just choose to have it and others don't so it's not really a big issue.
Another issue is how the game feels a little hollow at the stage it currently is in. There are not a lot of weapon choices and a lot of content is "coming soon". Team Deathmatch is the only mode and although it's fun, having variety allows players to play in different ways instead of the run and gun theme this game has. The lack of enough weapons and the grind required to even get to the ones available are one of its biggest flaws.
Standard graphics but controls might need a rework for good
The game has decent graphics overall and you won't need a really high-end device to crank the visuals to ultra. The maps look decent although in some areas the texture quality is a little shoddy. The audio is standard with nothing to complain about.
As mentioned before, the controls need some work for the gunplay to work better. The UI is different from before as that led to the game's ban and it's not as similar to CoD: Modern Warfare. It's pretty clean and simple so nothing really presents itself as an issue with the UI.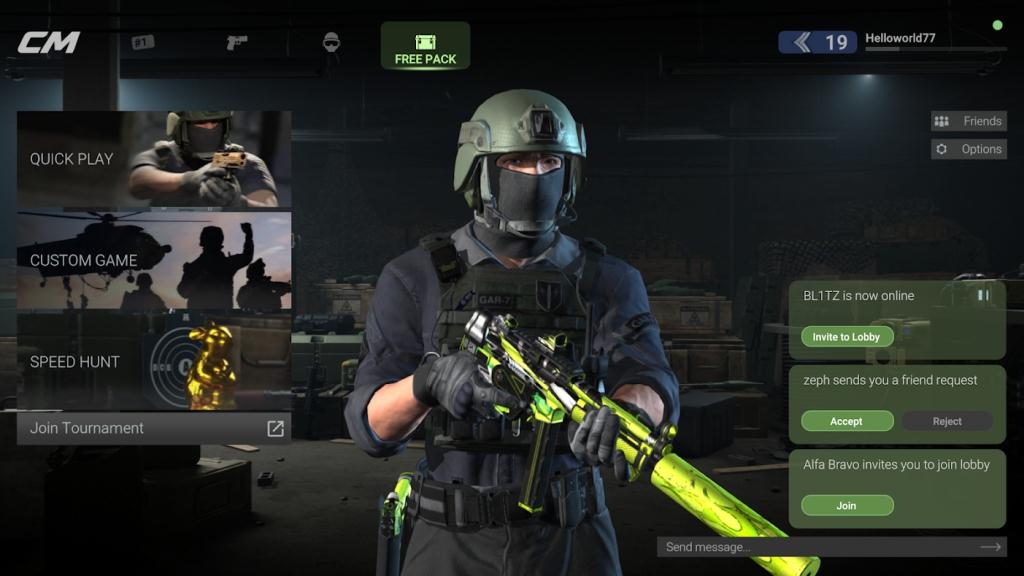 No ads but players can customise their weapons with skins
The game doesn't have any ads but players can pay for crates if they want certain gun skins, operator skins, and other items. When the game was released though, some of the pricing was off and the crates were quite expensive in some regions. This still hasn't been fixed although the developers have acknowledged the issue.
Final Verdict
Overall, the game is pretty decent and playable. It can be pretty fun however it does lack content in some elements and there's no going around it. The game desperately lacks when it comes to guns and while more maps and gamemodes and weapons can be added, it would have been better if the developers took the time to include them as players now have to wait for more content.
The game still does present itself as a competitor to Call of Duty: Mobile though and more competition among games and choices for players is always good. Anyone who's looking for fast-paced action in a relatively small package should definitely try out Combat Master for themselves. And it is pretty friendly to lower-end devices so devices that can't run games like Call of Duty: Mobile can still run Combat Master. Hence, despite its flaws, Combat Master is still enjoyable as an intense action title.
Combat Master review by Gamingonphone
Gameplay Mechanics - 8
Gamemodes - 7
Graphics and Music - 8
Controls and UI - 7
Free to play Elements - 7
7.4
Average
Combat Master is pretty decent and playable. It can be pretty fun however it does lack content in some elements and there's no going around it.
What are your opinions on the Combat Master game and your review of it? Do let us know in the comments!
For more Mobile Gaming news and updates, join our WhatsApp group, Telegram Group, or Discord server. Also, follow us on Google News, Instagram, and Twitter for quick updates.