After an extremely exciting end to the PUBG Mobile Pro League (PMPL) Season 4 Thailand grand finals, The Infinity has been crowned as the new champion of the tournament. FaZe Clan, the defending champion finished second with an extremely narrow 3 point gap from the winners. Overall, it was a good fight amongst all the top 5 PUBG Mobile esports teams who took a shot at winning the trophy on the final day of the 3-day tournament which made the gameplay even more intense and exciting.
The champions The Infinity won prize money of $20,953 while runner-up FaZe Clan and 3rd placed Onyx Esports won $11,973 and $5,987 respectively. FaZe Tonyk, the young gunner from FaZe Clan was adjudged the title of Finals MVP and $1,497 after an impressive performance throughout the tournament

---
Top 5 teams advances to the PMPL Season 4 SEA Finals
The top 5 teams from PUBG Mobile Pro League (PMPL) Season 4 Thailand have qualified for the upcoming PMPL Season 4 SEA Finals. As defending champions, The Infinity is already to the PMPL SEA Finals. The rest of the 4 teams include 3 teams from final rankings 3rd, 4th, and 5th which are Onyx, VPE, and MSC respectively. And the final team to qualify is the League winner FaZe Clan.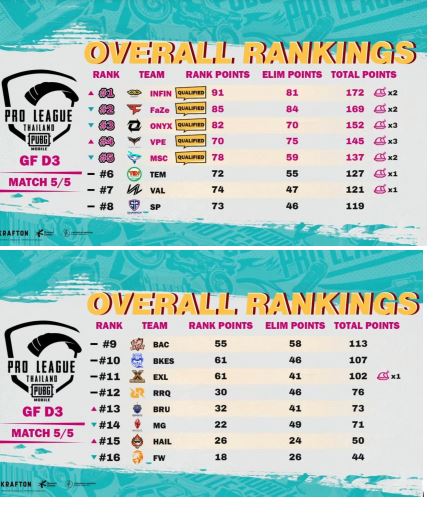 Moreover, The Infinity has also secured their spot in the annual PUBG Mobile Global Championship PMGC 2021, the highest honor in PUBG Mobile esports after their outstanding show of consistency throughout the 3rd and 4th seasons of the country league and finals. Here's how the PMGC qualification table looks like after the conclusion of PMPL Thailand Season 4 2021.
Conclusion
After the amazing display of gameplay across the three days by the top 5 teams, they have rightly earned their spot in the upcoming SEA Finals along with The Infinity qualifying for PUBG Mobile Global Championship PMGC 2021 as well. However, it remains to be seen how the teams now hold up and show their performances against other powerhouses from the SEA region and if they can continue to deliver us with their entertaining and exciting performances.
What are your opinions on The Infinity becoming the PUBG Mobile Pro League (PMPL) Season 4 Thailand champion? Which team did you support? Let us know in the comment section below!
For more Mobile Gaming news and updates, join our WhatsApp group, Telegram Group, or Discord server. Also, follow us on Instagram and Twitter, and Google News for quick updates.