For a long time, Epic Games has been beating around the bushes with the characters from Star Wars. Darth Vader is not only one of the most popular characters in the Star Wars franchise but is unarguably one of the most iconic characters in all of science fiction. Fortnite has been collaborating a lot with the Star Wars franchise lately, the latest one being the skin of Obi-Wan. With the launch of the new Chapter 3 Season 3, Fortnite decided to thrill the loopers with the popular skin of Darth Vader.
How to unlock the Darth Vader skin in Fortnite Chapter 3 Season 3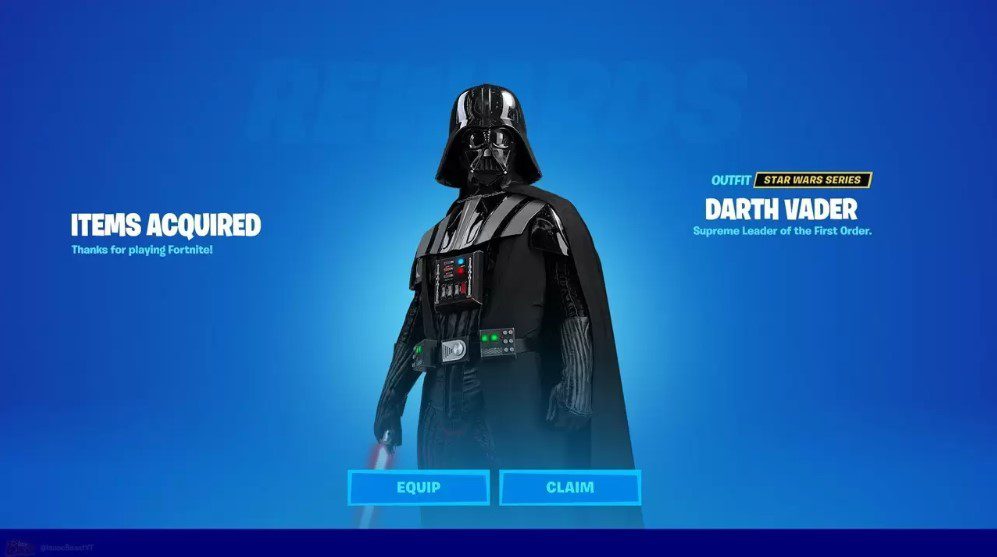 To unlock Darth Vader skin, loopers need to purchase the Chapter 3 Season 3 Battle Pass. Darth Vader is available in the tier 100 skin. Or if the player is a crew pack subscriber they will have access automatically to the battle pass.
Like the other seasons in this season as well players will have to use Battle stars which can be earned for leveling up the battle pass by completing challenges and just by generally playing the game. Regardless players have to reach level 100 before they'll be able to unlock Darth Vader. This means you will have to unlock up to page 10 on your battle pass. He can also be found on the map as NPC.
Once you have unlocked Vader, there are tops of cosmetics that you can unlock for him which include a wrap, glider, emote, and more. All of these will require battle stars to get unlocked. You can also obtain other galactic rewards within the battle pass which will include a Darth Vader Pickaxe and loading screen just like the other skins which are available in the crew pack. Once the season ends you won't be able to unlock this skin and the cosmetics available with it. So go ahead and start grinding to earn the kin of this powerful and evil Jedi.
Did you find our guide to unlocking the Darth Vader skin in Fortnite Chapter 3 Season 3 helpful? Let us know in the comments below!
For more Mobile Gaming news and updates, join our WhatsApp group, Telegram Group, or Discord server. Also, follow us on Google News, Instagram, and Twitter for quick updates.