Finally! The long-awaited final promotional banner of Genshin Impact's patch 1.5 is here, Eula's Born of Ocean Swell banner. The banner features Eula, a claymore-wielding captain of the knights of Favonius. She is a 5-star cryo character that performs a dance-like attack pattern combined with somersaults, how cool is that? (cryo pun intended). But don't take out those Intertwined Fates and Primogem wallets just yet. Well not before reading this comprehensive guide in what the players shall be getting for the final Eula banner of Genshin Impact 1.5.
Born of Ocean Swell banner in Genshin Impact
Basic Overview
Born of Ocean Swell banner includes four characters with an increased probability of being summoned by the player's wishes. This four includes one 5-star character and three 4-star characters. For the Born of Ocean Swell banner, the characters included are Eula, Xinyan, Xingqui, and Beidou.
As mentioned above, Eula is the forefront 5-star character for this banner. The 4-star characters included in the banner are as follows.
Xinyan: a claymore-wielding pyro warrior, has a flair for rock and roll.
Xingqui: a hydro sword user, also the second son of the Guild Manager from Feiyun Commerce Guild.
Beidou: an electro claymore wielder, one who is the captain of the Crux pirate crew.
Now, let's analyze the characters in detail and look at their value in the game in the long run.
---
Eula: The 5-star Character
The 5-star character is at the forefront of every banner, the one character that every player hopes to pull. For this banner, that forefront would be Eula. Knowing this fact, the one question that every player hopes to be answered would be, "How Strong will Eula be?". To answer this, here are the base stats of Eula in different level points. Eula is a heavy-hitting character, even when compared to her fellow claymore wielders. Additionally, Eula's crit damage also increases proportionately to her level. In terms of purely physical damage, Eula can outperform every main DPS choice for claymore wielders. Eula can be a great addition to a team where she will be treated as the main DPS.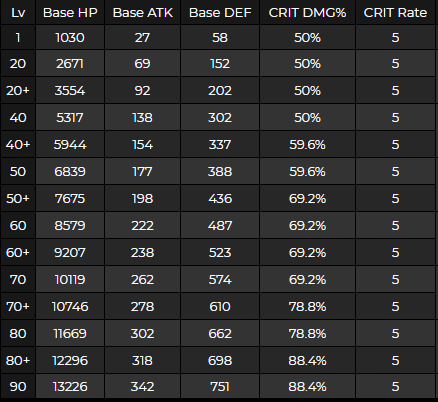 For most seasoned players though, no matter how hard-hitting they may be, physical damage carries would still hit a ceiling, unlike heavy elemental-based carries. Physical damage carries do not rely on elemental reactions for damage, this may be disadvantageous as elemental reactions bring about massive bonus damage to enemies when paired right. Furthermore, not having great elemental reactions will limit the potential of the whole team. It may limit the team's attack combination variety due to the low elemental reactivity of attacks.
Eula has the potential to carry a team with the right teammates and artifact plus weapon set-up built for her. Her elemental damage would be a bit lacking as she can only use superconduct to amplify her damage, which is not the most dominant elemental reaction in the game.
The 4-star Characters
The 4-star characters would be the deal-breaker for every banner. As getting 5-star characters has such a low chance of being pulled, and the only sure way is to have 89 rolls without 5-stars for pity stacks. 4-star characters are what most players would be getting for their banner wishes, as 4-stars are way more common compared to 5-stars. Every 10 wishes, the players would be guaranteed a 4-star character or weapon.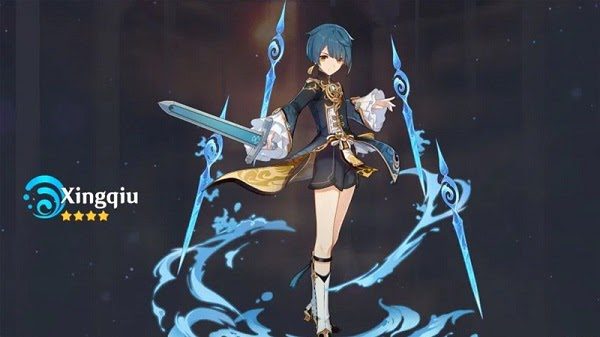 The 4-star characters included in the Born of Ocean Swell banner, to be honest, is a bit lackluster. Xinyan and Beidou are both claymore wielders like Eula, which would not fit well if the player is planning to make Eula their main DPS. Xinyan and Beidou are also both averages to below-average characters, that are hard to fit into most comps. Xinqui, however, is high-tier hydro support that can easily fit most comps. The only downside for Xinqui is that he already took part in many different banners before. Most Xinqui players that need him would probably have reached max constellation for him. But hey, if you need a few more constellations for Xinqui this banner would be a good opportunity to complete it.
Final thoughts
In summary, Eula's Born of Ocean Swell banner, might not be as worth the hype the players gave it to. However, the banner does have its perks as Xinqui will always be a welcome addition to every team. Additionally, Eula herself has the potential to be a very solid main DPS. In our opinion, Eula is one of the coolest character designs by miHoYo (this time the pun unintended).
However, Eula on her own might be mid to high tier at best but, the two 4-star characters in her banner are a little bit lacking in terms of viability in the current meta of Genshin Impact. Additionally, if you want to master her in the game, check below for her complete Genshin Impact Eula Guide.
What are your thoughts on the new Genshin Impact Eula Banner? Are you going to all-out with your Primogems/wishes for Eula? Let us know in the comments below.
For more Mobile Gaming news and updates, join our WhatsApp group, Telegram Group, or Discord server. Also, follow us on Google News, Instagram, and Twitter for quick updates.