Echoes of Mana which has been downloaded over 1.5 million times is a newly released mobile action RPG by Square Enix. The game has released brand new content that includes the scenario event Searching for Lost Luster.
The event features iconic characters of Elazul and Lady Blackpearl from Legend of Mana. The Lady Blackpearl can be obtained from Legend of Mana through the Searching for Lost Luster Harvest summons.
Echoes of Mana brings iconic characters for the Searching for Lost Luster event
Until 30th June 2022 event quests can be cleared to collect event points (EP and High-Level EP). These EPs can be traded for exciting rewards at the EP Trader. Players can also receive 3★ Ally Elazul (Young Jumi Knight Ver.) from "Legend of Mana" and 3★ memory gems "Show of Faith."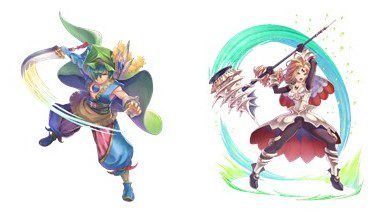 The main quest of Chapter 6: In a Patchworked World is now available. The adventure will continue with the most unusual echo ever after the release of the story in Chapter 6. Players will continue searching for the Mana Sword and explore a new echo. They will be guided by the strange voices of two young girls. When wandering deeper into this mysterious place, players will encounter Elazul from Legend of Mana and Keldric from Dawn of Mana.
Till June 30, this summons will feature the 4★ ally Lady Blackpearl (Jumi's Finest Ver.) from Legend of Mana, 4★ ally Hawkeye (Pride of Thieves Ver.) from Trials of Mana, and 4★ memory gem "Chasing the Light."
Are you excited about the Searching for Lost Luster event in Echoes of Mana? Let us know in the comments below!
For more Mobile Gaming news and updates, join our WhatsApp group, Telegram Group, or Discord server. Also, follow us on Google News, Instagram, and Twitter for quick updates.