NetEase Games has announced the Closed Beta Test launch date of its new competitive survival shooter game, Lost Light. The Closed Beta Test will first be made available as Soft Launch in Australia and New Zealand on April 28, 2021. In Lost Light, Players will venture into the lockdown zone as a member of the Firefly squad in this battle royale mission. Tasked with the mission to unfold secrets and conspiracies behind the brutal domain, players may choose to go solo with guns blazing, wreaking havoc and reaping the loots, or team up with other players, maximizing the survival rate and taking on even greater challenges.
---
Gameplay Overview
Realistic Firearms and Extensive Modifications
You can't really call yourself a shooter game without having a grand selection of firearms, can you? From structures to textures, the firearms in Lost Light are 1:1 recreations of their real-life counterparts. Moreover, beyond the visuals, each firearm supports up to 12 modifiable parts and hundreds of components to choose from. It's time to optimize the loadout from hundreds of possibilities and mix-match modifications to your heart's content.
Wide Variety of Collaboration Opportunities
In Lost Light, violence is not always the answer – but rather to seek opportunities for collaboration. You can choose to team up with a spared enemy and break out of the lockdown zone as temporary partners or commission other players to rescue you after you're knocked out. To join forces with your enemies or to fight like a lone wolf – the choice is yours!
Build A Shelter and Set up your Shop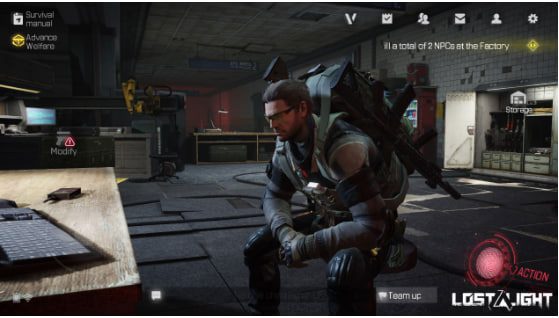 One of the main questions which might crop up in your mind is how do you protect yourself when the world is falling apart in the game? Here's how you can do that.
Scavenge for supplies, stash your loot, and establish a foothold.
Transform abandoned ruins into a base of operations, set up shop, and trade within Lost Light's player-driven economy.
Sell your surplus and buy what's in need. Trading is also a choice for you to excel in this game – succeed even without stepping into the battlefield!
---
When will Lost Light release?
Lost Light is launching its Closed Beta Test on January 28, 2021. The introduction of a Closed Beta means that the full release is edging closer. The time has finally come for players to test the ability to utilize scarce resources, trade with strangers, build a sanctuary, and survive the perilous lockdown zone. If you'd like to pre-register your interest you can do so by heading over to the game's official site.
---
Are you excited about the closed beta test of the upcoming game Lost Light? Let us know in the comment section below.
For more Mobile Gaming news and updates, join our WhatsApp group, Telegram Group, or Discord server. Also, follow us on Google News, Instagram, and Twitter for quick updates.