Summoners War: Lost Centuria is a strategic team-building RPG where your main objective is to gather the strongest, fiercest monsters and take on other players. You against the world… That's what this game is all about. You take on players from around the world and that requires you to keep working on getting better at the real-time battles to compete for the top rank. While the game tries to make you know that it has a story, it actually is stretched so thin and the focus is so completely focused on the multiplayer PvP that you won't pay much attention to the underlying story. Here in this article, we will review Summoners War: Lost Centuria and share our first impressions of the game.
---
Following the footsteps of Sky Arena
Starting off with the review, similar to its prequel, Summoners War: Lost Centuria promises fast-paced, real-time strategic battles where you trump your foes' troops using the right combination of attacks. Winning is all about selecting the right monsters to fight for you. Timing and keeping a close eye on your enemy's moves is essential for success.
The monsters in your team obviously serve different purposes and keeping the strengths and weaknesses of your team in mind is also a crucial aspect of winning. Some monsters can bear the brunt of the enemy's attack while others can take down the enemy's defenses and others can heal your troops. This makes balancing your team important as well.
---
Engage in strategic gameplay with unique monsters
Your attacks will be automatic and timing is key because playing your card just before your opponent results in a counter-attack. This is just one of the many mechanics the game features. It's all about PvP gameplay so if you want to succeed, having mastery over these is very important. Once per scrap, you can also use the three spell cards you can take into battle with you. Runes and skill stones are useful for crafting things to make your characters better. Hero cards can be earned as you progress.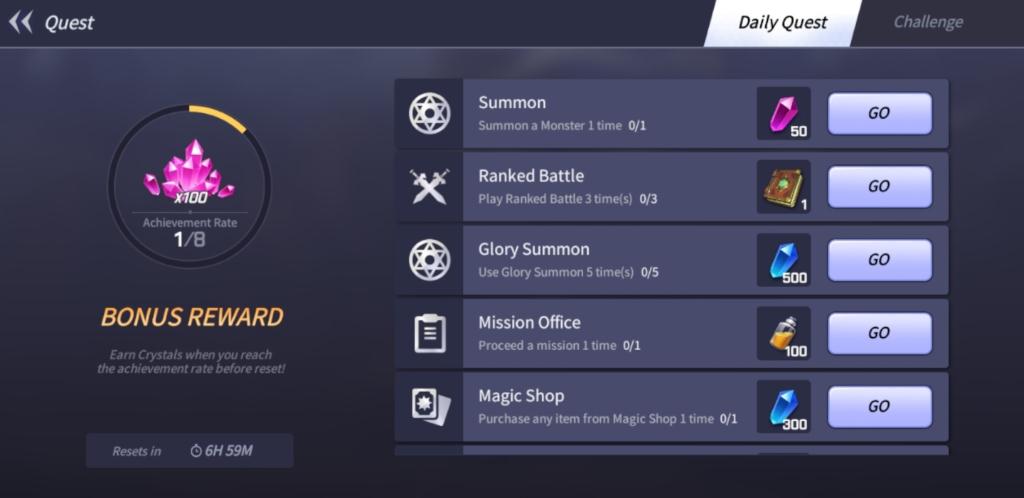 There's a Challenge mode as well which has modifiers that can make the game a bit more different and fun than the regular PvP mode. The game has quests, challenges, and events along with a way to progress faster- Alliances. One of the issues players would have however is that in order to unlock PvE gameplay, you need to engage in PvP battles. The game is all about grouping up the fiercest of fighters you can find into your team.
---
Amazing detailed visuals comes with simple controls
The graphics are pretty good looking just like the game's prequel and the sound effects and in-game music is decent as well. The character models and scenery during battle are full of details. The visuals are great and the attack animations are fluid and smooth. Overall, the game doesn't fail to impress in terms of the graphic and audio sides.
There isn't much to the controls considering you just have to tap most of the time but they're quick and work well. The UI is also something which you'll get used to as you explore and find out where what is. The game doesn't have any advertisements which is pretty cool but it does have In App Purchases. Mana and crystals which are the in game currency can be bought with real money so some might feel that the game leans towards the pay to win side.
---
Final Verdict
Now one can't have a casual mindset and be half-focused when playing this game. When you get into a match, you focus on using the right fighter at the right time against the right opponent. This might seem a little overwhelming and the game can appear to be so if you're new to it. There's a lot to learn but once you spend some time on it and get a hang of it, you'll find it a tad bit easier. The game has a lot to do and engage yourself with so you'll never get tired of it.
That being said, the game definitely has something of a learning curve to it. The game has a really grindy aspect to it and to obtain certain items, you'll have to invest some time into it. The matchmaking system could use a few changes as well especially in the Challenger game mode where it isn't all that fair. You might breeze through or get completely defeated. So those are a few things they can work on. But overall, the game is pretty judicial with things it gives away. So you can get a bunch of items through daily events. The game is a must play for gamers who're into strategic team building RPGs.
What are your opinions on the Summoners War: Lost Centuria game and your review of it? Do let us know in the comments!
For more Mobile Gaming news and updates, join our WhatsApp group, Telegram Group, or Discord server. Also, follow us on Google News, Instagram, and Twitter for quick updates.
Summoners War: Lost Centuria Review
Gameplay Mechanics -

8.5/10

Graphics and Music -

9/10

Controls and UI -

8/10

Storyline -

7.5/10

Free to play elements -

7/10
Summary
Overall, Summoners War: Lost Centuria is a pretty fun play from the get-go albeit with a steep learning curve if you haven't played the prequel to the game.