The 2022 competitive year of PUBG Mobile is crossing most of its paths to end the year successfully. Thus, the regional Pro League Championships are already live in some regions, while the rest are set to start soon. One of the major events on the South-East Asian stage is the PUBG Mobile Pro League (PMPL) Southeast Asia (SEA) Championship Spring 2022. From June 10 to June 12, 2022, the event will showcase the best 16 teams of SEA. Organized by Krafton, Tencent Games, and VSPN, this year's event will be held offline.
PUBG Mobile (PMPL) SEA Championship Spring 2022: Schedule, format and prize pool
The championship for the SEA region will commence on the 10th of June, 2022 to the 12th of June, 2022. The good news for the fans is unlike last year, the event of 2022 will be held offline at Pavilion Bukit Jalil Exhibition Centre, Kuala Lumpur. Tickets are already on sale for the spectators. However, the number of matches is still to be declared. The format will be, most likely, the same as the other Pro League events. An enormous $150,000 will be awarded to the teams, based on their position after the event. The share of each team will be announced at a later date.
Participating Teams
A total of 16 teams will join the championship to win the crown of the Southeast Asian pro scene. The top three teams from the respective Pro Leagues of Thailand, Indonesia, Vietnam, MY/SG/PH, and SEA play-ins, along with defending champions Team Secret will take part in the competition. Meanwhile, the Taiwanese team, Tong Jia Bao Esports would not be able to participate offline. Thus, the slot has been allocated to Eagle Esport.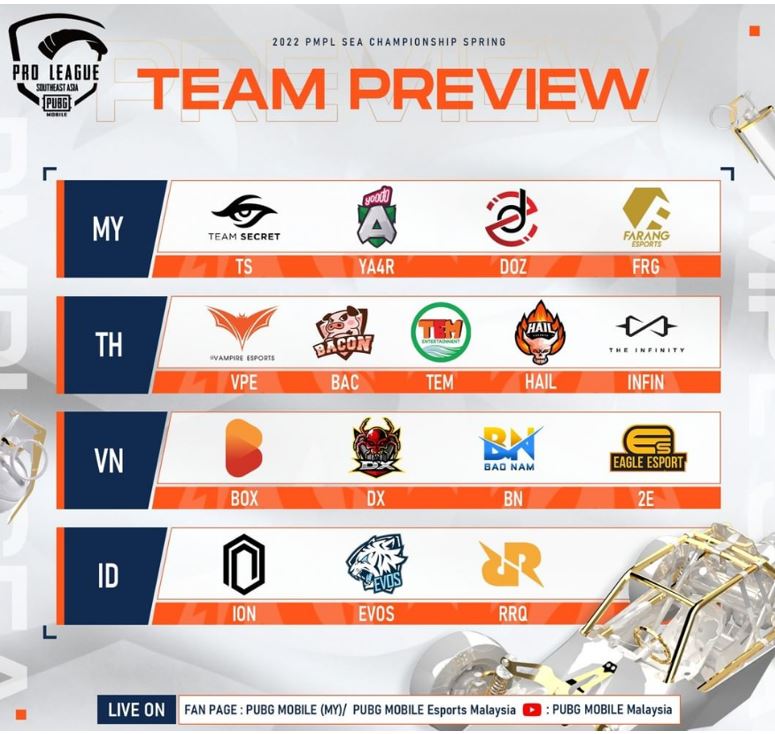 Finally, as the event is just around the corner, teams will go all out to win the championship. Besides, this tournament will probably determine a fixed number of teams, which is yet to be announced for the PUBG Mobile World Invitational (PMWI) 2022.
What are your thoughts on the PUBG Mobile (PMPL) SEA Championship Spring 2022? Who are you rooting for? Let us know your opinions in the comments section below!
For more Mobile Gaming news and updates, join our WhatsApp group, Telegram Group, or Discord server. Also, follow us on Google News, Instagram, and Twitter for quick updates.