A new season of football entertainment, another season of forming different squads. PES 2021 Season Update isn't the best update we were hoping for, but it did give new players a lot of scopes to form the best squads. This season, we have seen some promising changes already, starting from releasing a lot of new Iconic Moments to the eFootball Point Program with wholesome rewards. While we focus on getting Legends and IMs, there are the Base Cards that are left out by many players. Be it Black, Gold, or Silver rarity, there are some fantastic players among the lot. So, in this list of Best Gold Ball rarity players, we will throw some light on the best performers in this rarity in PES 2021.
However, do note that these selections are made based on their performance in-game irrespective of ratings/potential. We have made sure to try out the best possible names/players in the list before coming out with this list. Also, the rankings are random.
---
List of best Gold players in PES 2021
Forwards
Richarlison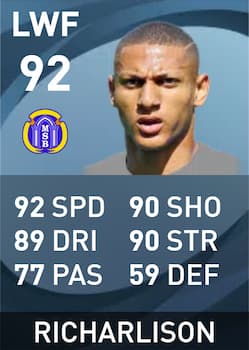 Base Rating: 84
Playing Style: Goal Poacher
The Brazilian forward has been one of the highest-rated gold ball players over the years and has also been an all-around performer in the game. He can play at any forward position, but his best performances come while playing as the Centre Forward which is a perfect fit for his playstyle. For someone who's missing a consistent forward to lead the attack, Richarlison is the best pick you can choose for.
Ansu Fati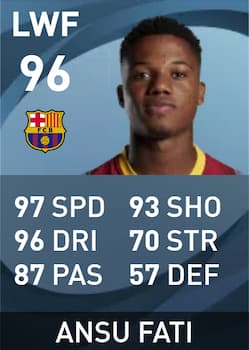 Base Rating: 82
Playing Style: Prolific Winger
Although we find him a bit highly rated given his performances are not yet seen on a consistent basis, Barcelona's Ansu Fati is a grooming future superstar for sure. In the game, Fati is a very good winger, he can be a very deadly finisher from the wings, also not to forget he is also one of the fastest wingers out there. Don't go by the ratings, as even in low form, he is really good, can also dribble and cut in to score some neat finishes.
M. Greenwood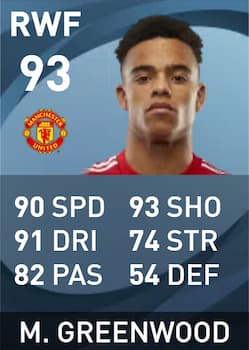 Base Rating: 80
Playing Style: Roaming Flank
The biggest disappointment did come when the CF Greenwood was converted into a winger. However, this did not change the performances of this young Manchester United talent, as he's undoubtedly one of the best forwards in the game. He's amazingly clinical in front of goal, also being dual footed, his finishing is highly accurate, and is also a decent chance creator with amazing dribbling skills.
G. Bale
Base Rating: 84
Playing Style: Prolific Winger
Even though Bale got downgraded, he became easy to get access to, and it would be embarrassing if you didn't try out Bale yet. He's a very consistent forward and has pace and finishing to do your job. His stats are all-round and is distributed very evenly, to make him a prolific forward overall. His stamina is a downside, but that definitely doesn't limit his performances on the pitch. Preferably, a solid winger in the Gold Ball department.
L. Jovic
Base Rating: 83
Playing Style: Fox in the Box
Gold Ball CFs have been in a lot of demand over the years, and one of the names you've been hearing since last year has to be Jovic. A Fox In The Box player, he is a player with amazing movement off the ball, coupled with great scoring instincts. What sets him apart from other CFs is his ability to play both as a Super-Sub and a starter. Especially in a 2 CF formation, Jovic should be in your team, at least as a sub.
J. Correa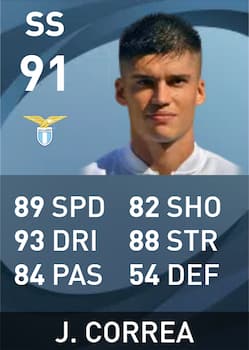 Base Rating: 83
Playing Style: Hole Player
SS is a position that has fewer players as options to choose from but also has given great names like Cruyff and Rummenigge. Lazio's Correa is another name that has been underlooked over the years, and he's that perfect SS that people would want to use in their gold ball squads. With amazing off the ball movement and the ability to drag defenders to make space for the central striker, Correa also boasts great pace and finishing, which makes him a guaranteed name in any of the best Gold Ball squads in PES 2021.
A. Martial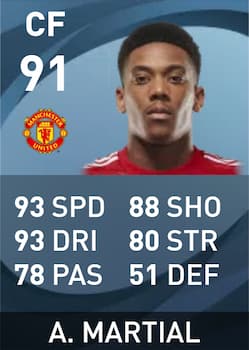 Base Rating: 83
Playing Style: Goal Poacher
Martial is a fantastic Goal Poacher to have. He's pacy, great dribbling abilities and skills, good offensive runs, good link-up play and has good finishing. Be it in your Gold Ball squad or the Manchester United squads you create for matchdays, Martial can play at any forward position, which will help you have a utility forward or an impact substitute to change the tempo of the game.
Midfielders
Allan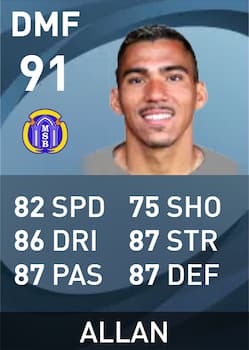 Base Rating: 84
Playing Style: The Destroyer
Even though Allan got downgraded from a Black to Gold rarity, his Napoli days still can be seen reflected by his performances on the pitch. He is well balanced between attack and defense, which is a major boost to any midfielder. He's quick enough for a DMF and has great positional awareness when it comes to Interception. His stats might not feel impressive, but don't judge him without checking his performances.
T. Ndombele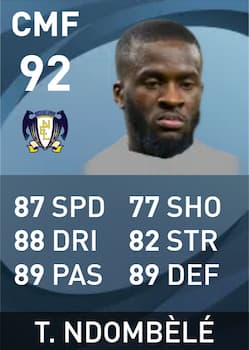 Base Rating: 84
Playing Style: Box-to-Box
A very physical Box-to-Box midfielder, Ndombele is a skilful midfielder, who is a good dribbler and ball progressor. One of the highest-rated midfielders, he is consistent, and what is his major plus is that he is quick, and can be a constant threat when it comes to creating space in midfield and proving dangerous chances. He covers every area on the pitch, and that too by maintaining his performances and stamina over the 90.
I. Gueye
Base Rating: 83
Playing Style: Box-to-Box
A short midfielder but still an engine on the pitch, Paris Saint Germain's Gueye is a perfect midfielder for those who would like a midfielder to dominate the ball-winning and tackling department. When paired with a taller midfielder, Gueye is a beast, his aggression is his major plus, which comes with great defensive awareness and tackling abilities that make him one of the best gold ball rarity picks.
N. Zaniolo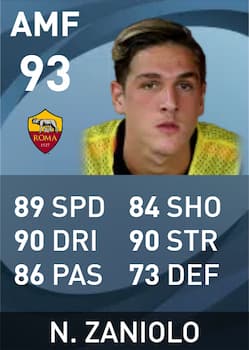 Base Rating: 82
Playing Style: Hole Player
Another young superstar who has the potential to be one of the world best, Zaniolo's injury-ridden career has somehow shown us the wonderful football ability he possesses. In PES, the Roma talent is one of the direct to goal approaching midfielders, who has a very good frequency of making forward runs. His height is also a plus, which helps him to win headers, and comes across as a decent finisher with great pace and dribbling abilities.
W. Ndidi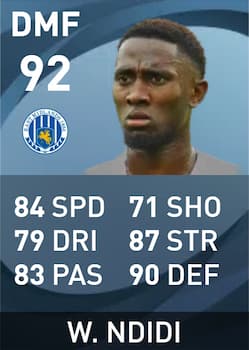 Base Rating: 84
Playing Style: Anchor Man
Zenit's Wilmar Barrios and Leicester's Wilfred Ndidi have been our favourite Anchor Man midfielder picks, consistent and reliable, but Ndidi gets an edge over his better all-round stats and comes across as a better ball distributor from the midfield if you are considering playing the player in midfield only. Ndidi's stamina and aggression play a major role in his performances, and also can be given credits for his tackling and positional awareness during interceptions.
M. Odegaard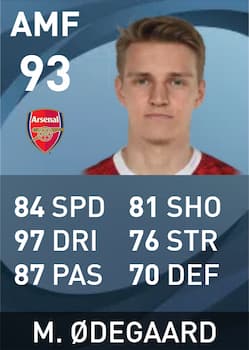 Base Rating: 84
Playing Style: Creative Playmaker
Martin Odegaard, now at loan in Arsenal, is insanely talented, who's also one of the best AMFs in the game when you consider overall among the base ball rarity, thanks to his ability and skill. Even though a Creative Playmaker by playstyle, Odegaard lies at the attacking half the most, and you can always find him approaching the box whenever you are on a counter-attack or having a scoring opportunity. His dribbling is fantastic and would be a perfect choice for players who would love a dribbler plus creative outlet at AMF.
Defenders
E. Tapsoba
Base Rating: 82
Playing Style: Build Up
Maybe a surprising name on the list, but having tried many CBs who are in abundance when it comes to gold ball rarity, Bayer Leverkusen's promising young centre back Tapsoba has been very impressive. Consistent, good speed and wonderful defending abilities have made him a very good CB in PES. Without a doubt, the young and talented CB has a brilliant future ahead of him.
R. Dias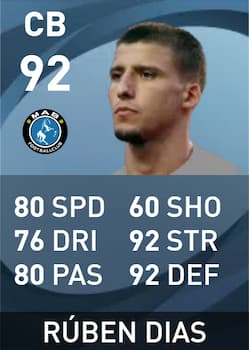 Base Rating: 84
Playing Style: The Destroyer
Not having Ruben Dias in your list of best CB options in the game is a crime. He's fantastic just like in real life for Manchester City, Dias is an astonishingly consistent defender. Very rarely would he make a mistake, and even if he does, he erases it by dropping an even better performance, and this isn't an exaggeration. You can have a solid gold ball rarity player in him which will do wonders for your backline, and if you get any of his featured versions in PES 2021, that's even better.
L. Klostermann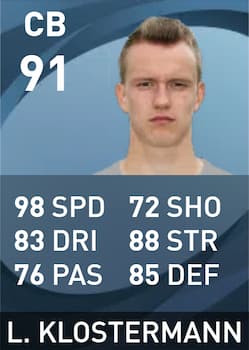 Base Rating: 82
Playing Style: Extra Frontman
You can argue this option can be a little controversial, but Klostermann is a solid CB for certain reasons. When it comes to pace among CBs, Klostermann is a clear winner. What makes him even better is his balanced stats and the performance against teams that always look for lobbed balls to score. This pace comes in very handy to deal with those passes, and defensive wise too, he is a solid option to look forward to.
A. Wan Bissaka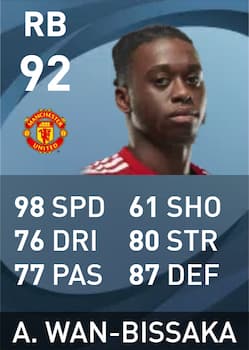 Base Rating: 83
Playing Style: Defensive Full-back
A pacy player with wonderful defensive abilities with also forward movement is always a player's dream fullback in his squad. Aaron Wan Bissaka is someone who fits that profile wonderfully. Slightly edging out another outstanding player in Benjamin Pavard, AWB should be an automatic choice at the RB spot if you want a consistent player at the right flank.
L. Hernandez
Base Rating: 84
Playing Style: Defensive Full-back
Just edging out his brother for the best LB pick, Bayern Munich's Hernandez is a very defence oriented left-back, which isn't surprising as he was a central defender over the years. But still, he is a tank in that left-back position, who boasts of incredible defensive awareness and ball-winning ability. For those who prefer defensive fullbacks, it is recommended to try out Hernandez at the left-back position, who is also a wonderful backup to the CB position as well.
A. Davies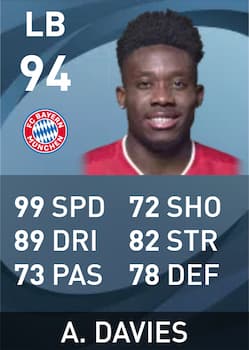 Base Rating: 83
Playing Style: Offensive Full-back
Alphonso Davies has been out of action for while because of his injury, but that shouldn't understate his abilities. In PES, he is the first LB pick of many, and this isn't a surprise, as he is the highest-rated fullback in the game. Even though he's an attacking LB, his defensive abilities are better than what the stats suggest, so without having other thoughts you can pick him for your XI.
Goalkeepers
A. Meret
Base Rating: 84
Playing Style: Defensive Goalkeeper
Meret has been very consistent for Napoli, and without a doubt, his best performances get reflected in his PES 2021 gold ball version as well. A tall keeper that would be a preference to the majority of the players, Meret's biggest plus is his covering and awareness. Even though being a Defensive Goalkeeper, his awareness in corners and also during collecting long balls by coming out of the line are definitely some traits players would like to see their Goalkeepers possess.
J. Musso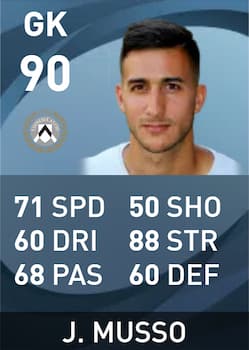 Base Rating: 83
Playing Style: Defensive Goalkeeper
J. Musso is pretty underrated when it comes to both real-life and PES performances. A very consistent player for Udinese, the Argentinian is also overlooked when it comes to the NT selection. He has one of the best stats for a Gold Ball keeper, with every stat crossing 95 except for the catching which is still a solid 93. His reflexes and reach abilities are top tier, and if he gets a Penalty Saver skill added via tokens, he becomes one complete GK.
K. Schmeichel
Base Rating: 83
Playing Style: Offensive Goalkeeper
Schmeichel is a very consistent Goalkeeper in PES as well as real-life over the years, with his recent show at Wembley to win Leicester the FA Cup being solid proof. He has all the skills that make him a perfect keeper option for many players. He is a solid shot-stopper, with good height, his reflexes and ball reach abilities are amazing. Players can experience his ability to stop low-driven shots which in fact most keepers struggle to keep off.
Other Notable Mentions
A. Lacazette (CF)
V. Osimhen (CF)
K. Coman (RWF)
J. Corona (RMF)
R. De Paul (CMF)
F. Ruiz (CMF)
K. Laimer (CMF)
W. Barrios (DMF)
B. Pavard (RB)
Alex Grimaldo (LB)
Bastoni (CB)
P. Kimpembe (CB)
Pau Lopez (GK)
What are your thoughts about this list of best Gold Ball players in PES 2021? Which Gold Ball Player(s) would you like to add to this best list of PES 2021? Let us know in the comment section below!
For more Mobile Gaming news and updates, join our WhatsApp group, Telegram Group, or Discord server. Also, follow us on Google News, Instagram, and Twitter for quick updates.