eFootball PES 2020 is bringing great profits for KONAMI ever since Iconic Moments were introduced. In the Datapack 5.0, Iconic Moments were scheduled to launch after maintenance every week. Lots of players were excited and tried to pack them via a Special Agent. While some of them have a great collection of Iconic Moment Legends, the rest of them have nothing special to show off, with a fewer count. Many clubs got their Iconic Moments released, which then later, better and higher rated players came into the picture. This increased the interest in getting these players. We will give a detailed review of each one of them, where this article is about Manchester United Iconic Moments.
There are seven Manchester United Iconic Moments released currently, so the reviews will be on these seven. All the reviews are only after trying them out. Whenever any new Manchester United Iconic Moments are released, the review will be updated. We reviewed the Bayern and Barcelona Iconic Moments recently, check it out.
---
Manchester United Iconic Moments
We currently have these seven Manchester United Iconic Moments available in the game:
A. Cole
D. Yorke
B. Robson
D. Irwin
P. Scholes
R. Giggs
D. Beckham
Andrew Cole
Playing Style: Goal Poacher
Looking back at that iconic moment match
Manchester United's incredible season in 1999 saw two great wins that won them the Champions League. Forwards Yorke and Cole were instrumental for United on their 3-2 win against Juventus in their Champions League semi-final second leg match in Turin, Italy. The first leg at Old Trafford ended in a 1-1 draw and Juventus took control of the return leg, with Filippo Inzaghi's brace giving the Italian side a 2-0 lead within 11 minutes.
However, goals from Keane, Yorke and Andy Cole helped United complete the comeback and earned them a spot in their first European Cup final in 31 years.
Player Analysis
A. Cole is a perfect Centre Forward that most of them wish to have. Good speed, dribbling abilities, no weak foot, good finishing and heading, Cole has it all. A striker that has been a good fit for any formation, he is a very good card if you need a good physical striker, Cole is your man.
He is not the fastest among his category, but he's quick enough. His Offensive Awareness makes him time his runs well into the box, which is very essential for a player of the Goal Poacher playstyle. On the ball, he's good too, even though he is not a dribbler, he can easily hold on to the ball thanks to his physicality. Undoubtedly a great finisher can finish with both feet, and skills like First Time Shot, Heading, and Acrobatic Finishing make him deadly inside the box. If you prefer crossing, then Cole would be ideal under the circumstance of a good cross inside the box.
Even with not the ideal height to head the ball, he has good jump stats and awareness to get to the ball and head it. His balance can sometimes be disturbing, but the Gamesmanship trait helps him to pull some fouls and calls in his favor. Even though he has the Long-Range Drive, it's better to try to finish inside the box as he's more accurate on that.
Formation discussion
Cole is a good fit in any 2 CF formation. He'll fit better in a Counter Attacking formation as per our experience. You can use him on any side, it doesn't matter thanks to his ability with both feet. Feed him with balls inside the box with his run timed perfectly.
---
Dwight Yorke
Playing Style: Goal Poacher
Looking back at that iconic moment match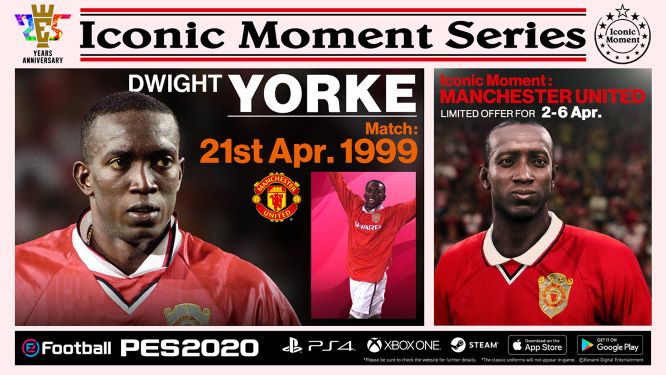 Yorke and Cole have the Manchester United Iconic Moments card from the same match, 21st April 1999. Yorke was one among the scorers on that day and hence this Manchester United Iconic Moments is of that game.
Player Analysis
Yorke is a similar player to Cole, even stats are somewhat a match. He is also a solid Centre forward; he is also a Goal Poacher to start with. His runs are really good, thanks to his offensive awareness. He can finish any ball inside the box and is a very good header of the ball, even though he is not very tall. He has several shot skills like Chip Shot control, Dipping Shot, First Time Shot, and Acrobatic Finishing that help him to be great inside the box.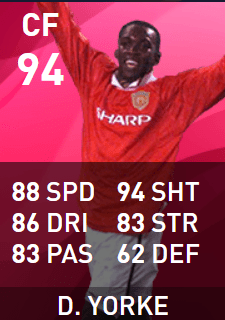 Player attributes match perfectly with Cole, more like comparing base with its featured version. Yorke is having a good pace, runs faster than his stats suggest. If you prefer a player with whom you can take one or two players and then approach forward, Yorke isn't for you. Yorke is average on the ball, he can't hold the ball for a long time, even though he has good stats. His poor balance might catch you off-guard while taking shots while dribbling or attempting a controlled shot. Overall, he is a lethal physical forward.
Formation discussion
Player Attributes fit to be used in a 2CF formation. Under a Possession/Counter attacking manager, feed him balls inside the box, where he is best at.
---
Bryan Robson
Playing Style: Hole Player
Looking back at that iconic moment match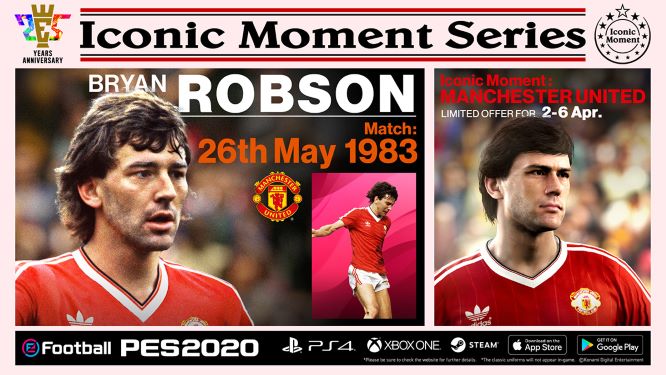 Bryan Robson led the Manchester United squad in the FA Cup Final against Brighton and Hove Albion. This was a replay match of the final, where the first final ended in a 2-2 draw. On 26th May 1983, United won 4-0, with a Robson double in the first half helping the process.
In the 25th minute, with United's Alan Davies set up captain Bryan Robson for a left-footed drive to the goal. In the 30th minute, United went 2–0 up. Davies crossed for Norman Whiteside to score with a header, making the 18-year-old the youngest player to ever score in an FA Cup final at that time.
Brighton were rocked but continued to press, yet went further behind just before half time. Gordon McQueen headed on a free-kick and the ball fell to Robson to tap in at the far post, for his second goal of the game. The scoring was completed in the second half when the Dutch midfielder Arnold Mühren scored a penalty after Robson had been brought down by Stevens in the penalty area to win 4-0.
This was the first of three times that Bryan Robson captained Manchester United to FA Cup glory; he also achieved the feat in 1985 and 1990.
Player Analysis
Robson in PES is really good on the ball, thanks to his stats in the Ball Control and Tight possession stats. He is a very underrated card, where he offers all-round stats, both offense and defense. Being a Hole Player and an offensive mid, he has 80+ stats in every department (except GK) which makes him very unique. He has good Physical and Balance stats, so he is able to easily hold onto the ball in tight spaces and dribble around, even if pushed by a stronger player.
Use him for your creation of chances as well to take some long-range shots. His long shots are amazing, with skills like Rising Shots and Long-Range Shooting helping the process. He has no Weak Foot, so shots from both feet are going in with great accuracy. He even has decent finishing and kicking power to compliment that. Robson is an all-round player overall, with good passing and skills like Weighted Pass and One Touch Pass is very helpful for your quick buildup.
His movements are really good during counter attacks. His form is also another major factor that adds to his game, he stays in good arrow condition in almost every match. A must have mid if you need a player who can defend and attack well.
Formation discussion
He can fit in any formation, even at wide positions he can be effective, but position trains him first to ensure familiarity is not dropped. He is a balanced CMF so he can be effective as a sole CMF in the 4-2-1-3 formation (formations with 1 AMF). His runs are great, so if you face trouble in covering space, play an Anchorman DMF to cover for him.
---
Denis Irwin
Playing Style: Offensive Fullback
Looking back at that iconic moment match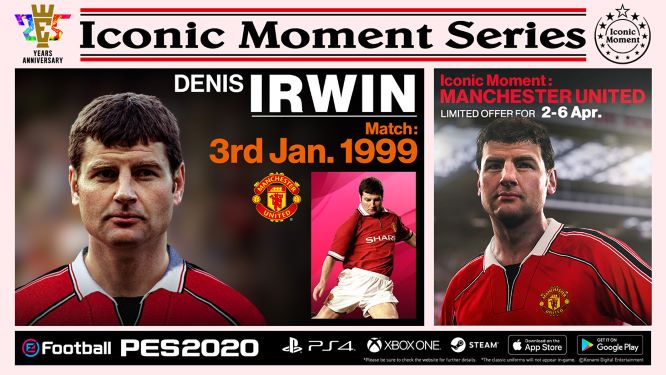 The match against Tottenham was a thrilling encounter for Manchester United. A 2-1 win ensured a very good start to the year. Starting things, Bruce scored a penalty for United in the 37th minute, where Tottenham Hotspur equalized. The goal came in the 90th minute for the win for United. McClair scored the winner. Denis Irwin was exceptionally good in both offensive and defensive side of the game, thus earning a Manchester United Iconic Moments performance.
Player Analysis
An Offensive Fullback with good defensive stats at max level. The card is not designed to expel any player best in the position, but it is a sure shot competition for any balanced fullback. The Irish fullback has very balanced stats on paper. On the pitch, he's better than what the stats suggest.
Irwin is not a pure offensive fullback. He has relatively lower stats for an Offensive Fullback when you compare to other legends like Carlos. But he's better when you try him out. He can play both LB and RB without dropping familiarity. Good passing skills, good dribbler but not the best, a brilliant Free-kick taker. 85+ passing stats also ensures his passing is great. A great crosser of the ball. Not the fastest, but good enough to track back during the defense. Offensively, he's good but again, there are better options.
For an Offensive fullback, his defensive stats are amazing. 85+ stats in Ball Winning, Defensive Awareness, Aggression is enough for a fullback. He is also having skills like Interception, Acrobatic Clear and Man Marking which makes you not to doubt on his defensive prowess. Low physical contact and small height can be troublesome at times, but never is a major issue.
End of the day, a very underrated card, very balanced and does drop amazing performances with his 7 Form and good conditioning.
Formation discussion
He can fit in any formation with two CBs and two FBs. Use him under a flexible formation where you have wide attacking areas.
---
Paul Scholes
Playing Style: Orchestrator
Looking back at that iconic moment match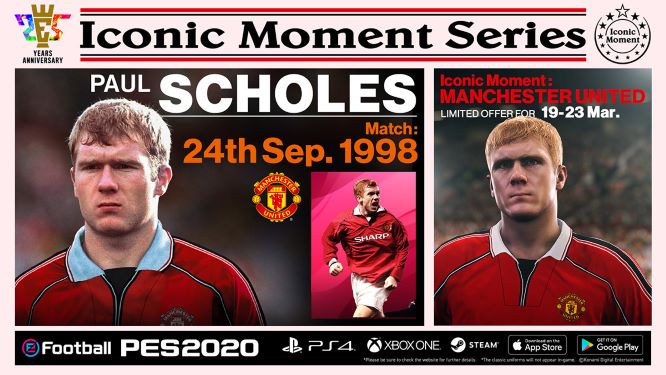 The iconic performance of Scholes came in the match against Liverpool. Held on 24th September 1998 in the Old Trafford, Manchester United sealed a 2-0 win. The game started well with two teams looking for a goal in the early stages. The first goal came via a penalty by Denis Irwin in the 19th minute.
Scholes sealed the Man Utd win by scoring a wonderful weak foot goal, 60 minutes later from the first goal. His performances were lauded throughout the season and helped in an instrumental season of the club.
Player Analysis
A very good upgrade on his legend version is his Manchester United Iconic Moments version. A solid midfielder, his stats are leaned on the offensive side of the game.
Starting on his on the ball stats, he is a decent dribbler, but avoid trying beating a defender to move forward. His lack of dribbling skills is sometimes an issue. Well, he is an amazing passer and 9/10 provides perfect lofted passes. With skills like No-Look Pass and One-Touch Pass, he is great for passing in small spaces.
Talking about his shooting aspects, his long shots are a treat to the eyes. That 99 Kicking Power would rip off the net, but yeah, it's a game after all. What would you expect from a midfielder whose 8/10 skills are of Passing and Distance shooting?
Tips for the shooting part, make use of his Rising shots well. Take a quick burst and then shoot low for better accuracy and power.
On the defensive aspect, he's not a good defender, but not bad. He has great stamina so you can press the opponent with ease. He lasts a full 90' with ease even with a high press. Good stamina and good form make him ideal for online matches.
Formation discussion
He's a natural CMF. Even though he's an offensive midfielder, its best advice to play him in a centric role where you create chances with him. His playstyle will fit playing him as a CMF, where a flat 4-3-3 would be great for him, or in a 4-2-3-1 in a double pivot role along with a physical DMF.
---
Ryan Giggs
Playing Style: Prolific Winger
Looking back at that iconic moment match
Few of the 30,223 fans who were at Villa Park on April 14, 1999, will ever forget what they witnessed when Arsenal and Manchester United went head to head in an FA Cup semi-final.
David Beckham gave United the advantage on the night, curling an inch perfect shot past the despairing dive of David Seaman in the first half. But Arsenal in return scored the equalizer when Nicolas Anelka rounded Schmeichel and rolled the ball into the empty net after the Danish keeper had spilled Marc Overmars' shot.
The 10-man Man Utd side was again lucky to see Bergkamp failing to convert a penalty. The game went to ET, and United went on to win in the most spectacular of ways. With nine minutes of extra time remaining, Patrick Vieira's misplaced pass, Giggs' run from the halfway line, the missed challenges by Lee Dixon, Tony Adams and Martin Keown and the thumping finish past Seaman. This was another glorious moment for Manchester United and also one of Ryan Giggs' iconic moments.
Player Analysis
Ryan Giggs is one of the skillful dribblers in the game. He has great dribbling stats to start with, with 90+ stats in Ball Control and Tight Possession. So, his dribbling is smooth and enjoyable. Adding to those stats is the best of dribbling skills like Scissors Feint, Marseille Turn and Cut Behind & Turn to name a few.
Being a Prolific Winger, he does make some timely runs out wide, you can always utilize his pace and dribbling to start a counter from the wide areas. Finishing is good too; his chip shots are great but he does tend to miss chances sometimes.
The worst part of the player is his weak foot stats. For a left flank, a right foot usage should be the preferred one, but even a good weak foot usage stat would do. However, Giggs is a disappointment in this department, he can't finish well with his right foot. The saving grace is the Outside Curler skill, which with a good amount of curl gives you a good finish.
Instead, use his passing skills to send crosses inside the box. His Pinpoint Crossing comes effective when you have good headers of the ball inside the box.
The Gamesmanship trait makes him dive/fall for the slightest of touches by the opponents. This is frequent as he lacks Physical contact, it's easy to push him off the ball. This harms your game tempo, where the Ref won't call such fouls often. End of the day, a pacey, creative midfielder.
Formation discussion
His playstyle doesn't activate as an LMF. However, it is advisable for you to use him as an LWF in a 4-3-3 if you want a 'creative winger', to use his good crosses to attempt headers. Without activation of playstyle, he fits as an LMF and AMF. Use him under wide formations, his pace can be lethal for a good Counter Attacking manager.
---
David Beckham
Playing Style: Cross Specialist
Looking back at that iconic moment match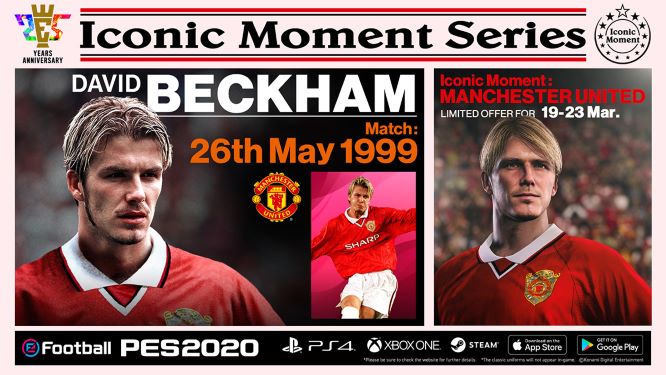 On May 26, 1999, Manchester United, managed by Sir Alex Ferguson, completed the treble by winning the Champions League against Bayern Munich in the Camp Nou. They trailed 1-0 after Mario Basler scored in the sixth minute before Fergie decided to introduce Teddy Sheringham and Ole Gunnar Solskjaer.
United won a corner just as the fourth official indicated three minutes of injury time. Beckham flighted the corner in just over Schmeichel's head, Dwight Yorke put the ball back towards the crowded area, and after Fink failed to clear sufficiently, the ball arrived at the feet of Ryan Giggs on the edge of the area. His right-footed shot was weak and poorly struck, but it went straight to Sheringham, who scored the equalizer.
In less than 30 seconds after the kick-off, United forced another corner. Beckham again swung the corner in, finding the head of Sheringham, who nodded the ball down across the face of goal. Solskjaer reacted fastest, shot out a foot and poked the ball into the roof of the Bayern goal for United to take the lead. Two late goals etched one of the greatest Manchester United Iconic Moments. Beckham's unbelievable performance led to both the goals.
Player Analysis
IM David Beckham is a player of different class. Stats made him one of the most sought players in the game, and he's worth the hype. However, regarded as one of the best midfielders of the game, Beckham has lived up to the reputation of an 'Endgame' player.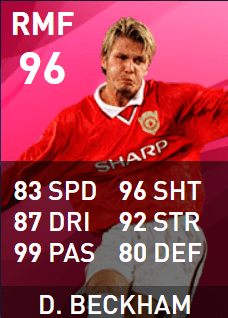 Starting with Beckham's best- and well-known aspect, Passing. A spectacular passer of the ball, Beckham is the dream for many long ball spammers. He's the best in the Through Passing department, his defense splitting passes creates a lot of opportunities for your forwards.
The crossing of this man has to be in a different league. His crosses are perfectly delivered into the box, quicker than a text message. With his Kicking Power of 95+ makes it even more deadly. You would never debate on this aspect of his game; Beckham is the best. Set piece taking, best among the right foot players. With little curl applied, it hits the target. However, this version of Beckham can take some juicy Knuckle Shots, long freekicks can be Knuckle shots to confuse the opponent keeper.
For a creative midfielder, his finishing and on-the-ball skills is an absolute win. His stats lean to make him a good forward, but he's fit as an offensive midfielder. Long shots hit the target more often than not, make sure to have the ball on his right foot, as his weak foot stats aren't ideal. But that doesn't hurt for a midfielder. A Midfield Maestro to be precise.
He offers a lot in the creative department, quick passing and creating chances is his main attributes. A genius midfield card, which would be difficult to match in PES for a long time under his playstyle.
Formation discussion
Beckham falls under a unique playstyle category: Cross Specialist. This triggers at the wider areas, but he fits in other positions as well. In spite of lacking a playstyle at AMF/CMF, he offers a lot of creative play. Especially at AMF, his offensive awareness is enough to trigger a run during attacking transitions. Many like to use him at DMF for the 'perfect 100' rating, but that would be a disgrace for not utilizing his offensive abilities.
Use him as an AMF/CMF in a 4-3-3. To make use of his Cross-Specialist style, a wide 4-2-2-2 or a 3-2-3-2 is the perfect formation. Make sure those wide flanks are above the Half-way line to lean towards the offensive side.
---
That's all we have as of now for reviewing the Manchester United Iconic Moments players. We are going to review more Iconic Moments players from other clubs soon, so stay tuned! Meanwhile, if you want to read reviews of normal Legend players in PES 2020, we have it ready for you:
---
Did you find this review helpful? Read more of our PES articles here. Which Manchester United Iconic Moments do you have in PES 2020 and what are your thoughts about them? So, let us know in the comment section below!
For more interesting Mobile Gaming News and Updates, feel free to join our WhatsApp group or Discord server. Also, follow us on Instagram and Twitter for quick updates.