After an amazing Summer Celebration event, EA announces the arrival of the new global football season with the FIFA Mobile 21 Rivalries event. Hold your club scarf up high as we celebrate football's biggest rivalries in the new Rivalries event! Celebrate epic age-old rivalry between 48 clubs across 9 different leagues with a brand new event for the first time in FIFA Mobile. Complete Daily and Weekly Quests and do SBCs to earn Rivalries Players and rewards! Rivalries start now!
FIFA Mobile 21 Rivalries Event Description
Event Duration: August 26th – September 16th (21 Days)
Ads: 3 ads daily giving 4 Rivalries Points per ad
Daily Claim: Daily Login Reward
---
FIFA Mobile 21 Rivalries Event Flow
Main
Opening the Rivalries main tab, you'll notice it has a different format than usual events. This is not a rehash of any of the past old events and has a brand new different concept! Instead of using event energy towards daily skill games or matches, you complete daily and weekly quests for Rivalries Points. This is a totally unique approach than we have played events thus far.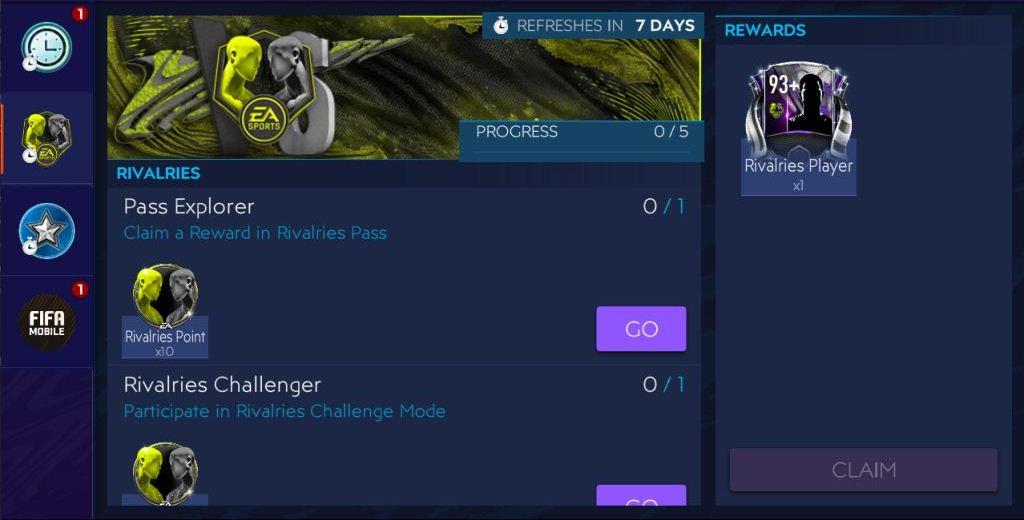 The quests include scoring a certain number of goals, winning and playing Division Rivals matches (both VSA and H2H matches), league matches, and also playing the event challenge mode. Additionally, there are also 3 daily ads giving 4 Rivalries Points. There is also a Rivalries Pass which you can unlock the rewards as you go by completing the challenges. The Pass also has a free version and has in-game currencies, Rank Shards, and Rivalries Points. Once you reach the end of the Pass, claim 150 Skill Boosts for every extra 300 Pass Score you earn during the event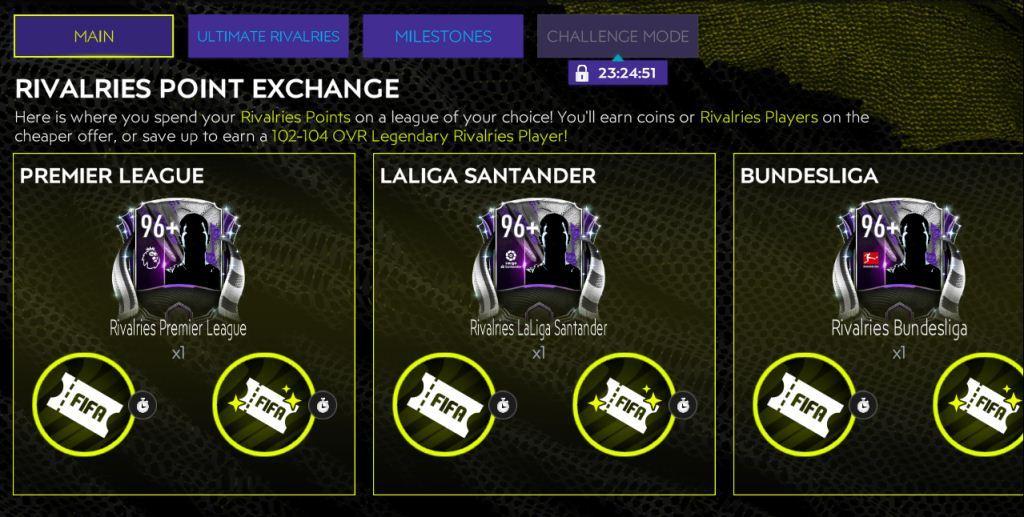 Also in the main tab, you can trade your Rivalries Points for 96+ Rivalries Players. From there, use your Rivalries Points to open Packs for Rivalries Players. All Rivalries Players are auctionable. So in essence, you play the quests, earn points and trade the points for player rewards. There are two types of Packs (96+ and 102+) divided by league (the top five leagues and the rest of the world), both with different costs and player OVR ranges. Standard Packs also include Coins as a possible reward.
Also, every day you log in, there are daily login rewards! There is a node and it refreshes at the end of the week, thus enabling you the rewards 3 times over the event. There are also additional exclusive offers in the main chapter that refresh every day. These include more Rivalries Points and Players, so check them out daily to see what's new.
Ultimate Rivalries
Trade-in your hard-earned Rivalries Players to SBCs for Ultimate Rival Points. You can then use your Ultimate Rival Points towards 107 and 108 OVR Rivalries Players of your choice. All Rivalries and Ultimate Rivalries Players are immediately auctionable. This means that you can use Rivalries Players purchased from the market in these SBCs.
There are two different kinds of SBCs with different sets of requirements and rewarding different Ultimate Rival Points depending on their difficulties. If you have excess Ultimate Rivals Points, there's a trade-in offer in the store that gives 15 Rivalries Points in exchange for 1 Ultimate Rivals Point. On completing the 4 SBCs you can get a total of 75 Ultimate Rival Points.
Milestones
Once you start claiming rewards, there are additional milestone rewards! Earn extra rewards based on how many Rivalries Points and Ultimate Rivalries Points you use! The milestone reward path consists of in-game resources, Rank Shards, and of course Rivalries players.
There are additional rewards including 2500 Skill Boosts, a choice of 97 OVR Event Icons including GK Petr Cech and ST Filippo Inzaghi. There is also a 109 OVR CB Prime Icon Carles Puyol which is needless to say beyond any F2P reach or imagination whatsoever. On claiming one of the Event Icon, you can claim the other one as well for 6250 Gems or 2500 FIFA Points.
Challenge Mode
Bring your best team game to the new Challenge Mode! Every few days, there's a new type of gauntlet path for playing through. Match the specific team requirements and spend coins to begin your run. Win the matches to earn Rivalries Points. The 3 types of Challenge Modes:
5 PvE Matches
Friday to Monday
100,000 Coin Entry Cost
30 Total Rivalries Points
5 Rivalries Players in your active lineup
3 VSA Matches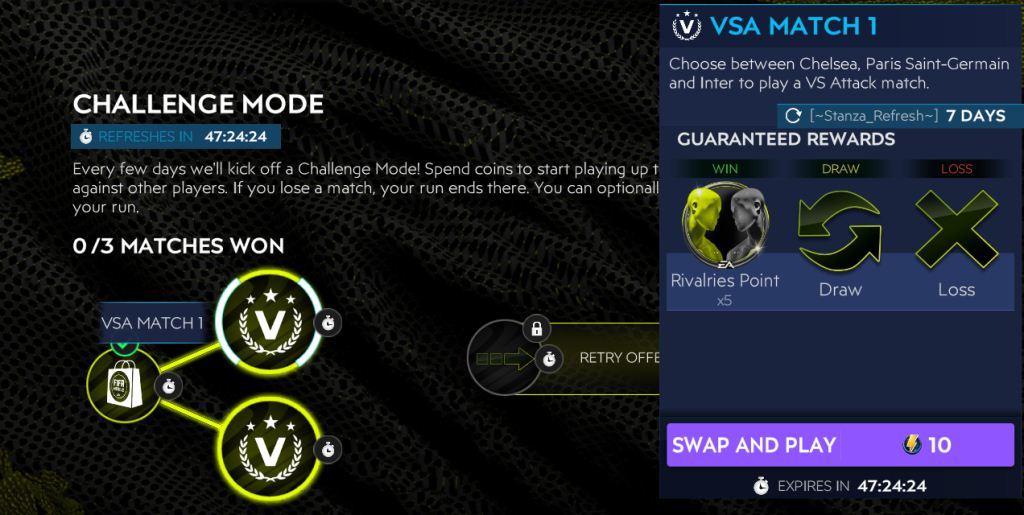 Monday to Wednesday
50,000 Coin Entry Cost
18 Total Rivalries Points
Draws let you replay
Custom base player lineups (130 OVR teams)
3 PvE Matches
Wednesday to Friday
50,000 Coin Entry Cost
15 Total Rivalries Points
5 Rivalries Players in your active lineup
If you fail to win the match, your turn ends and you have to quit the process unless you choose to replay. There's an option to spend 75 Gems or 30 Fifa Points to retry from where you got knocked out. It's only 75 gems and you want to complete everything. Of course, remember they give you Rivalries Points!
SBC
As usual, there are SBC's but this time differently for Ultimate Rival Points. The first SBC can be repeated a total of thrice with a total of 8 Rivalries Players from 6 different leagues.
Of these 8, 4 of them need to be 98+ OVR Players, 2 99 OVR Players, and one 102+ OVR Player. Completing this SBC rewards you with 15 Ultimate Rival Points and can be done three times in total. Remember to complete it every single time for maximum rewards!
The second SBC can be completed only once with a total of 3 Rivalries Players from 3 different leagues. Of these 3, 3 of them need to be 102+ OVR players and one 104+ OVR Player. Completing this SBC rewards you with 30 Ultimate Rival Points and can be done only once. You should be completing the SBCs but the longer you wait, the cheaper the players will become.
---
FIFA Mobile 21 Rivalries Event Currencies
Rivalries Points
Earn them from Daily and Weekly Quests, Ads, Rivalries Pass and the Challenge Mode.
Use them towards Rivalries Players in Packs.
Ultimate Rival Points
Earn them from completing SBCs with Rivalries Players.
Use them towards Ultimate Rivalries Players.
Rivalries Pass Score
Earn them from Daily Quests.
Use them to progress down the Rivalries Pass.
---
Running the Math for F2P Players
As per our calculations, the following sums up the chances for F2P Players.
Resource Management
| | | |
| --- | --- | --- |
| Rivalries Points | | Total |
| Daily Quests | 21 per Day | 441 |
| Weekly Quests | 75 per Week | 225 |
| Daily Ads | 12 per Day | 252 |
| Free Pass | 100 | 100 |
| Daily Login | 45 | 45 |
| Challenge Mode | 189 | 189 |
Total 1252 Rivalries Points and 1063 without playing the Challenge Mode
With the Rivalries Points, you can earn, you can trade for Rivalries Players, which in turn can be traded towards the SBC for Ultimate Rival Points and Ultimate Rivalries Players.
---
FIFA Mobile 21 Rivalries Event Tips and Tricks
After the Summer Celebration event, FIFA Mobile 21 Rivalries event is pretty involving. It has a little amount of grind, with daily different quests, SBCs, and event currencies. So here are our additional tips and tricks to help you get the best from the event. It took us a while to get these answers and calculate everything so let's explain it here.
There are no specific event currencies and neither are there skill games to play for. So just grind out the daily and weekly quests from time to time. There is a lot of luck-based components that can determine your success.
Ultimate Rivalries Players
| | | |
| --- | --- | --- |
| Player | Ultimate Rival Points | Gems Required |
| 107 OVR Player | 40 | |
| 108 OVR Player | 65 | |
| 97 OVR Event Icon | 50 | |
| 109 OVR Prime Icon Puyol | 250 | 175000 |
Credits – Luxien Twitter
From the table above we can clearly see you can grab everything other than the 109 Prime Icon Puyol. Even either of the 97 OVR Event Icons is achievable for free-to-play, as we are guaranteed around 75 Ultimate Rival Points provided we complete the SBCs.
As shown in the calculations above, one can achieve a total of 1252 Rivalries Points from the event. Make sure to complete all the matches in the challenge mode in time. There are three different sets each week and there is no reason not to for extra Rivalries points. Also remember, if you don't do and ignore the SBCs there is no other way of getting the Ultimate Rivalries Points. So No SBC means No 107/108 OVR Players!
108 OVR Ultimate Rivalries Players
97 OVR Event Icon
3x 93+ OVR Rivalries from Daily Login
93+ OVR Rivalries from the Milestone
93+ OVR Rivalries from the Rivalries Pass
You can also go for two 107 OVR Ultimate Rivalries Players, with each containing 40 Ultimate Rival Points. But you will fall shy of a minimum of 5 points and will require gems to make it up. Additionally, with the Rivalries Points, you can choose to open the packs in either of the following ways.
5x 102 OVR+ Rivalries Player Packs
50x 96 OVR+ Rivalries Player Packs
3x 102 OVR+ and 30x 96 OVR+ Rivalries Player Packs
Remember the 96 OVR+player pack doesn't necessarily guarantee you a player and you may land up a lot of coins. So make your strategy by getting the best out of both packs as opening just 5x 102+ OVR Players won't help you in the challenge mode each week and in the SBC as well. Don't forget any of the daily quests and claim all of your milestone rewards.
Once the Challenge mode unlocks, play them every day. As we have seen some of them do have specific lineup requirements. So you either need to buy the players from the market (they are way overpriced currently) or need to open the 96+ OVR packs in the hope of some useful players. It's all very luck-driven given as far as what you can get, but remember everything is available in the market!
---
FIFA Mobile 21 Rivalries Players
---
That's the Rivalries Event in a nutshell. Beyond that, there isn't a whole lot to say about this event. All the calculations are at your doorstep there, do with it what you will and plan carefully. It's something completely different, which is exciting and nothing that we have seen before. It's got SBCs, a lot of grinding, AI matches, versus section. The player selections are huge, there is a lot of players getting dumped into the market with this event. This event is nuts! It's a three-week event and you have time to sit around and think about how to plan your path through.
Want to complete your team with the best players? Check our suggestions below!
---
Please feel free to ask any questions in the comments section below, I'll make sure to reply to everyone. Hope you find this FIFA Mobile 21 Rivalries Guide useful.
For more Mobile Gaming news and updates, join our WhatsApp group, Telegram Group, or Discord server. Also, follow us on Instagram and Twitter, and Google News for quick updates.