Finally, after weeks of grinding skill games, rinsing opponents online, and tactically managing resources, we have, at last, reached the final sprint. FIFA Mobile 21 Ultimate TOTS (UTOTS) players are here. You can tell from the name itself, these guys are the real game-changers. Some players may have dropped out along the way, but those that have been persistent throughout the entirety of TOTS (Team of the Season) will be rewarded abundantly, having a choice at some of the many UTOTS players available in FIFA Mobile.
It goes without saying, if you've carefully rounded up all your UTOTS points for the last month of TOTS, you are not going to want to buy any card. You'll probably want to analyze your options and cash in only once you are absolutely comfortable, and rightly so. We have inspected each card in great detail, looking at the quality of the card as a whole and in both online modes, as well as the different techniques are play-styles you can attempt to get the most out of these precious players in-game. After all the analysis, we've prepared reviews on each and every UTOTS player, from the cheapest reserve to the most expensive starter. We hope you can find these useful in your decision-making!
All those calculations. All that time. All that effort. It all comes down to this. Choose wisely!
---
FIFA Mobile 21 UTOTS Reserves
The FIFA mobile 21 Ultimate Team of the Season (UTOTS) Reserves features the players who had a stellar footballing season so far. With a roster of 11 cards, the reserves boast some cards that can challenge even the starters in terms of gameplay and stats. While all the reserves being obtainable Free to Play, these are some of the cards you will be having in your lineups for the remainder of the season.
Marcos Llorente (CM)
Skill boost: Long Shots
Requirements: 150 UTOTS Points
Overview
Llorente enjoyed a very successful season as he helped Atletico Madrid to a La Liga title with 12 goals and 11 assists, just 2 assists off being the highest in the league. This is a well-deserved FIFA Mobile 21 UTOTS card for the Spaniards and being the easiest to claim is another huge plus.
VSA
In VSA, you would generally want to have players that are either great in attack or solid in defense, rather than an all-rounder. Llorente is still a fantastic midfielder coming forward though. His shots are very powerful, and the curve on finesse shots is great too. His height allows him to score corners too, which is always a benefit in this edition of FIFA Mobile.
You'd think with a tall player, that the Dribbling may feel slightly clunky, but this doesn't seem to be the case with Llorente; His turns are quick and silky, which allow you to get into the box and around your opponents with ease. Personally, the skill boost is a key highlight for this card, since Long Shots is one you can use to match with many other premium midfielders too. VSA is all about mastering your squad building and Llorente allows for just that.
However, as said earlier, with VSA, you want somebody that can dominate in either attack/defense rather than both, since the midfield is not that important. H2H is where the fun is that with this UTOTS card.
H2H
It is recommended that you pick up Llorente if you're more of an H2H player. Not because of the quality, but because you're missing out on a lot of Llorente's key attributes in VSA.
All the benefits in VSA apply in H2H too, but there's more. The High/High work rates and the abundance of pace make Llorente a fantastic Box-to-Box midfielder. Players should feel comfortable shooting from the range with Llorente since there is a high chance the shot finds its way into the goal. On top of that, his back-tracking is surprisingly good too, the pace can collapse counterattacks in an instant.
UTOTS Llorente is a brilliant CM for your squad, possibly even end-game material. If you're feeling a bit shaky on your current CM, this card is a replacement that is sure to impress.
---
Joao Cancelo (RB)
Skill boost: Crossing
Requirements: 150 UTOTS Points
Overview
Manchester City won the Premier League this season, and Cancelo played a key role, playing at both RB and LB. He was a constant threat going forward, and great at covering for his teammates too. Undoubtedly, he could be regarded as one of the best wingbacks this season, a deserved FIFA Mobile 21 UTOTS card.
VSA
No issue for Cancelo coming forward, if he pops up in attack, just play on as you would normally. You don't really need to rely on your wingbacks to handle defending in VSA. However, Cancelo does position well and shadow attackers as they come into the box, he can be a real pain to get past too. He is a little weak compared to most strikers and tends to put in effortless challenges against the tougher strikers. As long as you have some good CBs in place, you've got little to worry about.
H2H
Being one of the best RBs on the market, it's difficult to find room to complain about it. He is basically what you would expect, strong in defense, quick and deadly going forward. Cancelo works fine at RB, but RWB/RM works fine as long as you have a 3rd CB to cover. The 5* weak foot would allow you to switch Cancelo over to the left too if you already have a right-sided option. When in attack, he essentially feels like a winger with his speed and dribbling.
Cancelo would be an automatic upgrade to most RBs, so it's a pretty safe option to choose if he fits into your formation.
---
Jonathan Bamba (LM)
Skill boost: Attacking
Requirements: 150 UTOTS Points
Overview
Lille was the underdog side this season as they grabbed the Ligue 1 title over PSG by just 1 point. Bamba was a regular starter on that side, recording 7 goals and 9 assists for the club. He was a constant threat throughout the season, warning multiple informs and even a POTM award. These consistent performances earned him a place in the FIFA Mobile 21 UTOTS.
VSA
Obviously, Bamba has an outright competitor to be the best LM in the game, and that is, of course, the SBC Mane. Although Bamba holds incredible pace and silky dribbling, he lacks any real firepower, so he isn't really that great for VSA. If you are wanting to rely on your LM as the main wide attacker in VSA, you should opt towards Mane as his shooting makes him a deadly goal scorer, something Bamba lacks a little.
Nevertheless, it's still a good card to use, but unfortunately not near to being endgame in VSA.
H2H
This mode is where you can get the best out of Bamba since this is where his pace shines. The stats don't lie, he is insanely fast, and his decent Dribbling allows him to keep hold of the ball whilst running too.
Again, if you're looking for an LM to play as a wide attacker, primarily to score the goals for your team, Mane is better. Bamba plays as a better support player, useful if you don't really use the left side of the pitch as much as the right/center. He's cheap, easy to fit in, and quite easy to use too – just run!
---
Jadon Sancho (RM)
Skill boost: Long Passing
Requirements: 225 UTOTS Points
Overview
Last Summer, Sancho was heavily linked with a move away from Dortmund which didn't go through. Some said this would affect his mentality playing for the club – they were wrong. The 21-year-old enjoyed another successful season as he helped his side to a 3rd place finish with 16 goals and 18 assists.
VSA
Honestly, this is basically SBC Mane mirrored onto the right. He's got everything you'd want from an RM and more: Pace, Dribbling, and Shooting. His Strength is a little low, but it's difficult to complain about that really. This is the ideal player to have as your wide midfield partner to SBC Mane.
The Long-Passing boost is an odd one, if you can accommodate that, then Sancho is definitely a must-have.
H2H
Again, it's just great really. You could go as far as to say Sancho and Mane is an endgame partnership. This card is easily the best RM on the market, and definitely one of the best in the whole game.
---
Keylor Navas (GK)
Skill boost: GK Generalist
Requirements: 225 UTOTS Points
Overview
It was a disappointing season for PSG, as they narrowly missed out on the Ligue 1 title to Lille by just 1 point. Nevertheless, Navas showed his class between the sticks as he provided solid support for his teammates. PSG only conceded 28 goals in 38 games with Navas to thank too.
VSA
He does the job in goal, has good positioning and knows when to come out and dive at the attackers feet. Especially at the lower ranks of gameplay, some players tend to hesitate upon seeing a keeper rushing so this would help a lot there.
A couple of downsides are that although this card is good at low claims and saves, he is only good at that. Any high finesse shots aimed towards the upper corners are difficult for him since he seems to avoid jumping at all. Also, his handling is quite poor in-game, and he parries the ball more times than he holds onto it, which isn't great, especially in VSA where attackers love to feed off rebounds.
There are definitely better options for VSA over Navas, it is recommended to use your UTOTS points elsewhere.
H2H
All of the above basically carries over to H2H. However, this is a game mode where a GK save is more of a plus rather than an expectation. Navas doesn't make any dodgy errors and does out in the odd save too. A big advantage is the Long Thrower trait, which is great for starting counterattacks in H2H.
This card does fit in better for this mode. However, as said earlier, players should look to use their UTOTS points on other options for the best use of this opportunity, unless Navas is a preference.
---
Theo Hernandez (LB)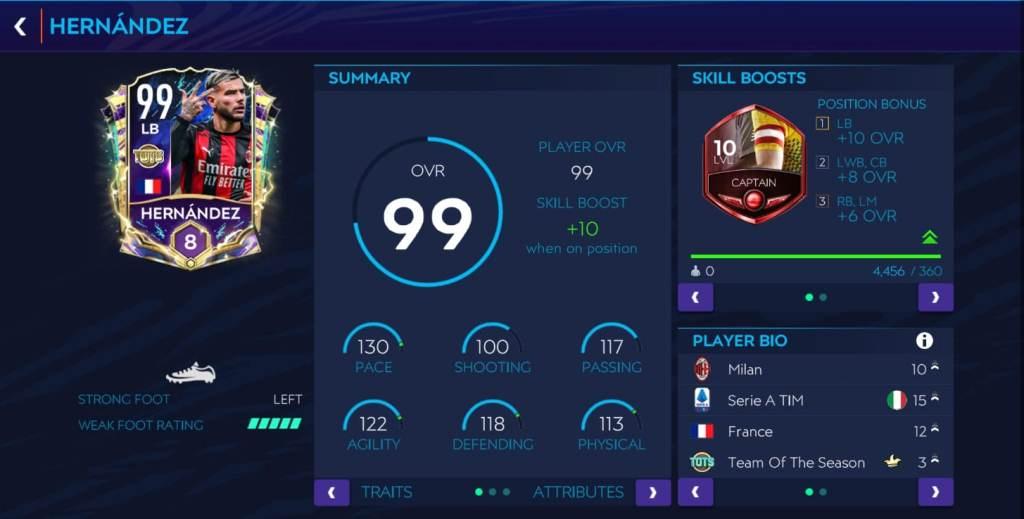 Skill boost: Captain
Requirements: 225 UTOTS Points
Overview
Theo Hernandez guided Serie A side, AC Milan, to a second-place finish with his 8 goals and 7 assists all from the LB position. Throughout the course of the season, Hernandez was a deadly threat going forward, and he could rightfully. be included for the debate on the best LB this season.
VSA
If he pops up in attack, just carry on like normal, he's basically as smooth as a winger in that sense. As for defense, it's very similar to Cancelo. The only difference is he is a lot stronger with his challenges. Hernandez is honestly a pain to get past, if you face him, just switch sides. If you have him in your team, then that's a huge benefit, since he basically plays as an extra CB at times.
H2H
In this mode, Hernandez shines very well. He's a rapid and smooth LB that is deadly going forward and tracks back too. If you were to compare it to some other LBs, like for example, Davies, Hernandez is much more well-rounded. This makes him clear as one of the best LBs in the game, if not the best.
Like with UTOTS Cancelo, this card is an automatic upgrade to most current cards, so it's a safe option to go with.
---
Mohammed Salah (RW)
Skill boost: Long Shots
Requirements: 225 UTOTS Points
Overview
Liverpool may not have been at their best this season, but that didn't stop Salah from doing his magic again. Although he had his dry periods, the Egyptian still managed 22 goals, narrowly missing out on the Premier League Golden Boot by just one more goal. Salah has been a star for Liverpool consistently ever since he joined as he makes his mark in the FIFA Mobile 21 UTOTS yet again.
VSA
If you've used the PL TOTS version, expect the same but at a much higher level. This is a brilliant RW card, easily one of the best on the market. Salah offers great pace and dribbling so you can easily weave through defenders. The shooting is definitely a key highlight though, power shots are really good, as are finesse shots. If you manage to find a good LW partner, UTOTS Salah is an ideal pick for RW.
H2H
It's all as good as VSA, except Salah's individual ability shines more in this mode. You'll find it easier to go solo with this card rather than to pass it since the movement of this card is pure fluidity. This is another safe option from FIFA Mobile 21 UTOTS and a quality card.
---
Casemiro (CDM)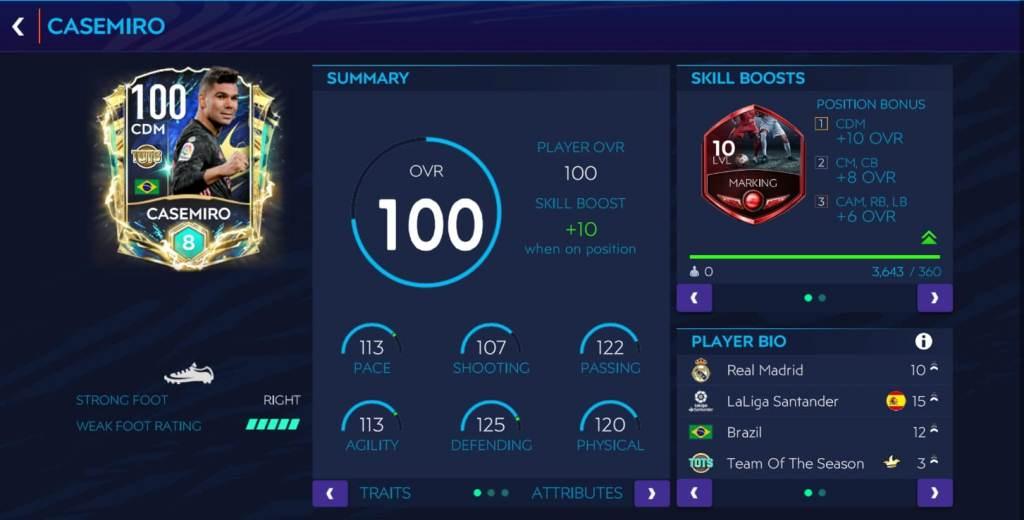 Skill boost: Marking
Requirements: 300 UTOTS Points
Overview
Real Madrid finished 2nd this season, as they once again, put their trust in Brazilian midfielder, Casemiro. Although not showing off flash numbers, Casemiro did all the dirty work for his side, pulling the strings in the middle of the pitch. Fans will have Casemiro to thank once again for his work this season. He's already had a 100 rated card in the form of the Spring Break one, but this is clear as the better option.
VSA
He likes to come up in attacking chances a lot when given the opportunity, which is, unfortunately, a bad thing. Casemiro feels stiff on the turn and just feels quite heavy. Although his shots are powerful, they aren't all that accurate, so you'd have to get quite close to goal to shoot. This is the kind of player you would want to avoid in attacking chances.
Defensively, he is quite good, although his positioning is a little awkward. Sometimes he is in the right place and can shut you down quickly, but sometimes he just tends to follow you without putting in a tackle. Overall, it's not a bad card, but it's not too good either really.
H2H
Since his stats are quite well-rounded, H2H is a good game mode for this card, definitely better than VSA. He still feels like a truck with the ball and is very clunky whilst turning. The High/High work rates are always great in H2H since you can get players moving more. However, his passing was the standout, he can make some great through balls forward. The ideal position for this card would be in either a holding single CDM role or in a partnership with a more attacking-minded midfielder that can dribble better.
Unfortunately, it lacks the fluid movement to be an end-game CDM, but is a good card nonetheless.
---
Erling Haaland (ST)
Skill boost: Agility
Requirements: 300 UTOTS Points
Overview
Dortmund's star youngster once again did what he does best for his club – score goals. Haaland broke his own record, scoring 41 goals and assisting a further 10 for his teammates, all in 41 appearances. An average of a goal per game is remarkable for any striker, and Haaland is putting numbers like this up at only 20 years old. A fully deserved FIFA Mobile 21 UTOTS card.
VSA
Since he is 6'4″, you would expect him to be a clunky tower in-game, but surprisingly, his dribbling is quite good. Haaland is pretty smooth on the turn and has a quick roulette too. Ball retention is also decent, he can keep onto the ball even whilst getting pressured. Onto the shooting, that's simply insane. Power shots, finesse shots, awkward angles, Haaland can do it all. A slight complaint is that with distance, shots can get a little weaker, but you can quite easily dribble your way closer if needed. This card is just fantastic for VSA.
H2H
Haaland is just as good in H2H as in VSA. He has a fair amount of pace, and his height makes him great for headers, much to your opponent's annoyance. A weird feature to this card is that it tracks back a lot, so you will often find him hanging about in midfield during a counterattack. He isn't that great at passing either, so it does put you in some of those awkward situations where you just have to get the ball to a midfielder that can actually make the long ball.
Nevertheless, still a fantastic card to use, and sets the bar high for the next 2 strikers.
---
Harry Kane (ST)
Skill boost: Speed
Requirements: 300 UTOTS Points
Overview
Kane was one of the best strikers in Europe this season and his personal awards can back that up. Despite Spurs finishing 7th in the league, Kane still managed 23 goals and 14 assists winning both the Golden Boot and Golden Playmaker award. Without him, who knows where Spurs would have finished at the table. Fans must be loving Kane at the moment, and it is only right if he gets the deserved FIFA Mobile 21 UTOTS card.
VSA
The shooting is top-notch, quite similar to Haaland's, the only difference being that the shots from distance were more powerful. Kane's dribbling was still good but not as good as Haaland's, the fluidity was all there but he is "stun" effect was a little weak. You've got to time your skill moves much more accurately with Kane than with Haaland.
Other than that, this is a good card, although for VSA, you may rather have Haaland.
H2H
Kane played a much deeper role than usual this season, which was how he managed to tally so many assists. He seems to do just that with his UTOTS card too. Like Haaland, he tends to hang around in midfield, but this time, there should be no awkward situations since Kane has some great passing abilities. The standout long-passing trait matches the ability of some high-end midfielders too. The pace is slightly lacking initially, but he does have the Pace skill boost, so it will definitely improve by a lot. The shooting and dribbling are all basically as good as in VSA, except the headers are somewhat on the downside. They're good, but the card's jumping just doesn't seem to work too great.
Ideally, Kane should be played in between an LW and RW, since he drops deep and so he needs somebody to pass to. You could also partner him with another more goal-minded attacker to get the same result. UTOTS Kane is a very tactical card to use, so if you're somebody that just looks to run and shoot, this may not be the best option for you. If you can get him working properly, this may be one of the best strikers in the game for H2H.
---
Romelu Lukaku (ST)
Skill boost: Second Striker
Requirements: 300 UTOTS Points
Overview
Lukaku was one of the main cogs in the drive which took Inter Milan to the Serie A title. The Belgian striker scored 24 goals and assisted 11, making him second in both aspects of the league leaderboards. There's no doubt about it, he was an absolute star this season, and the UTOTS in FIFA Mobile 21 was expected.
VSA
The Medium/Medium work rates kind of diminished Lukaku's ability in VSA. He ends up in some awkward positions, which isn't really ideal since he is fantastic in front of goal. When he does get the ball in a good position, his shots are deadly, better than that of Haaland and Kane. Dribbling-wise, Lukaku falls short only slightly, since he does feel very big and heavy. Strength is not an issue either, so you can manage to squeeze yourself through large groups of defenders too.
It's a brilliant goal-minded card, but he is slightly awkward in terms of positioning in VSA chances. In most good ones, he tends to come into the box, rather than be in the box. If you can make do with that, Lukaku is great.
H2H
The work rates strike again in H2H. He is such a fantastic striker, but he just has an aura of laziness. When you're making the quick counterattack, he tends to jog forward, which slows down the speed of the attack. He also kind of hangs about rather than making himself open for a pass which is annoying. The shooting is incredible, and the headers are much better than those of Kane and Haaland. You will want to use Lukaku as the finishing touch, rather than in the build-up. If possible, try to partner him with a playmaker striker, the best option being UTOTS Kane, as that would make a deadly partnership.
---
Kane vs Lukaku vs Haaland
The big question will be who is better out of all 3 FIFA Mobile 21 UTOTS Reserve Strikers. They all serve different purposes and are great cards in their own domain:
Haaland excels at VSA in all aspects, so if you focus on that mode, Haaland is the ideal choice. He's also good in H2H but the next 2 are as good/better
Kane is a very good card for H2H if you can get him working as expected. He's basically a No10 mixed with a No9, so if you're willing to change your play style to accommodate that, try Kane. Honestly, get his style of play worked out and you could argue he is one of the most effective strikers in the H2H game mode. He also does the job in VSA, but the other 2 options are better for that.
If you just want a simple striker that scores goals, Lukaku is your man. Surround him with reliable attackers and the positioning won't be an issue to you. This one works well in both modes, so if you like to dip your toe into a bit of VSA and H2H, try out Lukaku.
FIFA Mobile 21 UTOTS Starters
The FIFA mobile 21 Ultimate Team of the Season (UTOTS) Starters features the top twelve players who performed at their very best and had an amazing season so far. These 12 cards are the ultimate players, ie the endgame cards that everyone will want in their teams. With only a handful of starters being free to play obtainable, you can head into the market to grab the others or can use or gems if you have large disposal available.
Note: Starting from the 104 OVR Players, we have restricted our review to a basic overview of the player and his in-game performances as they are extremely P2P oriented and only a certain section of the community have been able to lay their hands on these prized players. At the same time, we could not extensively try them out in VSA and H2H for our review purposes as well.
Lorenzo Insigne (LW)
Skill boost: Shooting
Requirements: 400 UTOTS Points
Overview
Insigne was the star man in an otherwise underwhelming Napoli side that finished 5th in the Serie A. The Italian winger tallied 19 goals and 11 assists this season, recording another successful season for himself. This was a surprise choice for a FIFA Mobile 21 UTOTS Starter, but it can be argued that it was deserved for him.
VSA
He is very short so at first thought, you wouldn't even think of getting this card for VSA. It genuinely looks like father and son when you compare Insigne to someone like Event Icon Blanc. However, surprisingly, this is a pretty fun card to use. He has a very good stun effect with the skill moves and just feels very quick in general. The shots could be more powerful, but you can get a good curl on them.
Just, whatever you do, avoid running into the box when there is a crowd present, Insigne tends to just disappear amongst everyone.
H2H
Again, he is a fun card to use in H2H too, and the pace makes him reliable for long balls. The only downside is of course, the height. He gets pushed around way too easily, which takes away from the fun since their really isn't much you can do to improve on that.
Overall, this is quite an arcade-y card, in how he is just agile and smooth with his movement. It gets fun playing around with the skill moves and weaving in and out of the tall defenders. On a competitive level though, you don't want someone like this on the wing for you, you'll have to look for a different LW if you are looking to push forward in the high ranks of Div Rivals.
---
Jose Fonte (CB)
Skill boost: Destroyer
Requirements: 400 UTOTS Points
Overview
One of the key features of the Lille team that took them to the Ligue 1 title was their strong defensive stature. They lost only 3 games, conceding just 23 goals, the lowest of all teams in the league. One key man the fans have to thank is the Portuguese defender, Jose Fonte. He had the ideal season for a defender and rightfully deserves to be in the FIFA Mobile 21 UTOTS.
VSA
Long story short, this card is very annoying to play against. He tends to just throw himself at the attacker almost at the right time, every time. The Destroyer boost bumps up the ideal stats too, which can be useful when your squad building as well. This is a brilliant card in VSA, a very safe option.
H2H
The defending is basically as good in H2H as in VSA, although Fonte does have a slight issue in this game mode. There is a lack of pace, which is particularly annoying against the pacy attackers, so make sure to partner with some quick defenders alongside Fonte. If you have a back 3, make sure to position Fonte in the center, as his headers are incredible, both for clearances and for goals.
If you have the resources to get this card, it is highly recommended.
---
Joshua Kimmich (CM)
Skill boost: Dribbling
Requirements: 400 UTOTS Points
Overview
Bayern Munich won the Bundesliga by a country mile this season, and all the great would be aimed at the star attackers, but the ones behind them seem to have gone slightly under the radar. Kimmich is one of those players, who collected 6 goals and 14 assists for himself. The 26-year-old earns himself a place. in the FIFA Mobile 21 UTOTS Starters with a different CM card.
VSA
This is definitely more of an H2H-oriented card, but he does alright in VSA. His long shots lack some power, but they are good for a CM, and he definitely feels very agile on the ball. He does like to come forward in attacking chances a lot, which isn't too much of an issue, but isn't ideal since Kimmich's finishing in the box is quite poor. If you are a VSA player, it's recommended to avoid having Kimmich in the lineup at all really.
H2H
H2H is a completely different story. Ideally, you will want to partner Kimmich with a defensive-minded midfielder since Kimmich does like to push forward a lot. His long-passing is brilliant, and he feels very nimble with the ball too. Surprisingly, he feels quite fast and can make a quick tackle too. You'll still want the partner though because Kimmich is a little weak and any head-on tackle is quite effortless.
Nevertheless, this is a brilliant card for H2H, and if you can find a strong defensive partner, your midfield is practically sorted.
---
Stefan De Vrij (CB)
Skill boost: Captain
Requirements: 650 UTOTS Points
Overview
Much of the credit to Inter Milan's title-winning run went to the attacking players, but without De Vrij, who knows where they would have finished. The Italian giants finished with only 3 losses and 35 goals conceded, both being the lowest numbers out of any other Serie A team. De Vrij deserves a big thank you from the fans for his work, and EA has responded with a 103 FIFA Mobile 21 UTOTS card.
VSA
This is basically UTOTS Jose Fonte, but better. He's a pain to get past, and is annoyingly persistent too. You can try and skill your way past to him, but it seems. asthough he doesn't like to give in.. The skill boost is a useful one for squad building, so De Vrij is a brilliant card if you can get your hands on it.
H2H
Again, this card is just great. He can honestly do all the defensive work himself since his tackling is already good, his headers are incredibly powerful, and he is very quick too. This is basically the ideal CB to have in your team.
---
Bruno Fernandes (CAM)
Skill boost: Second Striker
Requirements: 650 UTOTS Points
Overview
Bruno's arrival completely changed the look of the Manchester United team, the Portuguese playmaker is now seen as one of the best in his position in the world, and he showed his class again this season. Manchester United finished 2nd in the league, with Bruno at the heat, scoring 28 goals and assisting a further 18 all season.
VSA
This is basically a cheaper option to the 105 De Bruyne. Bruno is quick, smooth and his shots are deadly. He is a very fun card to use, but a downside is his strength. He can get pushed around in the crowds of defenders, and his stun effect could be somewhat better. Ideally, you should stick around the edge of the box and focus on firing the power shots from range.
H2H
Just like he did with United, Bruno pulls your whole team together and carries it forward. His long passes are brilliant and his forward runs are also very intuitive. Overall, if this is an affordable option, Bruno is highly recommended and could be in your team as the CAM all the way through to the end of the season.
---
Ruben Dias (CB)
Skill boost: Tackling
Requirements: 900 UTOTS Points
Overview
Following his £70m move from Benfica, the pressure was on for Dias. That didn't move him even the slightest as he helped City to a PL title and claimed the PL Player of the Season award for himself too. He could easily be regarded as one of the best CBs in the league or even the world following his performances this season.
Gameplay
It's what the stats say really, he's an all-in-one CB, with the good heading, pace, and defending. It's a real pain trying to get past Dias and it's difficult to get better than what this card already looks like. If you can get this card in your team, you really should without hesitating. You will likely see it there all the way until the end of the game season.
---
Kylian Mbappe (ST)
Skill boost: Finishing
Requirements: 900 UTOTS Points
Overview
The 22-year-old youngster has been impressing ever since his time at Monaco, and he is still doing that. This season, he recorded his best numbers with a huge 42 goals and 11 assists. If this is him now, who knows what he will be doing in a few year's time.
Gameplay
The UTOTY version was a very fun card to use, and so is this one. Mbappe is just so nimble and quick, and he has a devastating shot too. He isn't all that great in the air, but this isn't the kind of card for that. There really isn't much else t add to that now, if you can grab this card, don't hesitate.
---
Kevin De Bruyne (CAM)
Skill boost: Box to Box
Requirements: 1200 UTOTS Points
Overview
Despite being injured for a large portion of the season, De Bruyne still played his magic for Manchester City. He got himself 10 goals and 18 assists in total this season, winning the PL PFA Player of the year for a second successive season.
Gameplay
Here's where it starts to get ridiculous. If you just take one look at his stats page, you'll know what I'm talking about. The gameplay in both VSA and H2H is extraordinary, the shooting exceeds the abilities of so many strikers, the passing is pin-point. The movement is incredibly fluid and smooth, and for some reason, De Bruyne also has pace. If you can get your hands on this card, then you're midfield is honestly sorted out until the end of the season.
---
Jan Oblak (GK)
Skill boost: Reflexes
Requirements: 1200 UTOTS Points
Overview
Atletico Madrid won the La Liga title as the underdogs, and they'll have one man to thank for saving them time and time again. They lost 4 games, conceding only 25 in 38. The UTOTS Starter GK was a heavily contested position, but Oblak is definitely a deserved winner.
Gameplay
Honestly, this is a good card but heavily overpriced. It's difficult to differentiate between GKs nowadays in FM, since the height was buffed. This is a very good GK, but for the price, it's definitely not good value. You can find similar quality in a card that costs much cheaper. This one is not recommended to actually use for any reason other than to just flex, since any good power shot or finesse shot will go in, no matter who is in goal, and there isn't much to do about that.
The card also has the Long Thrower trait, but that isn't exactly a unique selling point, since you can find that in a lot of other cards too.
---
Lionel Messi (RW)
Skill boost: Second Striker
Requirements: 1500 UTOTS Points
Overview
Barcelona wasn't the same team this year, but that didn't stop Messi from showing his class. This time, he managed 38 goals and 12 assists. It's become a classic seeing Messi in the UTOTS, here we get him once more and with a fantastic card.
Gameplay
Seems like EA were just messing around at this point. The numbers on the stats are insanely high, and this is just a deadly card. The work rates are slightly disappointing, but Messi is quick enough to move around the pitch anywhere. If you can get your hands on one of these cards, then props to you and enjoy!
---
Robert Lewandowski (ST)
Skill boost: Attacking
Requirements: 1500 UTOTS Points
Overview
Bayern Munich's serial goal scorer did it again this season. The man just can't stop scoring goals, Lewandowski adds another 46 goals to his career, all in just 38 appearances. What a record. There aren't many options for your highest-rated UTOTS player, but Lewandowski is the first person you would name.
Gameplay
Is this even Lewandowski? The pace and the smooth dribbling honestly make it feel as though this just isn't the Robert Lewandowski you watch on TV. The shooting is just other-worldly too. Honestly, if you had the choice to pick between this card and the UTOTS Messi, Lewandowski edges it since he is the perfect and most rounded striker. Both are still crazy cards and will be worth their stats too.
---
Cristiano Ronaldo (ST)
Skill boost: Dribbling
Requirements: Chain Packs
Overview
Juventus had a poor season compared to normal, and they were on the brink of losing out on Champions League football, but none of that made Ronaldo look any less deadly. He fired in 36 goals and assisted a further 5 for his teammates, winning the Serie A Golden Boot in the process. On top of that, it would just not feel right to have no CR7 in the FIFA Mobile 21 UTOTS.
Gameplay
So many traits, insane stats, this card is basically a more accessible version of the UTOTS Lewandowski. It's an overpowered card in-game and is definitely an endgame. The boost being Dribbling is different, although it does boost some other stats to make this card even more well-rounded. Should you grind through the chain packs for this card? Unless you are really passionate about having Ronaldo on your team, it is not recommended. You may pack him early on, so you could spend some of your gems on the first couple, but it is better to pick him up off the market instead.
---
Want to complete your team with the best players? Check our suggestions below!
---
Please feel free to ask any questions in the comments section below, I'll make sure to reply to everyone. Hope you find this FIFA Mobile 21 UTOTS Players ReviewGuide useful.
For more Mobile Gaming news and updates, join our WhatsApp group, Telegram Group, or Discord server. Also, follow us on Instagram and Twitter, and Google News for quick updates.