Clash Royale Season 6: Clashmas is coming on 2nd December 2019. In addition to new Balance Changes, we have plenty of new cool features on their way. While we wait for the update to drop, get in the Clashmas spirit with us by reading this helpful guide!
3 New Tower skins, 3 New Emotes and a Brand New Arena!
Coming with the new Season, we not only have 3 new emotes to unlock but also 3 tower skins! Firstly, the Igloo Tower will be gifted to Everyone that reaches tier 24 of the Free Season Pass. Secondly, the Gingerbread Tower will be purchasable in the Shop during the Season. Finally, the Clashmas Tower will be available at rank 10 of Season Pass. Moreover, we have a new Themed Arena for the Season, The Clashmas Arena, fully adorned with Christmas lights and Presents! We still have no information on how to unlock the emotes, however, we hope they'll be a challenge prize.
---
Battle Healer flies into the Arena!
December 2nd and 23rd bring two new Challenges rewarding the absolutely adorable Battle Healer! The cute Angel is a 4 elixir cost rare, single-target melee troop that heals herself and her allies when attacking. In addition, all Clash Royale players will receive a boost as soon as they unlock her. This power-up will bring the Battle Healer to your King Tower Level. Undoubtedly, this will grant the chance to all players to play her even on competitive levels. The boost will last till the end of the season, so if you liked her you'll be free to upgrade her. This is an excellent choice from Supercell, Bravo!
---
Duels Update: 5 Minutes Matches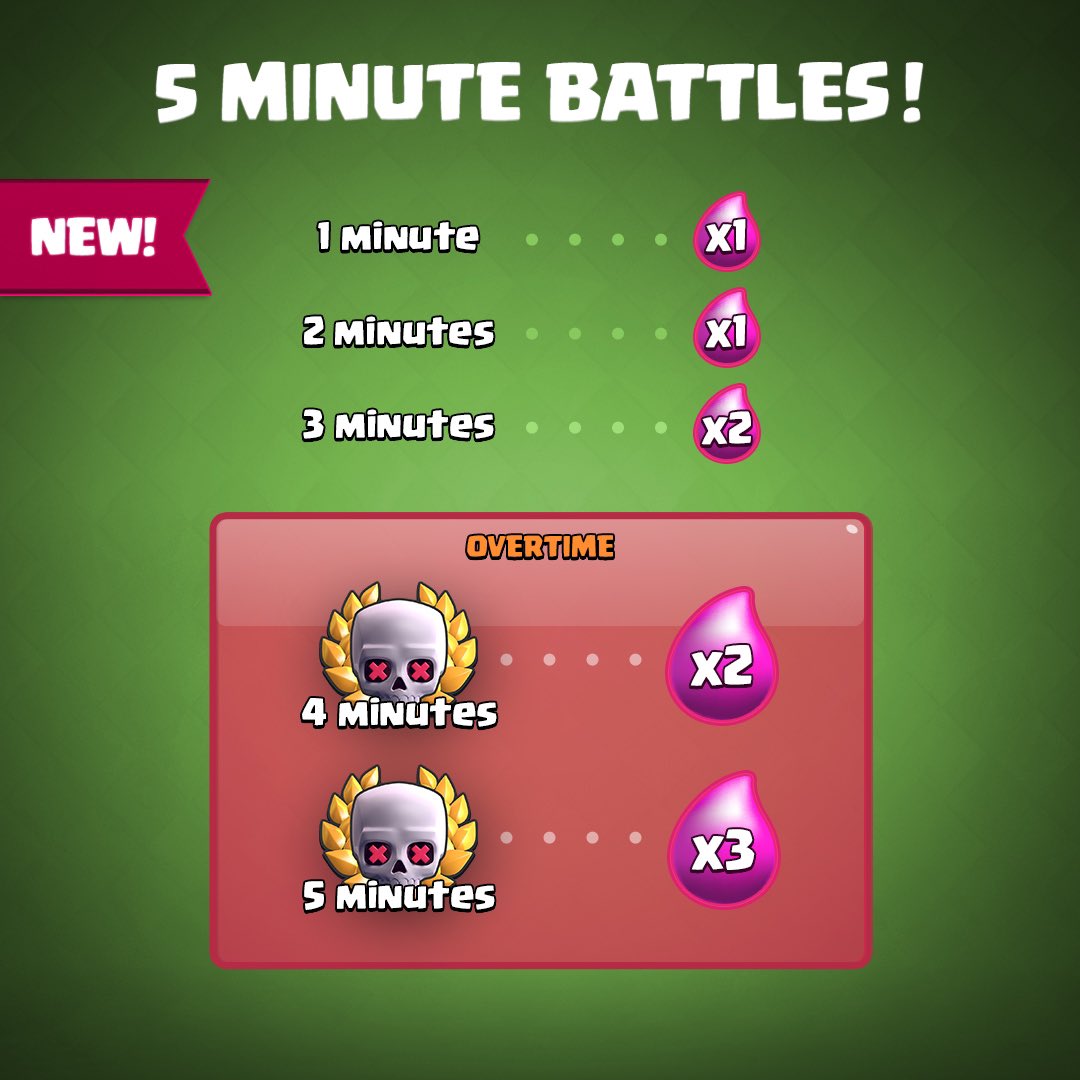 Coming with Clash Royale season 6, we have a major change to all matches. Importantly, every mode you'll play will last a maximum of 5 minutes. In addition, from minute 4 to minute 5, we will have triple elixir before Tiebreaker. This will impact a lot of players, especially those playing fast cycle decks. It's still early to say how much this will change the gameplay, nonetheless, Clashmas is going to bring plenty of surprises!
---
Balance Changes
The knight is getting a 5% health increase that will undoubtedly make him much sturdier than before. The elixir golem is getting a hit speed fix at 1.3 for all forms, reducing the threat the blobs pose, but increasing it in the other forms. 3M is getting a reduction to 2 seconds to their deploy time, but every Musketeer will have a 0.5 seconds stagger. This will importantly allow players to avoid predictive fireballs and bring their favorite trio back into the meta. Arrows are finally getting a deserved buff, they'll have 3 waves instead of 1 and an increase to their damage. Executioner and Witch are returning to their pre-rework self, however, the skeleton mistress will retain her cross-spawn.
Read – 5 Best F2P decks in Clash Royale
---
Final Verdict
This season update is undoubtedly one of my personal favorite. As stated in a previous article, we can all try the new card and give wider feedback in order to provide better feedback. Clash Royale Season 6: Clashmas is coming with New Tower skins that look beautiful and everything really gives that sweet Christmas Spirit. Finally, what's your opinion? Do you like the update or were you expecting something else? Make sure to leave your comment down below, thanks for reading and have a beautiful day!