Fugitives in the High Noon Chase event are on the run and it's up to you to bring them to justice! The brand new event – the High Noon Chase event is now live in COD Mobile. The much-anticipated event of Call Of Duty Mobile has commenced on 10th June 2021 and will end on 24th June 2021. Players can hope to get some great rewards that are stored for them in this epic event in the game.
Pursue the villain and take your rightful rewards as the Sheriff in COD Mobile
In this epic event in COD Mobile, players have to acquire sheriff stars by playing Multiplayer and Battle Royale matches and chase fleeing villains across multiple destinations on the map. The event map has a total of 15 destinations needed to be traveled, with the 15th destination being the final one. Each destination has a certain sheriff star requirement to complete, which can be earned by playing Multiplayer or Battle Royale matches.
The longer you play and the more you win, the more stars you obtain. Playing 1v1 duel or other game modes with the Volution set equipped will allow you to acquire more stars faster. Completing each destination will reward the player with random in-game items. Moreover, it will allow them to spend the stars to proceed with the sheriff to the next destination to chase the villain.
COD Mobile High Noon Chase event rewards: How to get Epic Tengu Black Gold Operator skin
Players can earn rewards every time the give a chase in this event. All the rewards are grindable which can be acquired by completing specific tasks in either the Multiplayer or Battle Royale mode.
The main reward of this event is the Epic Tengu Black Gold Operator skin along with the Echo Steam Clock Weapon blueprint. Moreover, throughout your journey on the map, you will get various kinds of reards. This includes items such as Weapon XP cards, Weapons, and vehicles with Wanted Blueprint/Camo.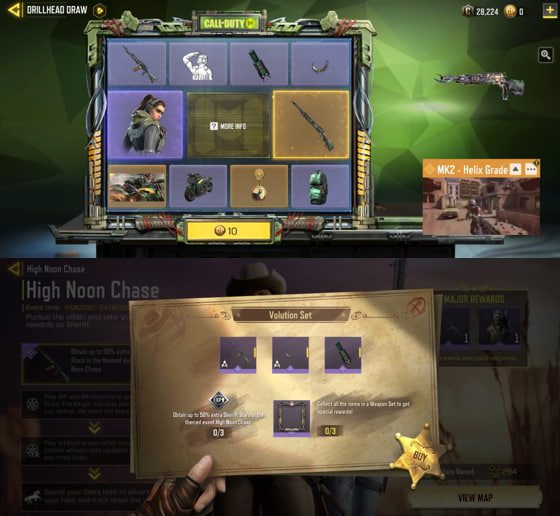 Now, as we have said earlier, players can earn up to 50% extra Sheriff Stars in this event by equipping their loadout with the Volution Set. So, to acquire this set you have to open the Drillhead Draw. Spend your CPs and get all the Volution Set weapons to earn more exclusive rewards in the game.
We hope you find this COD Mobile High Noon Chase event article helpful. Then, please feel free to ask any questions in the comments section below, we'll make sure to reply to everyone.
For more Mobile Gaming news and updates, join our WhatsApp group, Telegram Group, or Discord server. Also, follow us on Google News, Instagram, and Twitter for quick updates.