Mobile Legends: Bang Bang is ready to release a new set of updates to make the game even better with the Patch Update 1.5.72. The month of May will surely be an eventful one for MLBB, so be sure to keep posted with news and leaks surrounding it. For this Mobile Legends Patch Update 1.5.74, developers are continuing to monitor the newly revamped Jungling patterns and data from players in the Advanced Server, as they made a major change to Jungling and Roaming Equipment in the previous patch. Besides, some more changes will be made to help junglers maintain a good amount of health and Mana in the early jungling phase while balancing their overall strength. With that being said, let's dive right into this newest patch.
Hero Adjustments
Rafaela
Becoming a very popular pick in the professional scene as well as in the community, the Archangel will be receiving several nerfs related to her healing capability. Developers decided that because of her high win ratio and with a top 3 hero usage rate, Rafaela will need to be balanced. The healing nerf will make her healing less than that of Estes.
Skill 2
Base HP Regen for most injured ally: 370-570 → 250-450
Base HP Regen for other allies: 90-140 → 100-150
Ultimate
Optimized skill description to match actual effects.
Granger
Alongside Rafaela, Granger is one of the Junglers that can synergize well with the Archangel. His lack of mobility and attack speed is compensated for with Rafaela's healing and mobility buffs, and so developers are aiming to slightly reduce Granger's early game damage.
Skill 1
Base damage: 45-195 → 35-185
Phoveus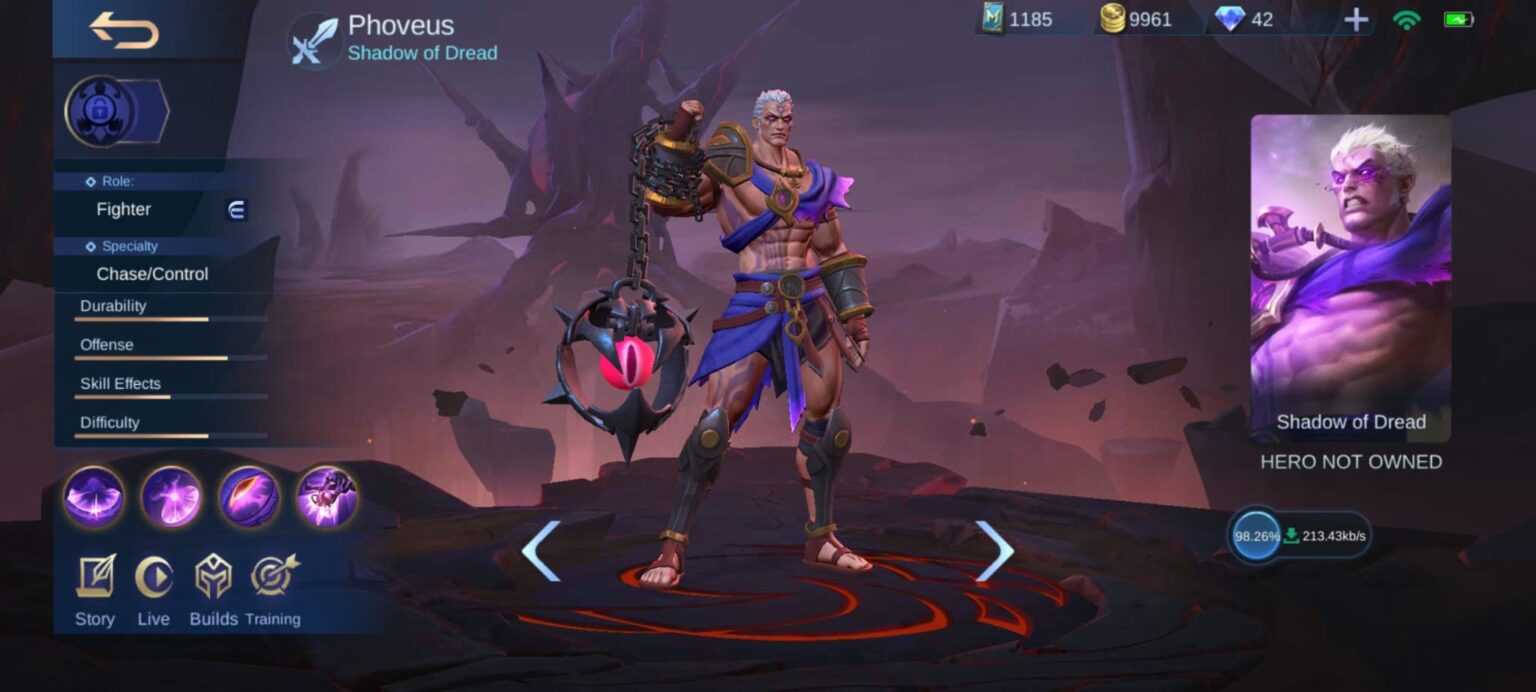 In the previous patch, Phoveus could deal a very high amount of damage but lacked the survivability to keep himself alive in team fights. With this new update, a shield has been added to improve his chances of survival when using his Ultimate, which is balanced by reducing his early game abilities' damage.
Skill 1
Base damage: 350-600 → 290-490
New effect: Deals 150% damage to minions
Base shield: 250-750 → 250-650
New effect: Shields can stack
Ultimate
Base damage: 600-900 → 450-750.
New effect: Each time it is cast, gain a shield equal to 300-500 +100% Magic Power that lasts for 3s and can stack within its duration.
Bane
Bane was still dominating too much using the Magic Damage build, so it has been slightly nerfed in this update. More focus is placed on Physical Damage growth to encourage players to play full Physical or hybrid Damage builds.
Attributes
Physical Attack growth: 7.9 → 10.9.
Skill 2
Max damage increase when skill is fully charged: 200% → 175%.
Battlefield Adjustments
Equipment Adjustments
Spell Vamp calculation.

All Spell Vamp effects against creeps and minions have been dropped to 50%. (The special exceptions made for other heroes will be reverted too, and developers will be monitoring the impact closely as time passes.)

Retribution level up requirement: 15 stacks → 20 stacks.
Hunter's Footwear damage to creeps: True Damage → Magic Damage.
Creep damage reduction granted to players with Retribution: 25% → 50%.
Movement and Attack Speed granted by Encourage: 25% → 10%.
Optimized the descriptions for jungling and roaming types of equipment to make them clearer.
Updated each hero with suitable Recommended Equipment.
Rules Adjustments
If you have purchased advanced Footwear for which you've already selected a skill, you can sell the Footwear back and reset the skill selection without affecting the skill's progress.
Roaming skill's strength increases as the gold from Thriving increases. This can be inspected by tapping and holding the buff icon in battle.
The following all contribute to your gold from Thriving:

Gold granted when you were the player with the least gold in your team

Gold granted to other players when they were the player with the least gold in your team

Extra amounts of Gold gained from assists.

When multiple players have Roaming Equipment in a single team:

If X number of players have Roaming Equipment, and among them is the player with the least Gold, they will receive all the rewards. Other players are granted nothing.

If the player with the least Gold does not have roaming, then 4/X (number should be rounded) Gold is granted to X number of players with Roaming Equipment.

If 2 players have the same number of Gold at the same time, neither are granted Gold.

In other words, it is recommended that each team just have 1 player with Roaming Equipment, as there is little overall difference in rewards with multiple sets, and will delay purchasing of other equipment.
System adjustments and Bug Fixes
Sharing to Discord is now available.
Fixed an issue where Youtube streams couldn't be opened.
Fixed the descriptions of certain equipment.
Optimized Paquito's skill indicator: If Paquito's skill indicator triggers before he enhances his skills, it won't be cancelled by his Passive becoming full.
Optimized the perspective for Yve: Slightly raised the perspective of her Ultimate, to avoid making it difficult to cancel the skill.
Are you excited about the latest Mobile Legends Patch Update 1.5.74? Let us know in the comment section below.
For more Mobile Gaming news and updates, join our WhatsApp group, Telegram Group, or Discord server. Also, follow us on Google News, Instagram, and Twitter for quick updates.