The "Iconic Moments Series" in eFootball PES 2020 is an ongoing celebration of memorable moments produced by the finest stars of the beautiful game. Each player in this series has been designed based on a specific highlight or performance of his playing career. Konami picked a particular match for each IM player and included stats for the player according to his performance on that period. Ever since the introduction of Iconic Moments in PES, publisher Konami has seen a rise in the company's revenue from the franchise. This has also created a lot of buzz among the players who relished the chance to sign their favorite club's legends in the game. There have been many clubs involved in the Iconic Moments series so far, and this article is about Real Madrid Iconic Moments players in PES.
There are four Real Madrid (Madrid Chamartin B in-game) Iconic Moments players released as of now in PES, so the reviews will be on these four. All the reviews are only after trying them out in both offline & online mode. Whenever any new Real Madrid Iconic Moments are released, this review will be updated with the new set of players. We have previously reviewed the Iconic Moments players of the following clubs, so feel free to check those reviews out.
---
Real Madrid Iconic Moments review
We have four Real Madrid Iconic Moments players released in the game so far:
Morientes
Guti
R.Carlos
Casillas
Here's Konami's official promo of the Real Madrid Iconic Moments players, you'll surely enjoy taking a look at this.
---
Let's get into the detailed analysis of these players.
Fernando Morientes
Position: CF
Playing Style: Fox in the box
Looking back at his Iconic Moments match
Scoring 5 goals in a single football match is a great achievement, and only a few footballers in the history of this beautiful game have done that. On 10th Feb 2002, league leaders Real Madrid faced a 15th placed Las Palmas side at the Bernabeu. The first few minutes of the game were relatively uneventful, it was just like the calm before the storm. On the 20th minute, Luis Figo crossed a ball into the box and Real no.9 Morientes headed it in. That was just the start of it. Morientes added another on the 35th minute in similar fashion from another Figo cross. Figo went on to keep assisting Morientes even after the half time, on the 52nd and 71st minute. After that Figo was substituted, but Morientes added anther from a header on the 79th minute, thus completing his first and only 5-goal haul in his career.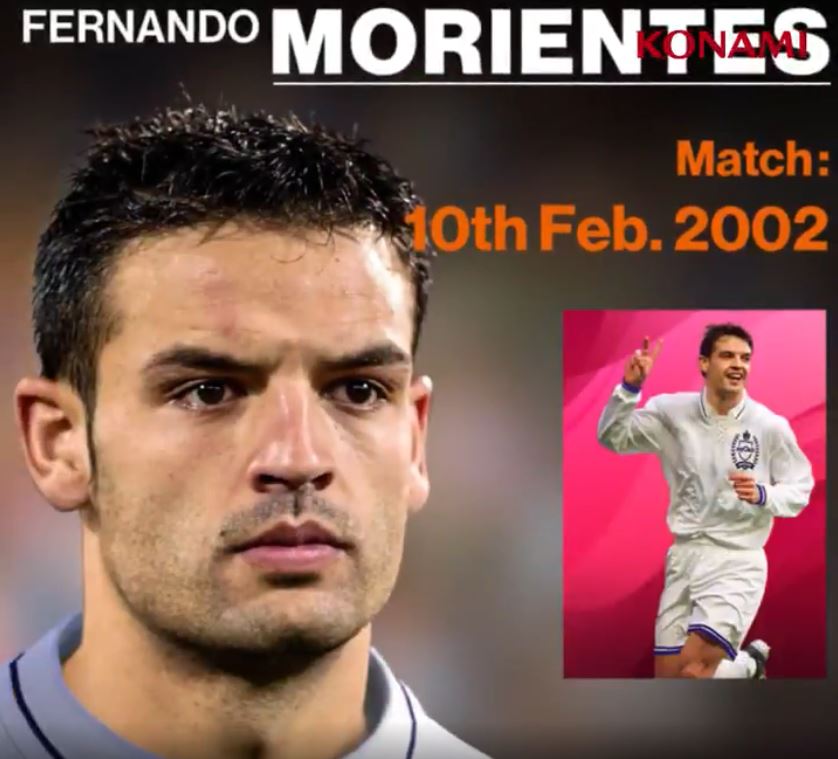 However, it could have been 6 in the night for him had he not missed an 88th-minute penalty. Real eventually finished 3rd that season in La Liga, with Morientes being the 2nd highest goal-scorer jointly with Barca's Patrick Kluivert.
Player Analysis
Morientes' Iconic Moments card in PES is typically how a Fox in the box should be. He's great at shooting, give him the ball inside or around the box and he'll finish it most of the time. He can score all types of goals including headers, long-rangers, chip shots, and sometimes curlers as well. Having a 97 offensive awareness, 98 heading and 94 finishing at the highest level make him a great no.9 in any team. He has got great traits for a finisher too, like long-ranger, acrobatic finishing, rising shots, heading, first-time shot, chip shot control. He can shoot with both feet, thanks to a 4 weak foot accuracy rating. Morientes has decent kicking power, tight possession and physical contact also, with which he can hold the ball well in offensive areas.
However, his weakness is also similar to most of the FITBs in the game. He lacks the pace to dribble past players and in the passing department too, so you can't expect him to assist other teammates often. He also doesn't drop back to help in the build-up. To sum it up, we can say he'll be at the right place at the right time so whenever you have a goal-scoring chance, you can trust him to be lethal in front of goal.
Formation discussion
Morientes is most suited for 2-striker formations, like most other FITB players. Because they can't contribute to the build-up much, they need players around them to feed the ball into them. So you can pair up a Target Man/ Goal Poacher with Morientes upfront in any 4-4-2 (C.Valbuena), 4-3-1-2 (N.Manalt) or 3-3-2-2 (A.Conte)formation.
---
Guti Hernandez
Position: CMF
Playing Style: Creative Playmaker
Looking back at his Iconic Moments match
It was a clash of European titans as Vicente del Bosque's Real Madrid took on Marcello Lippi's Juventus in the 2002/03 UEFA Champions League Semi-final. The first leg was at the Santiago Bernabeu in Madrid. Interestingly, all of the four Real Madrid Iconic Moments players started this match. Guti started in the No.8 position, behind Zidane & Figo, and ahead of Makelele. As the match progressed, Ronaldo Nazario put Real in front on the 23rd minute, after a flick from Morientes. However, Trezeguet put Juventus level just before half-time. Guti had an ordinary first half, however, his Iconic Moment came in the 2nd half, on the build-up to Real's 2nd goal on the 73rd minute. Guti passed the ball to Figo, whose cross was headed away by Juve defender Ferrara. Zidane took the resulting corner, which went to Carlos, who scored from outside the box with an excellent low long-range drive.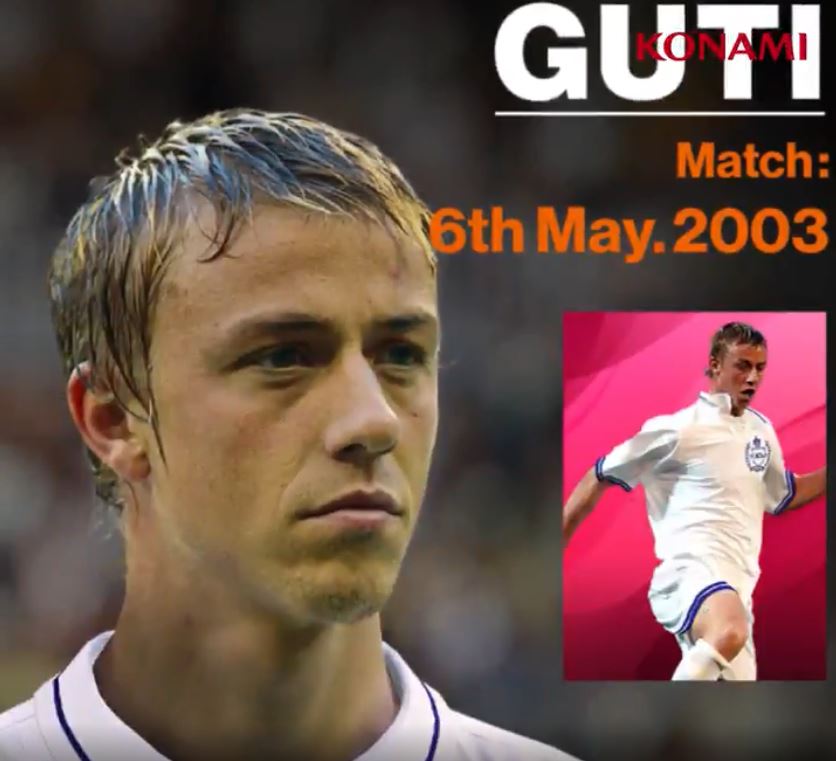 Although that was a hard-fought win for Madrid at home, Juventus went through to the Final after a 3-1 win in the 2nd leg in Turin. However, they lost to Milan in the final on penalties.
Player Analysis
Iconic Moments Guti is a real midfield maestro in PES, just as he was in real life. He is one of those players who can make things happen for your team with great vision, passing and skills. Guti is one of the most balanced players in PES, with great overall stats. He can even play in different positions as well. Without boost at the highest level, his rating as a CF, SS, AMF & DMF is 89, 90, 91 & 88 respectively. However, he is best fitted in a no.10 (AMF) or no.8 role (CMF). Guti has everything a Creative Playmaker should have – great passing, ball control, dribbling and balance. He has great traits for a playmaker, like One-touch Pass, Through Passing, Weighted Pass, Pinpoint Crossing. He can combine well with players around him in the build-up, or he can also provide perfectly weighted long-balls or through-balls to your forwards.
Guti can excel as an AMF too and contribute to the attack with good offensive awareness, finishing and shot power. He has traits like Outside Curler, Long Range Drive, Chip Shot Control and Rising Shots which can be pretty useful when it comes to shooting.
He can also be an effective box-to-box player, with enough speed, aggression and physical contact to recover the ball from opposition players. But he doesn't have good defensive awareness or ball-winning abilities. That's his weak point while playing as a box-to-box. Also, don't press much higher up the pitch with him, as he has an average stamina stat.
Formation discussion
Guti can play in any formation in the CMF or AMF role. He is most suited for the right CMF spot in a 4-3-3, but he can also play as the no.10 in a 4-3-1-2 (N.Manalt) or a 4-2-1-3 (P.Boer) formation.
---
Roberto Carlos
Position: LB
Playing Style: Offensive fullback
Looking back at his Iconic Moments match
Real Madrid is the most decorated club in Europe with a total of 13 European Cup/ Champions League trophies to their name. They lifted their 9th European title in the 2001-02 season, under Vicente del Bosque. Real Madrid met Bayer Leverkusen in the final in Glasgow on 15th May 2002. Football fans remember this particular final for a very special goal by a very special player. The deadlock didn't take much time to be broken, as Raul put Los Blancos ahead after just 9 minutes from a Roberto Carlos throw-in. However, Lucio put Leverkusen level from a header after 14 minutes.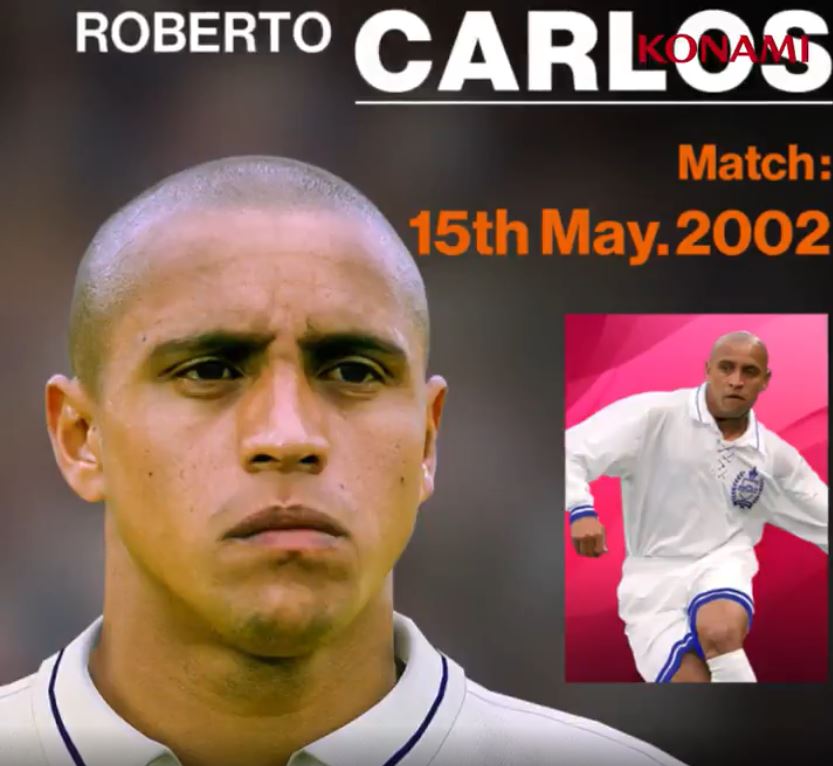 Carlos' iconic moment came just on the brink of the half-time, as he crossed the ball towards the box, which was deflected and fell into the path of Zidane who scored a mesmerizing left-footed volley into the top corner. That goal is one of the best goals scored in a UCL final, by one of the best players ever. As Real Madrid brought the big trophy home, Carlos registered two assists for himself on the night which deservingly earned him a Real Madrid Iconic Moments card in PES.
Player Analysis
The Roberto Carlos Iconic Moments card is one of the best Offensive Fullbacks in the game, matching his real-life status in the history of the game. He has 93 Stamina at the highest level (without boost), so he can get up and down the left flank very well. He'll often overlap with your Left-winger in the offensive phase, as well as run into the box to support the Center-backs in the defensive phase. When he moves up the pitch, you can use him to cross the ball in, his 'Pinpoint Crossing' trait helps in that. If you have aerially strong forwards, you'll find Carlos' crossing very effective in scoring goals. He's also very useful when it comes to long-range shooting. He has a kicking power of 99, as well as traits like 'Long-range drive', 'Long-range shooting' which makes him one of the best long-range shooters in the game.
Though the opportunities you get to shoot with a full-back is limited, but, whenever you get a chance, make sure you use it. Another aspect where Carlos stands out is taking Free-kicks. His high place-kicking and curl stats with exceptional kicking power make him one of the best Free-kick takers in the game.
Coming to the downsides, Carlos doesn't have great ball-winning or physical abilities to win 1v1 battles against opposition wingers. He often gets beaten easily in ground duels. Roberto Carlos enjoys pushing up the pitch, and he's very effective in doing so. But, this can result in him not tracking back in time, which can be a problem for your defense, especially during counter-attacks.
Formation discussion
Carlos can play at LB in any 4-at-the-back formation. Though he has a decent rating at LMF too, we don't recommend using him there.
---
Iker Casillas
Position: GK
Playing Style: Offensive Goalkeeper
Looking back at his Iconic Moments match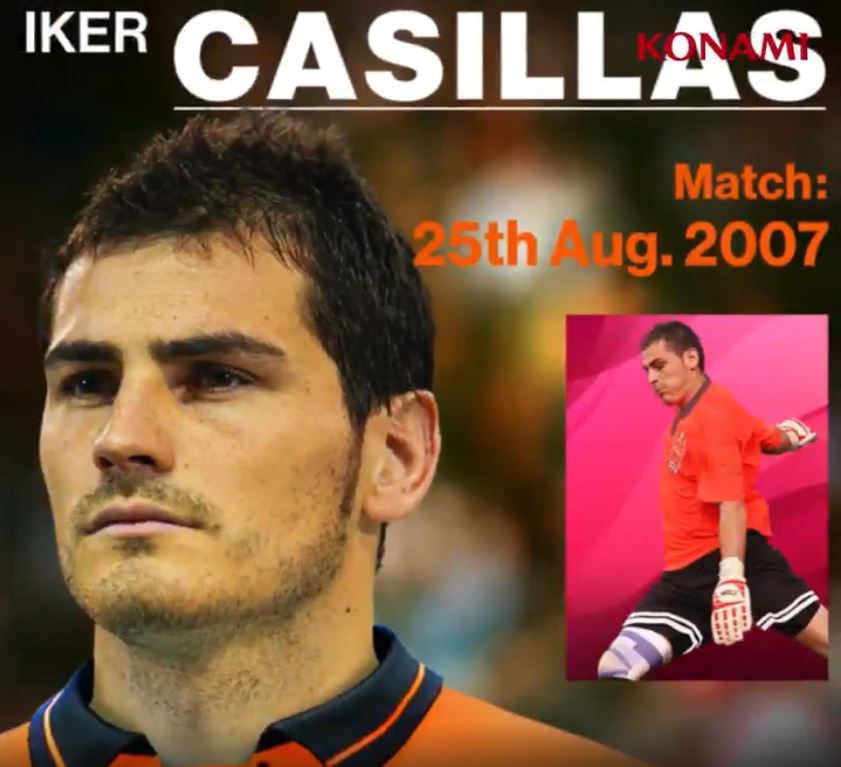 The 2007/08 La Liga season started with a Madrid derby at home for Real Madrid, as they faced city-rivals Atletico on the 25th August. Aguero put Atletico ahead within 1 minute of the kick-off, although Real didn't take longer than 15 minutes to hit back through Raul. As the match progressed, Casillas made a few important saves to keep his team level. It was an even game for a long time until Sneijder put the hosts ahead at 80 minutes from a Guti assist. Real started their campaign off with a 2-1 derby win at home, thanks to a heroic Iker Casillas performance at goal. This performance earned San Iker his Real Madrid Iconic Moments card in PES 2020!
Player Analysis
If Iconic Moments Kahn is the best Defensive Goalkeeper in the game, Iconic Moments Casillas is definitely one of the best Offensive Goalkeepers. He has 99 Reflex, Awareness & Reach stats once trained to the highest level (without boost). With the help of these stats, he can save almost anything from long-range to close-range shots unless they are out of his reach.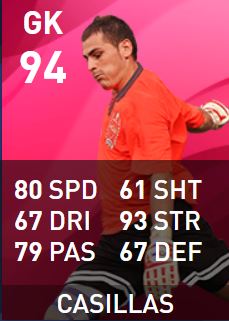 His weak point lies in defending set-pieces like corners or penalties. During a penalty, even if you make a jump in the right direction, there's a chance he'll miss the ball if your timing isn't perfect. However, he's mostly good and does extremely well once his familiarity reaches 100%.
---
That's all we have as of now for reviewing the Real Madrid Iconic Moments players in PES. We are going to review more Iconic Moments players from other clubs too, so stay tuned! Meanwhile, if you want to read reviews of PES Legend players in PES 2020, we have them available:
Also, we recently reviewed all the newly added European National Legends too, feel free to check them out too!
---
Did you find our Real Madrid Iconic Moments review helpful? What is your opinion on them? Do let us know in the comments!
For more Mobile Gaming news and updates, join our WhatsApp group, Telegram Group or Discord server. Also, follow us on Google News, Instagram and Twitter for quick updates.