eFootball PES 2020 is getting great profits for publishers KONAMI ever since Iconic Moments were introduced. In the Datapack 5.0, Iconic Moments were scheduled to launch after maintenance every week. Lots of players were excited and tried to pack them via a Special Agent. While some of them have a great collection of Iconic Moment Legends, the rest of them have nothing special to show off, with a fewer count. Many clubs got their Iconic Moments released, then later, better and higher rated players came into the picture. We will give a detailed review on each one of them based on their clubs and in this article, we'll review the AC Milan Iconic Moments players in PES.
There are six AC Milan Iconic Moments released as of now, so the reviews will be on those six. All the reviews are only after trying them out in both offline & online matches. Whenever any new AC Milan Iconic Moments are released, the review will be updated. We previously reviewed the Bayern Munich, Barcelona, Manchester United and AS Roma Iconic Moments players, so feel free to check them out.
---
AC Milan Iconic Moments
We currently have these six AC Milan Iconic Moments available in the game:
M. Van Basten
F. Rijkaard
R. Gullit
P. Maldini
F. Baresi
F. Inzaghi
Marco Van Basten
Playing Style: Fox in The Box
Looking back at that iconic moment match
The 1989 European Cup Final was held at the Camp Nou in Barcelona, Spain on 24 May 1989, that saw Milan of Italy defeat Steaua București of Romania 4–0. The famous Milan Dutch trio, Van Basten, Gullit and Rijkaard pulled exceptional performances to help the triumph. Two goals each from Marco van Basten and Ruud Gullit gave the Italian side their third victory in the competition.
A true masterpiece of a stellar team, modeled to perfection by Arrigo Sacchi. at the Camp Nou, there was history, and almost ninety thousand fans in the Rossoneri who had flocked to Barcelona with joy. Ruud Gullit opened the scoring by passing into an empty net after 18 minutes, the only surprise was that it had taken him that long to do so.
Gullit struck again before half-time, teeing himself up for a half-volley from 18 yards out. Marco Van Basten had already made it 2-0 by that point with a powerful close-range header, and would score his team's fourth just after the break, running on to a through ball and guiding it home from the corner of the six-yard box.
The pressing of the formation of the Bags was suffocating and dangerous actions came without a stop. In the shot after a minute, the fourth goal was from the boots of Van Basten, on the edge of the Rijkaard. This was therefore Milan's third European title.
Player Analysis
Marco Van Basten is undoubtedly one of the finest forwards in his prime. Justifying his caliber, his AC Milan Iconic Moments version is one of the best forwards in the game, and as expected this version doesn't disappoint at all. He is a solid Centre forward; he is also a Fox in The Box to start with. His runs are one of the best, thanks to his 99 Offensive Awareness at max level. One of the finest finishers in the game, he can finish any ball inside or outside the box, thanks to his 98 Finishing.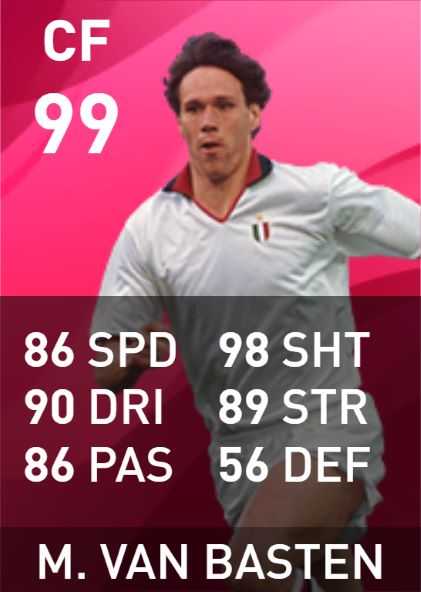 A very good header of the ball, so you can always opt for crosses inside the box and you can make sure him heading the ball with ease, also thanks to his Heading skill. He has several shot skills like Chip Shot Control, Rising Shots, First Time Shot and Acrobatic Finishing that help him to be great inside the box.
The positional awareness of Marco is an absolute gem. You can find him in the correct place at the correct time. He has Physicality to push players and hold the ball. His control on the ball is really good, you can easily use him to dribble at tight areas and then go for a goal. His Long-Range Shooting with his 94 Kicking Power makes him hit shots powerful and accurate.
A good passer of the ball too, with No Look Pass and One Touch Pass skills which are very helpful if you opt for quick buildup using short passing. His pace might look off the chart, but due to his B form and good conditioning, he will always receive a boost in his speed and has enough pace to latch on passes. Don't dash dribble, as he is not quite the accelerator. He's great at turning and shooting.
Formation discussion
As a lone striker, he can work but works better in a two CF formation. A wide formation can be effective, you can send some crosses in as well, to use his aerial prowess. Formations like 4-3-1-2 is a great fit. He thrives best under a counter-attacking manager with a Short-passing style of play. Formations like 3-4-1-2, 4-2-2-2 are also some good picks.
---
Frank Rijkaard
Playing Style: Orchestrator
Looking back at that iconic moment match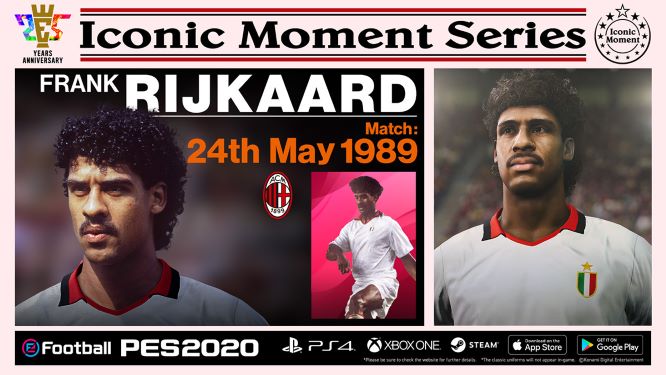 Same match as Van Basten's, on 24th May 1989.
Player Analysis
One of those classy and good on the ball midfielders, Rijkaard is a level above most of the defensive mids in PES. One of the finest mids in initiating attacks from deep, he is a deep lying midfielder who can intercept, win the ball, initiate an counter attack with a quick pass and then create a goal scoring chance.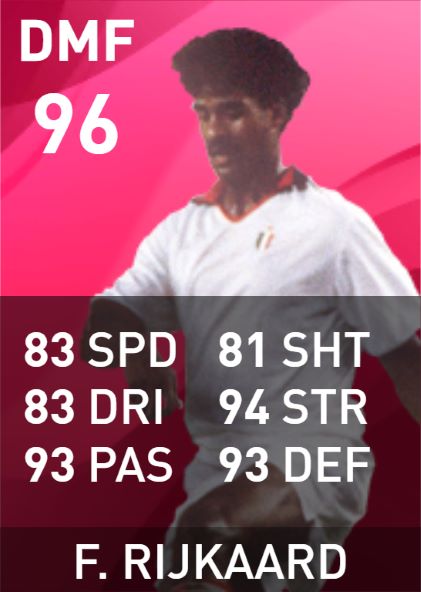 A player with Orchestrator playstyle, Rijkaard has that fine balance between offensive and attacking prowess. Not the offensive stats that would interest you, but way enough to be active as an attacking unit as well. Good in the passing department with 90+ Low and Lofted passing stats at max level. Skills like Weighted Pass makes him add some sweet weightage on his passes and get your attacking flowing.
Defensively, he is very good. Class + Physicality is his nature. Look at him easily intercepting balls and on the other instance, find him bully an opponent with his Aggression and Physical Contact. His pace is better than what stats suggest, as he can catch up to any quick forward.
He can be a constant threat in set pieces, with 90 Jump and Heading stats powered with some physicality. Overall, an amazing midfielder to have in your squad.
Formation discussion
He can play as a sole DMF but is advisable to go with a Double Pivot behind an offensive midfielder. 4-2-1-3, 3-2-4-1, 3-2-2-3, 4-2-2-2 are some amazing formations that thrive well with Double Pivots.
---
Ruud Gullit
Playing Style: Classic No. 10
Looking back at that iconic moment match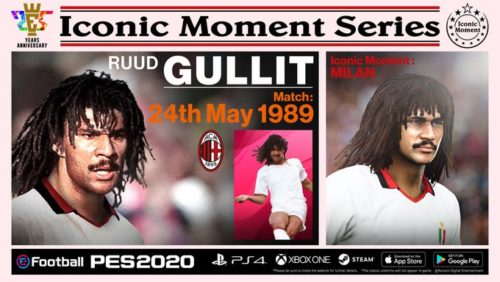 Gullit's AC Milan Iconic Moments card is from the same match where Van Basten and Rijikaard got their Iconic Moment card.
Player Analysis
A rare breed of a Physicial attacking midfielder, Gullit is a monster with his exceptional attacking prowess and physicial attributes. Gullit is very good on the ball, just like his stats suggest. He has great ball holding capacity, where he uses his physicality to shield the ball easily and push off opponents. He has Classic No. 10 playstyle which isn't popular amongst players, but his game really differs from what you think.
The main bonus of having this beast in your squad is his versatility in every position. He can play as CB, DMF, as a wing and also as a CF and would put World Class performances. He is nothing less than an engine on the pitch, shines everywhere on the pitch you play him.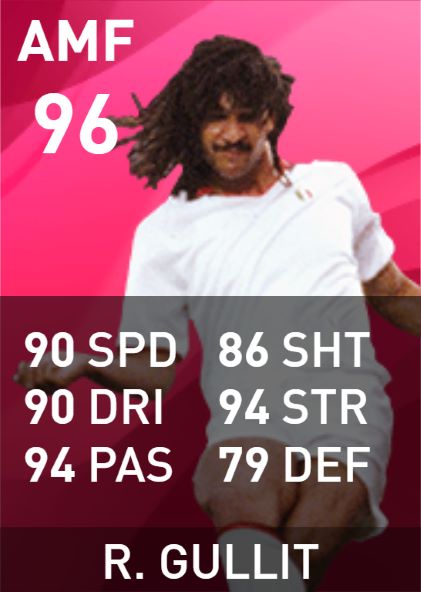 His Offensive Awareness makes him time his runs forward often, which is good when comparing his playstyle. He has decent finishing, which with good conditioning becomes even better. Not an ideal mid for long passes, but would be a great fit with quick 1-2s and short passing with his skills like Low Lofted Pass and One Touch Passing. He is really quick on the ball, he burst through a defense and
His Long-Range Shooting skill helps well with taking long shots outside the box. He's accurate with his freekicks too, thanks to his 95 stats in the set-piece department, where he can score some juicy freekicks. He has good Physical Contact and Ball Control, so it is no worry to hold the ball off defenders. He wins balls easily as well, can even serve a constant threat to the opposition in set-pieces and crosses, with 90+ stats in Jump and Heading.
Overall, a great utility player, versatile, and absolutely world-class. He is really good as a Physical offensive unit in your squad. Get through players by shielding the ball off them and create scoring chances near the box or go for some long rangers.
Formation discussion
Gullit can easily slot into any formation. He fits better in a Possession game manager with wide attacking areas. Formations like 4-2-1-3, 4-2-2-2, and the 3-2-3-2 fit perfectly for him.
---
Paolo Maldini
Playing Style: Offensive Fullback
Looking back at that iconic moment match
Arguably one of the greatest defenders in the world, Paolo Maldini was a defender made for the greatest nights in football. It was the 18th May 1994 when Fabio Capello's Milan faced off against Johan Cruyff's Barcelona in Athens. The favorites were clearly Cruyff's Barcelona who was almost close to perfection winning 4 consecutive domestic titles with a European Cup in 1992.
"The press, especially the foreign media, had gave us no hope", Maldini claimed reminiscing about the game.
Milan was missing their original center-backs of Paolo Maldini and Costacurta and Capello had to play Maldini in the center-back position in place of left-back. Daniele Massaro opened the scoring in 22 minutes and went on to score again for the Italian side.
Milan played a counter-attacking style containing Barcelona's midfield featuring Pep Guardiola and Amor. Maldini and new center-back Galli were instrumental in stopping the free-flowing attack of Stoichkov, Michael Laudrup, and Romario. More goals from Desailly and Savicevic resulted in Milan's 4-0 win against 'The Dream Team' of Barcelona. Maldini became the first footballer to win the World Player of the Year award from World Soccer magazine.
Player Analysis
Maldini has fantastic defending skills with great defending awareness and ball-winning capacities as a center-back. He can play as a wide center-back/full-back as he can push higher up the pitch with great control. He doesn't have the greatest of aggression, therefore it can be a problem to hold off the aggressive attackers like Mbappe.
Maldini can be a stable defensive presence and can defend the left-flank easily, by holding off wingers cutting in with the Man-Marking Trait. He can intercept crosses and passes, with his great awareness. Maldini has fantastic distribution skills and can launch attacks with his good Long passing and short-passing attributes. He can whip in good crosses if he pushes forward as a full-back.
Paolo has great stamina and can work hard marking and pressing as a wide full-back / center-back. The Form '8' is a fantastic attribute which maintains his good form unlike other regular players.
Formation discussion
He could play as a wide center-back in a 4-at-the-back formation where the work of the full-back is to stop wingers from drifting into the box. He is also useful in the 4-2-2-2 or the 4-2-3-1 where the LMF is responsible for the offensive play. Playing as a center-back, we suggest you press less and maintain a proper defensive position. He can be used as a center-back in the middle of 3-2-3-2 or the 3-2-2-3 formations.
---
Franco Baresi
Playing Style: Build-Up
Looking back at that iconic moment match
Same match, European Cup final on 24th May 1989.
Player Analysis
Regarded as one of the best defenders who have played the game, Baresi's AC Milan Iconic Moments card is definitely amongst the top if you consider the game. A Build-Up style defender with exceptional defensive stats, you can easily slot into any formation.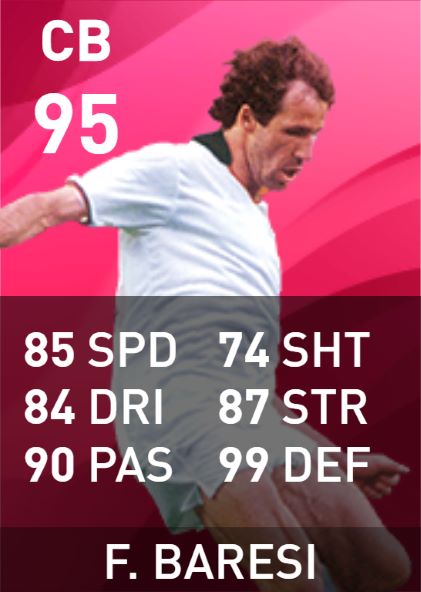 This card is a dream for most of the long ball spammers in the game. Good pace, great passing ability, clean tackles, and good positional awareness, Baresi excels in all. Starting with his passing, 90+ stats in Low and Lofted passing along with skills like Weighted Pass and One Touch Pass is a key factor.
Baresi is quick for a defender, his good positioning, thanks to his 99 Defensive Awareness makes him position himself in great tackling positions. His 99 Ball Winning perfectly reflects on the field, and he does not disappoint. His Man Marking is reflected fair in the game, helps you a lot in holding the forwards off goal.
Not a physical defender, but he can shield the ball off an opponent. He can hold the ball well, under tense pressing conditions. His lack of height sometimes is a concern, but he has good heading stats to win aerial duels. But this does reflect when he faces tallest of players. However, he is quick to come forward and intercept the opposition balls so it won't be a major issue.
Overall, a great ball playing and positional defender.
Formation discussion
He can fit in any formation with two CBs and two FBs. You can also use him in a 3 at-the-back formation, in a wider role.
---
Filippo Inzaghi
Playing Style: Goal Poacher
Looking back at that iconic moment match
AC Milan faced a tough challenge against Borussia Dortmund in Westfalenstadion in UEFA Champions' League Group C which also featured Real Madrid. In a tight game, it was clear that the two sides heavily cancelled each other out. Pipo did break the offside trap in 3 minutes as he broke the offside trap but the danger was cleared. Despite missing veteran Genaro Gattuso, the Milan side put up a strong defensive performance and chances were hard to come by.
As the second half resumed, Dortmund started on a more positive note taking the attack to the opposition. As the defensive line was a bit higher, Clarence Seedorf played the ball forward with the Dortmund defense caught unawares. Pipo made the perfect run to beat the offside trap and finished with a left-footed shot. The goal was Inzaghi's ninth goal of the season.
Milan held onto Inzaghi's goal with a strong performance. The win gave them 3 vital points which helped them to progress into the knockouts as the first team of the group.
Player Analysis
Inzaghi is lauded as one of the best super-subs in game with the Super-Sub trait. None expected this card to be amazing on a consistent basis. This card has lived through the hype and deserves it altogether.
Inzaghi has excellent finishing and offensive awareness to latch onto long balls in the box. With decent ball control, he has the One Touch Pass passing skill to link up with midfielders and attackers to get closer to the goal. He has great speed and acceleration to take on defenders and beat them with pace.
Inzaghi has the prowess to finishe any ball inside the box. In fact, his runs and finishing are second to none. This is a proper reflection of his 99 stats in Offensive Awareness and Finishing. His great heading reflects even against tall defenders. He has good stamina to press against midfielders for the whole 90 minutes of the game.
Filippo can score with both feet with ease. Although his passing is average, his style of play doesn't require him involving in most of the buildup. Feed him and go for goal.
Formation discussion
Inzaghi can play as a striker in the 4-2-2-2 formation or 3-2-3-2 with a Target Man beside him who can hold up the ball. Inzaghi has great link-up play and can score on long balls from wingers or midfielders.
---
That's all we have as of now for reviewing the AC Milan Iconic Moments players in PES. We are going to review more Iconic Moments players from other clubs in the future, so stay tuned! However, it will be interesting to see how things roll in the future version of PES.
Meanwhile, if you want to read reviews of the Legend players in PES 2020, we have it ready for you:
---
Did you find this review helpful? Read more of our PES articles here. Which AC Milan Iconic Moments have you used in PES 2020? Let us know your thoughts about them in the comment section below!
For more Mobile Gaming news and updates, join our WhatsApp group or Discord server. Also, follow us on Instagram and Twitter for quick updates.