Global interactive entertainment developer and publisher miHoYo recently released its latest open-world action RPG title, Genshin Impact. The game is now available on PlayStation 4, PC, Android, and iOS worldwide. Genshin Impact has attracted a lot of players in a short span of time since its release. It aims to offer an immersive adventure experience with vast, breathtakingly beautiful landscapes. Also, it offers an engaging the element-based combat system, a diverse cast of characters with richly developed stories, and a cross-platform co-operative mode. With a fairly large player base already, players were interested to get to know whether some gifts within the game are gettable via codes or coupons. Well, the good news is that this is possible by following easy steps. Here's a quick guide to get free Genshin Impact redeem codes and also to redeem them.
---
How to get free codes in Genshin Impact
Who doesn't like freebies? We all would never miss out on anything that we would get for free in a game. Game Codes play a major role in getting us freebies, and the developers would drop a couple of events so that we get some freebies in return. The same goes for Genshin Impact's codes.
The good news is that Genshin Impact does have free promo codes that can get you all sorts of in-game resources such as items, resources, and more. To get the in-game rewards, you will need to redeem the codes which is a very easy process.
The first thing you need to do is get to Adventure Rank 10. This is a fairly easy process and can be done just by grinding the game. After that, you will be able to redeem promo codes via the official promo code page. However, before you redeem your code for Genshin Impact, you will have to log in to your account and make sure you have created a character in the game and have linked your miHoYo account in the User Center. If not, then you won't be able to redeem the code.
---
Genshin Impact Code Redemption Center
Once you reach Adventure Rank 10, you can redeem your promo code from the official promo code site. The steps are easy and as follows:
Reach Adventure Rank 10
Go to the Genshin Impact promo code redeem page
Select the server in which you play the game
Enter the nickname of your in-game character and your promo code
Press the "Redeem" button.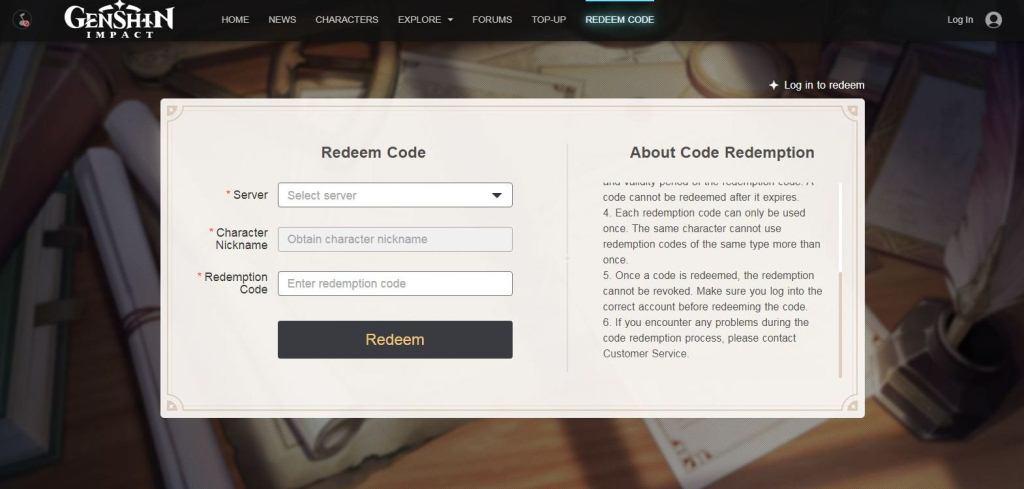 ---
Genshin Impact free redeem codes
There are not many promo codes available at the moment, just one for each of the three (SEA, EU, and NA) servers:
Asia – GENSHIN0928A
Europe – GENSHIN0928E
NA – GENSHIN0928N
The codes will get you 60 Primogems and 10,000 Mora.
Developers miHoYo also laid out some important information about and after code redemptions that you should be aware of:
Before redeeming a code, log in to your account and make sure you have created a character in the game and have linked your miHoYo account in the User Center. Otherwise, you will be unable to redeem the code.
After redeeming a code, you will receive the redeemed item via in-game mail. Check in-game to see that you have received it.
Pay attention to the redemption conditions and validity period of the redemption code. A code cannot be redeemed after it expires.
Each redemption code can only be used once. The same character cannot use redemption codes of the same type more than once.
Once a code is redeemed, the redemption cannot be revoked. Make sure you log into the correct account before redeeming the code.
If you encounter any problems during the code redemption process, please contact Customer Service.
---
Caroline's Adventure Supplies Giveaway
Additionally, there are more freebies to giveaway, as declared by Paimon, the cute non-playable character in Genshin Impact who accompanies the traveler throughout their adventure in Teyvat as their guide.
MiHoYo is giving away 1,000 Blessing of the Welkin Moon to the lucky winners that participate in this giveaway. Furthermore, if over 10 thousand people take part, they will increase the number of prize winners to 10% of the total participants. More participants mean more people will get the Blessing of the Welkin Moon. And there is no upper limit!
Here is how to participate in the giveaway
To get a chance of winning, visit the official forums and leave a comment on the official post here from your device (PS4 / PC or Mobile) + your UID+ your thoughts on the game so far in the following format. Examples:
[PS4] + [800000001] + I love exploring the open world!
[PC or Mobile] + [600000002] + Paimon is sooooo tasty!
Visit here and link your email. As long as your email is successfully linked, your participation in the draw is confirmed. Remember to include your UID in your comment. If you omit your UID or provide the wrong UID, you will lose your chance to win. Also, you need not link your email id if it is already linked before.
Since the game is out for less than a month only, the developers are yet to throw some codes. However, we'll update this space as soon as we get to know the free redeem codes for Genshin Impact.
---
Did you find our guide to obtain and redeem the free codes in Genshin Impact? Do let us know in the comments!
For more Mobile Gaming news and updates, join our WhatsApp group, Telegram Group, or Discord server. Also, follow us on Google News, Instagram, and Twitter for quick updates.