Mobile Legends: Bang Bang is currently working on the Project NEXT Update for September 2021. The Mobile Legends September 2021 update will be now working on Hero Revamps, improvements made to the Hero Display Screen and a new and improved Event Hall after some massive changes in June.
---
Mobile Legends Project NEXT September 2021 Update: Hero Revamps
The Mobile Legends Project NEXT September 2021 update will introduce the revamp of the heroes Kagura, Odette, Lancelot and Hayabusa.
Kagura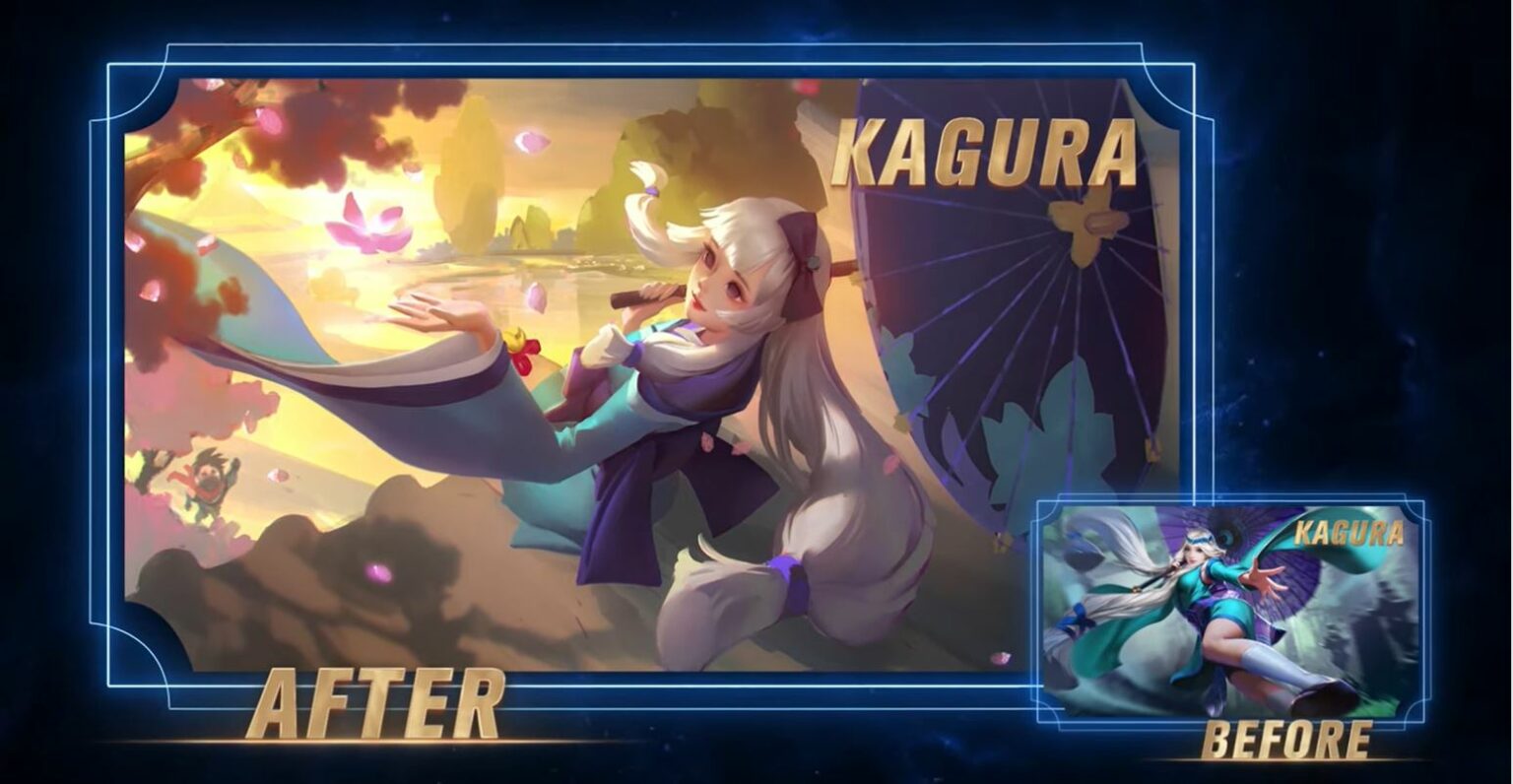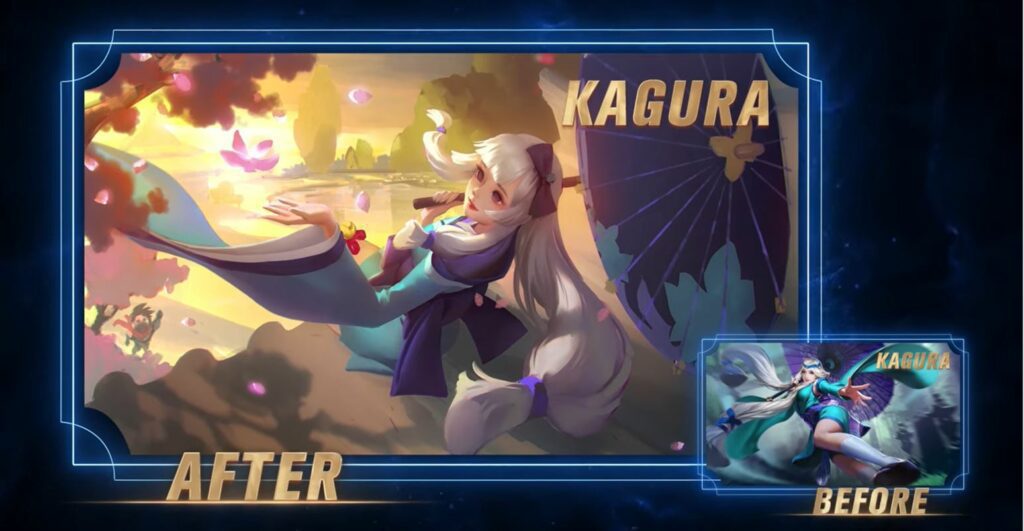 Being one of the most adored mages in Mobile Legends, her revamp is done carefully to still retain that sense of beauty and prowess in her looks. Apart from the revamped looks, her skills have also undergone some improvements.
Skill 1: Seimei's Umbrella (Open)
This skill has been adjusted due to its low projectile speed. It would now be projected 2x faster than before. This is done to increase the chance of hitting an enemy since it's Kagura's Main Damage Skill.
Ultimate
Before the revamp, her Ultimate skill would normally form a link between enemies, while slowing them down. With the new revamp, her ultimate will now form a link and pull enemies closer to one another. This would increase the hit rate of this skill.
Odette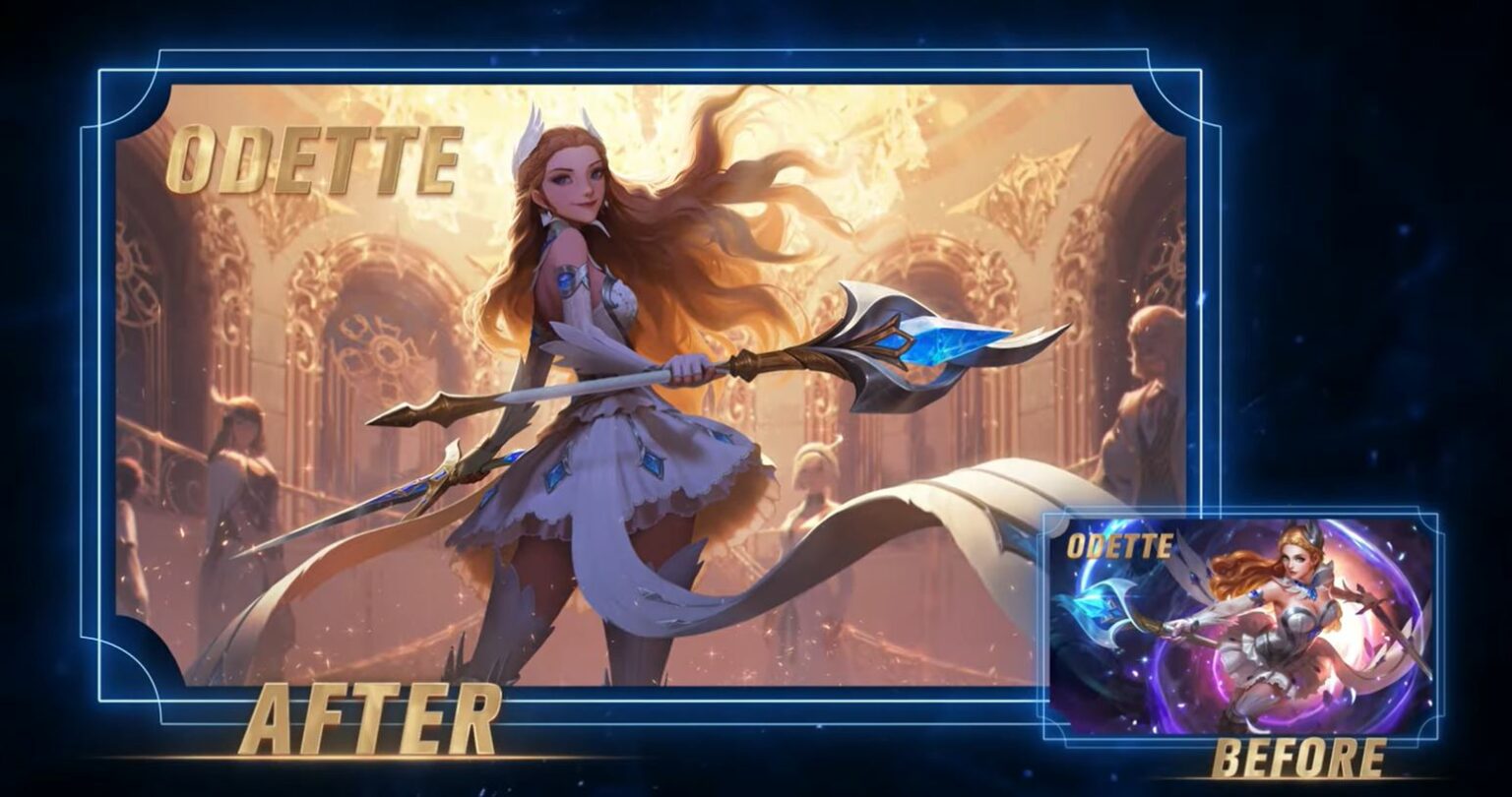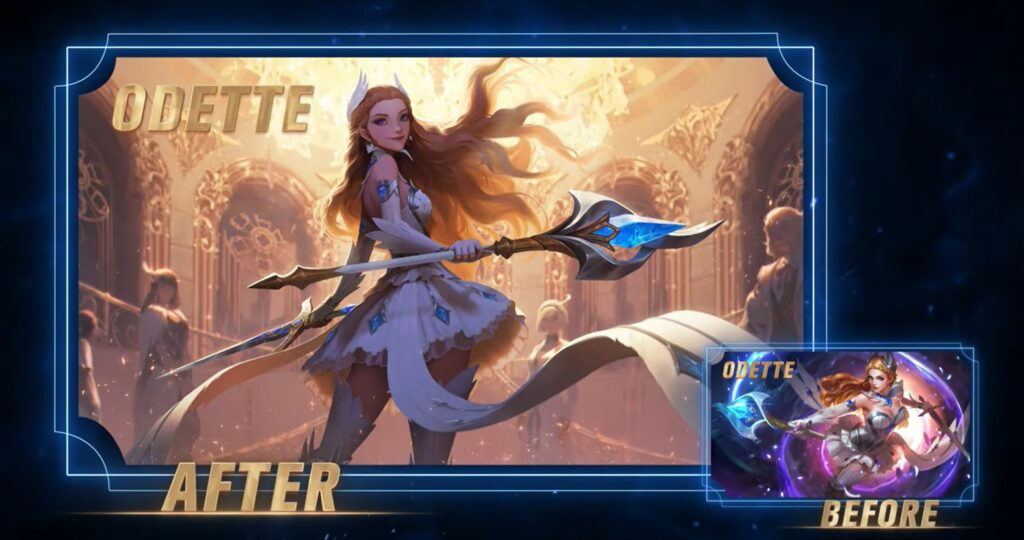 Odette's looks have also been revamped bringing a fancier look to this Mage Hero. Her skill 2 and ultimate ability has been revamped to improve her team fight performance.
Skill 2
Formerly, this skill was used only for enemies to hit along a line that will be immobilized. Since it is not very useful when facing enemy crowds, it has now been revamped to generate more energy orbs. This will split up and hit multiple targets in a larger area while immobilizing them.
Ultimate: Swan Song
Her most feared ability has now been revamped in such a way that Odette can now move a short distance before casting her ultimate. This increases the chance of hitting the target enemies, making it much more effective to use.
Lancelot
Lancelot has also had a look revamp, making him a more handsome assassin hero in Mobile Legends Project NEXT September 2021 Update. His skill 1 has also undergone new adjustments in this revamp.
Skill 1: Puncture
Due to numerous feedbacks received by Moonton concerning the fact that Lancelot marks all enemies hit when he charges with this skill. This makes it hard for him to charge multiple times in a row. It has now been revamped to apply the Sword Mark to only the first enemy hit when he charges while using this skill.
Hayabusa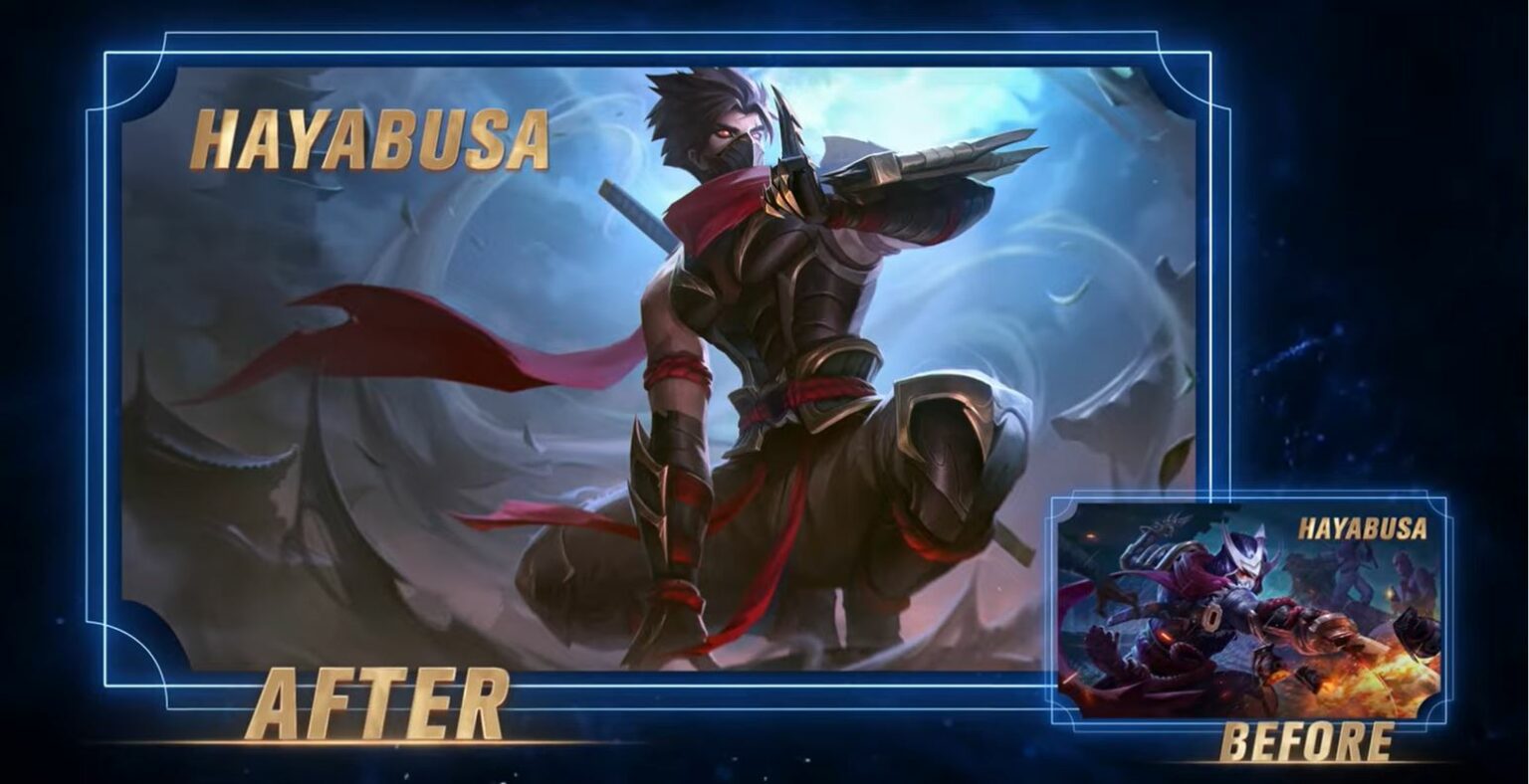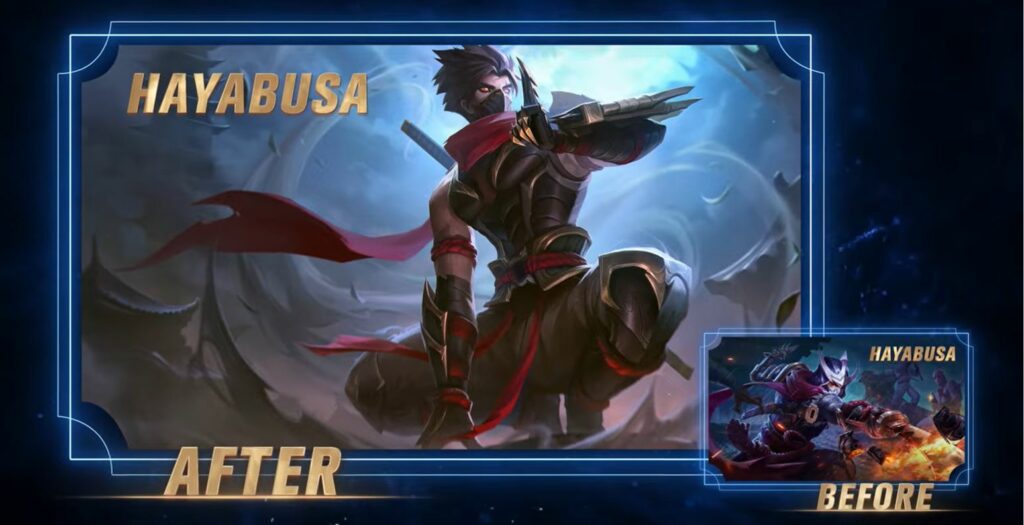 Apart from the noticeable change in looks of this sneaky assassin, Hayabusa's Ultimate ability has now been revamped to bring about a much sharper, intuitive, and clearer experience. This will further make him more interesting to use.
Hero display screen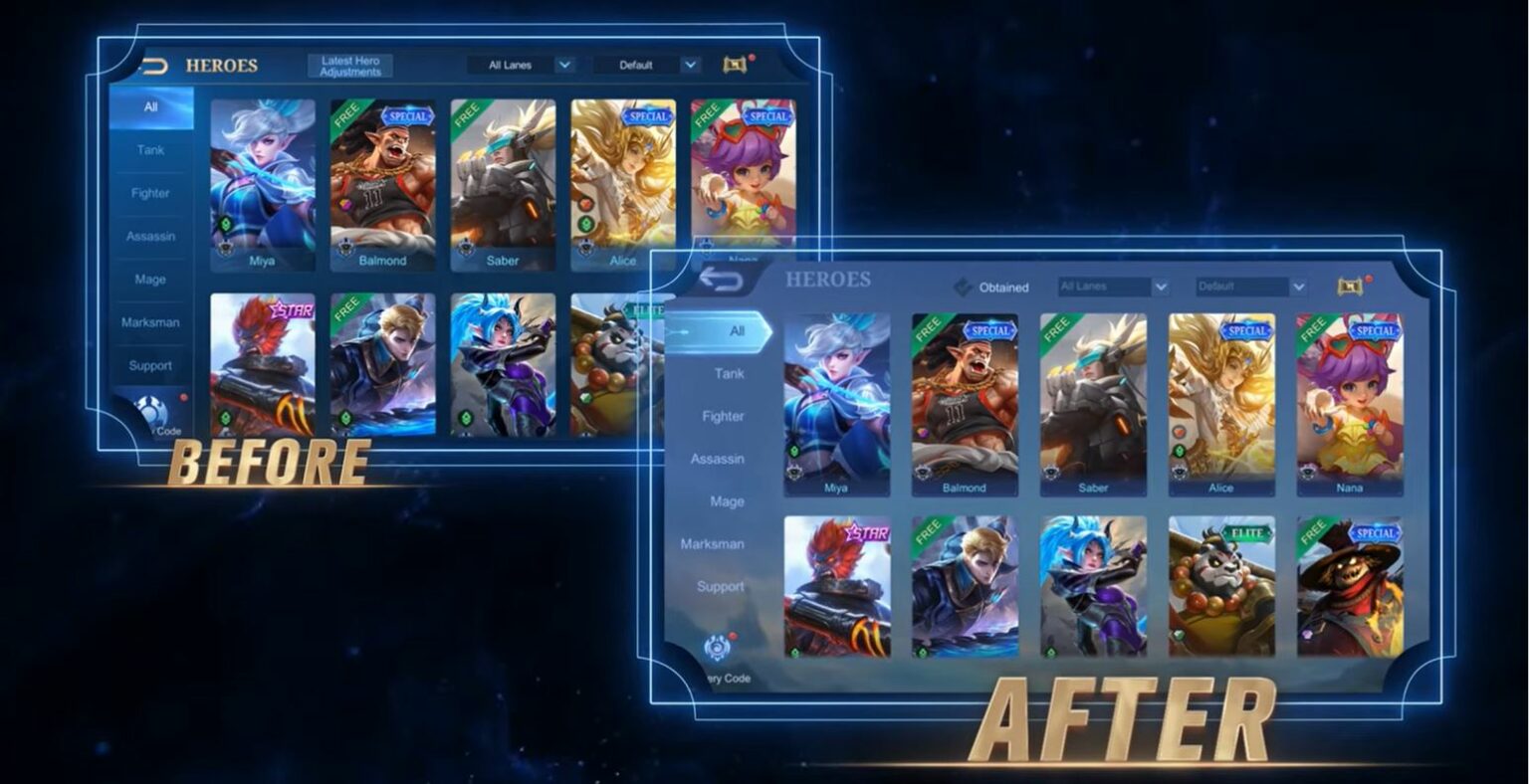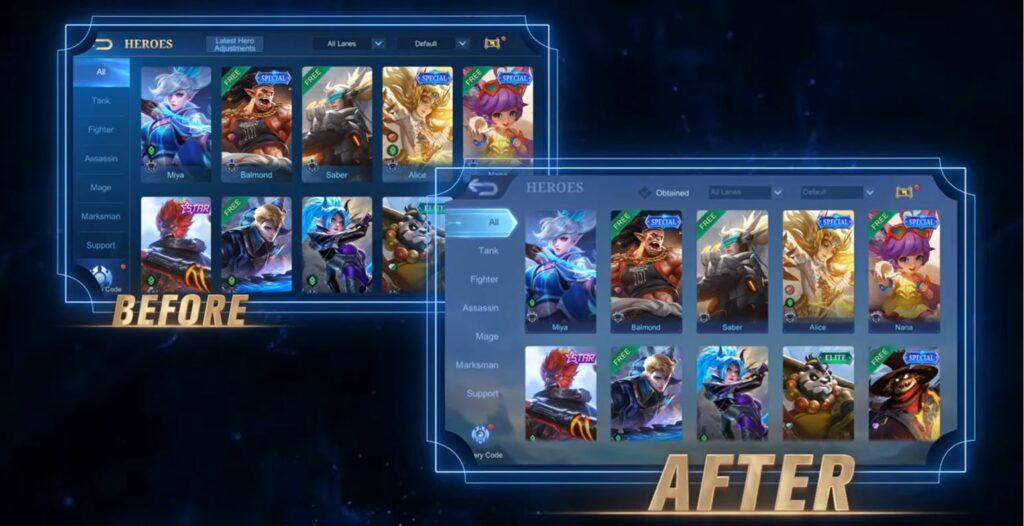 Mobile Legends Project NEXT September 2021 Update will feature an improvement of the Hero roster and selection screen. A few improvements include:
The introduction of the Landscape of The Land of Dawn to the hero roster screen.
The change of the overall Colour of the screen from a deep blue colour to a lighter blue colour.
Removal of the dividing lines in the left and top of the hero roster page so as to make it visually wider and more consistent.
The resizing of hero models would make it the absolute focus on the screen. Alongside the Color change, players will now be able to enjoy a much better and clearer hero entrance animation and display.
New and improved Event Hall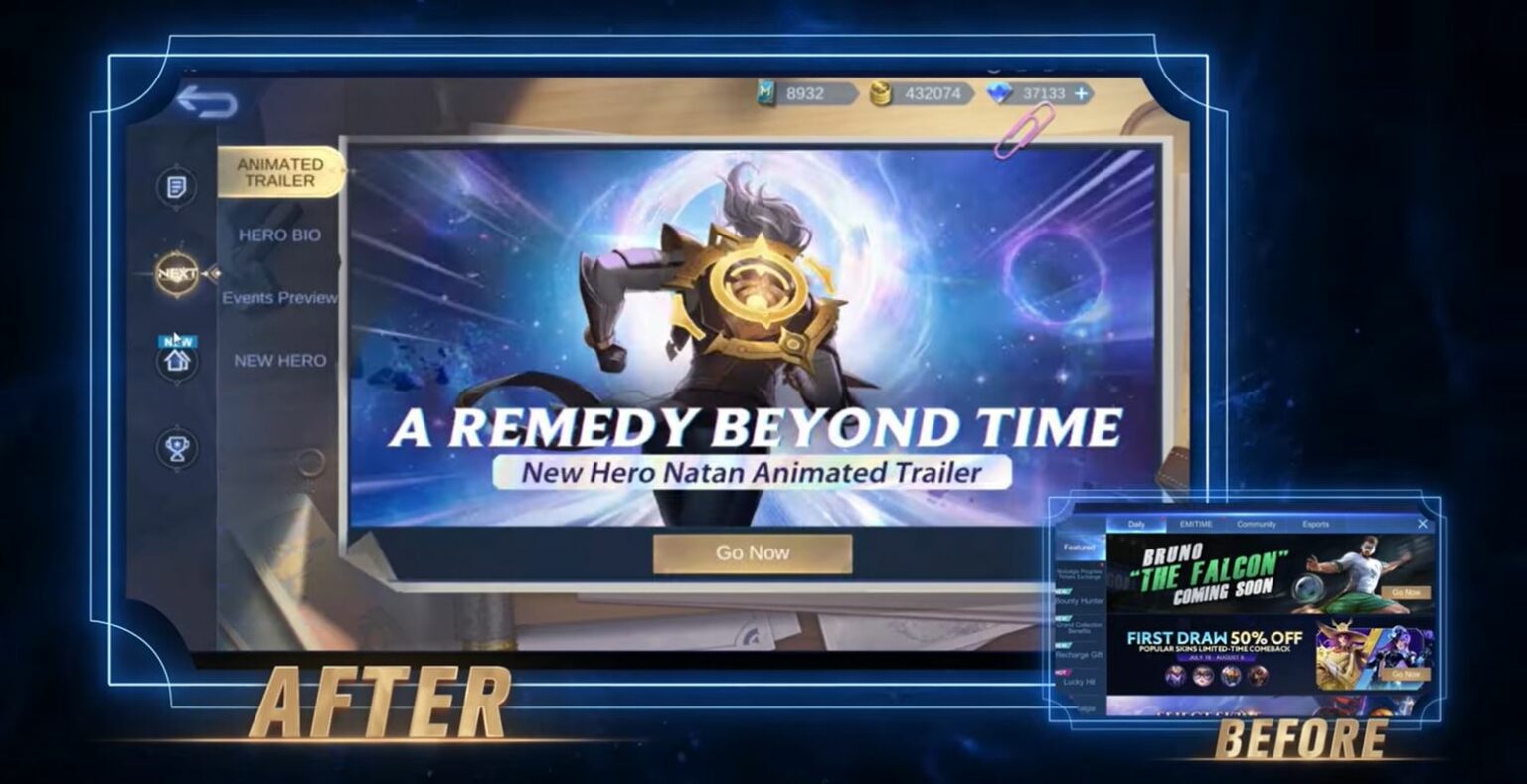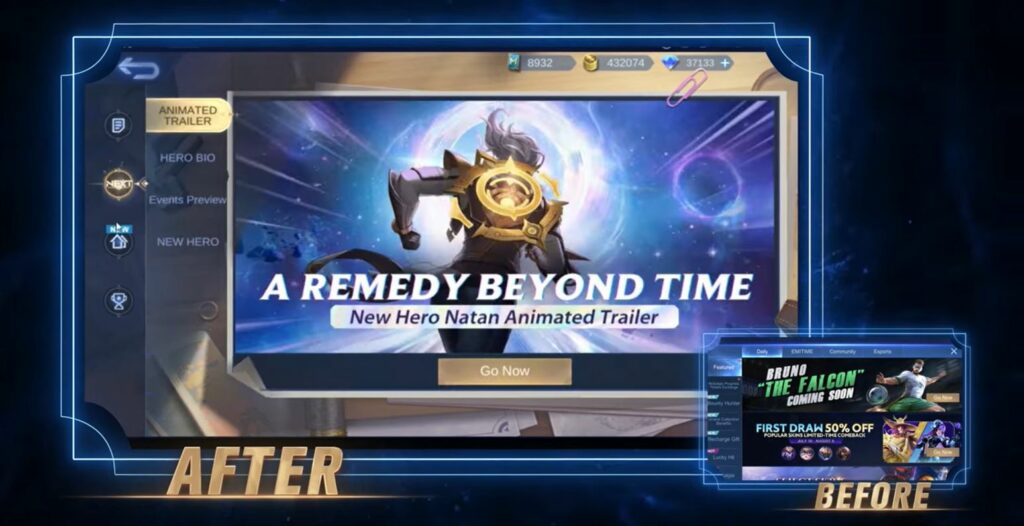 To deliver a better visual experience and enhance the sense of engagement of Mobile Legends: Bang Bang, Moonton has decided to make serious changes to the Event Hall. The changes include:
Formerly, the original interface of the Event Hall was clearly partitioned with relatively rigid looks. It lacked the touch of vividness. However, after the update, more visual elements of the Land of Dawn like Maps, Badges and Logos would be integrated onto the page.
The introduction of an immersive frameless design to the Event Hall page. Although frameless, all models are carefully arranged into different layers. This will allow players to get the best possible experience. Moreover, different types of events will be placed under different tabs. This will make it more easier for the players to access events contents.
That's all for today's Mobile Legends Project NEXT September Update 2021. Let us know in the comment section below!
For more Mobile Gaming news and updates, join our WhatsApp group, Telegram Group, or Discord server. Also, follow us on Google News, Instagram, and Twitter for quick updates.