This post was last updated on
PUBG Mobile has confirmed that the much anticipated Erangel 2.0 is now playable in the PUBG Mobile 1.0 beta version. PUBGM has been working on the map rework since a long time, and there have been many rumours about when the Erangel 2.0 map update will be introduced in-game. Finally, Erangel 2.0 is here in the official PUBG Mobile beta globally. A PUBGM official made this announcement on their discord server,
How to play Erangel 2.0 in the PUBG Mobile 1.0 beta?
You can play the Erangel 2.0 map in the latest PUBG Mobile beta version, starting from August 6. However, make sure you have enough free space on your device (The beta version takes almost 1.5GB of storage space), and a stable internet connection to be able to get the update quickly and efficiently. Otherwise, you may not be able to join since high traffic is expected in beta server especially with the arrival of Erangel 2.0.
If you are already a beta tester, you need to update the beta version in-game. If you are new to this, you can still join the official PUBG Mobile beta for iOS and Android devices, through the following steps.
How to download PUBG Mobile 1.0 beta APK on Android
Download the APK file from here.
Open file manager on your phone and go to Downloaded Files > AOS_IG0190_CE_19074No7_0.19.0.13200_Shipping_Google_CE.shell.signed.apk
Allow installation of unknown sources if you haven't enabled it yet, by navigating to Settings > Safety, and then Privacy > Install Apps From Unknown Sources.
Once the installation of the APK file is complete, open the PUBG Mobile app.
Log in to the guest account and jump into Erangel 2.0 in the beta version.
How to download PUBG Mobile 1.0 beta on iOS
Download the game file using Safari Browser.
As the download starts, please be patient while it gets completed.
After the installation is complete, go to Settings > general > Configuration Documents and Device Management > Trusted certificates and complete.
Now you are ready to drop in Erangel 2.0 in the PUBG Mobile official beta version.
Now you are set to play the much-awaited Erangel 2.0 in the PUBG Mobile global beta. The dev team has also asked for feedback and suggestions from the beta players, in their official discord server.
Note: According to a mod in the PUBG Mobile discord server, there's a possibility of the APK download link not being updated. If that happens, we'll suggest you to try downloading again after a few hours.
---
About Erangel 2.0
There's an interesting back-story behind the new update on the Erangel map. The official team revealed this:
Sounds interesting? You'll surely get to know a lot more after testing out the Erangel 2.0 yourself in the PUBG Mobile 1.0 beta!
---
What changes will be there in Erangel 2.0 from the previous map?
The first idea of introducing Erangel 2.0 in PUBG Mobile has come from the developers' urge to bring the oldest map Erangel to the same level of polish as the recent maps like Vikendi or Livik. The process started way back with an initial rework of the landscape, the buildings and the map structure. The buildings in Erangel 2.0 look elder than the original map, as if all of those have gone through a war or something similar. The amount and length of grasses all over the map has also increased. Some notable changes in Erangel 2.0:
Upgraded graphics
Building adjustments
Adjustments to large resource points: Mylta Power/Quarry/Prison/Other Play Zone
New map elements: Added trenches, wooden barricades, abandoned tanks…
Building structure changes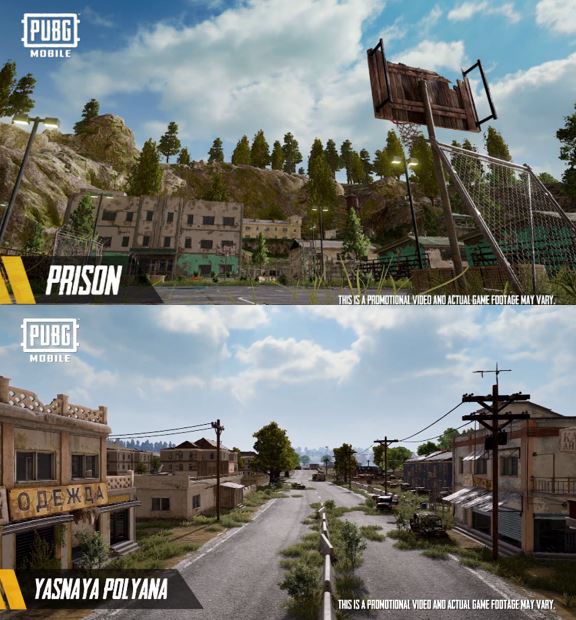 The Erangel 2.0 in PUBG Mobile also comes up with improved gaming experience for the players. That's what took the devs so much of time, according to the official team. However, Erangel 2.0 is finally coming to beta, and players must be excited to finally get a sneak peek at some of the other improvements PUBGM had in the works so far.
The Erangel 2.0 was launched in PUBG Mobile's Chinese version, Game for Peace in June 2020, you can check out the trailer of the update to take a quick look as the visual changes are going to be fairly similar in the global version of PUBG Mobile.
---
Other changes in PUBG Mobile 1.0 beta update
Livik map improvements
New Weapon: M1014
Art and Graphics Improvements
Stage Balancing
Bug Fixes
Cheer Park improvements
Training Ground 2.0
Cheer Park Showdowns
Island in the Lake at Cheer Park
System improvements
UI 2.0: The UI of the waiting lobby has been updated.
---
Final thoughts
This comes as exciting news for PUBG Mobile players across the globe, but there will still be some time before Erangel 2.0 finally arrives in PUBG Mobile. The new update is just going into beta, and more improvements and reworks will follow. Until then, enjoy the new map update in beta. We'll bring you further updates about Erangel 2.0 in PUBG Mobile beta, so stay tuned!
---
PUBG Mobile has recently introduced the Ancient Secret mode and the game's first-ever upgradable outfit, the Golden Pharaoh X suit. Check out our guides on them!
Are you excited as Erangel 2.0 makes its way to the official PUBG Mobile 1.0 beta? Let us know in the comment section below!
For more Mobile Gaming news and updates, join our WhatsApp group, Telegram Group, or Discord server. Also, follow us on Instagram and Twitter for quick updates.