Global interactive entertainment developer and publisher miHoYo announces today that Tears of Themis is launching a series of seasonal limited-time events in October, including the investigation event Symphony of the Night and the reward obtaining event Howling Pumpkin that comes after.
Players can delve into the thrilling investigations to find out the mastermind behind the attack on the Big Data Lab, as well as stand the chance to encounter various mysterious happenings in the pumpkin field. Complete the challenges to unlock tons of rewards and bonuses!

Tears of Themis Halloween October events
1. Symphony of the Night
The limited-time Event Symphony of the Night will be available from 2021/10/20 11:00 to 11/3 04:00 (UTC+9). While the world falls asleep on a seemingly peaceful night, a mysterious contract was sent to the NXX team members, just the same time as the Big Data Lab came under attack.
For unsealing the truth behind the case, players must work closely with the four male protagonists and conduct a series of special investigations as soon as possible. During the event, players will first activate the Vesper Box and accept the mysterious contract.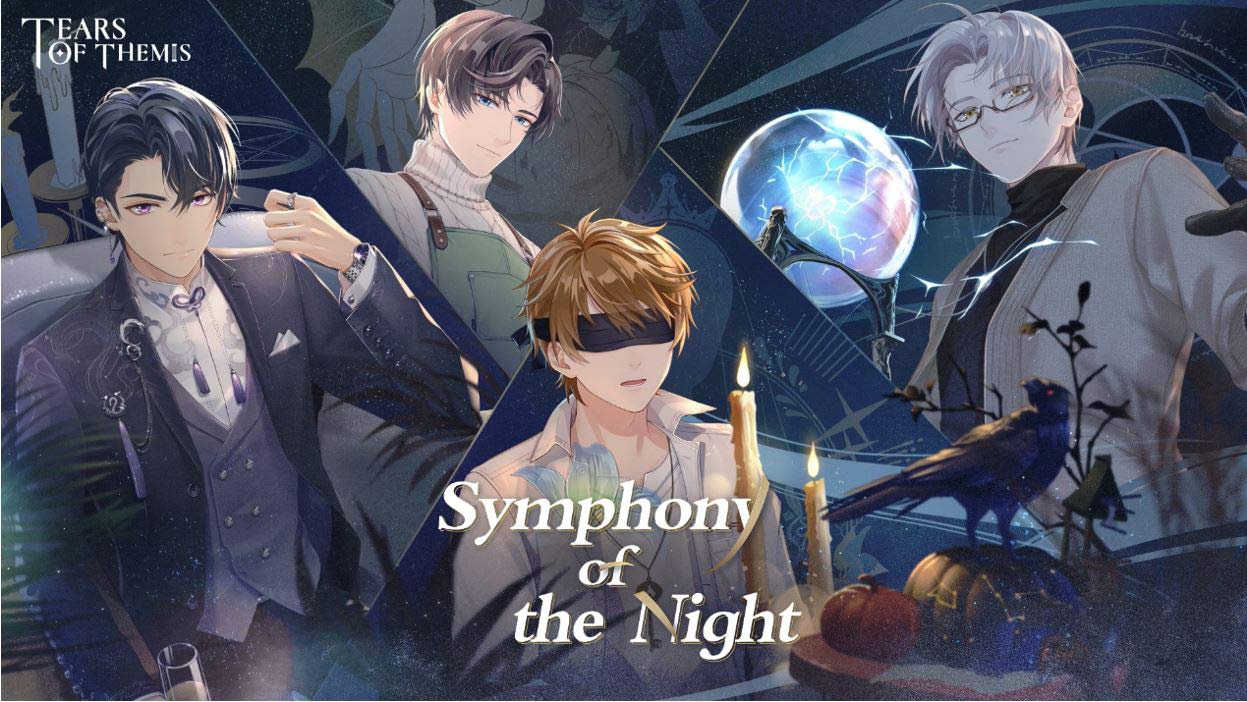 Investigation areas and cases can be unlocked using New Clues gained from finishing limited-time tasks. The Chatroom of NXX will also be opened during the event period, for players to share and track locations with the NXX team members. With the cases solved, players are getting closer and closer to the truth…
Complete the "Symphony of the Night" event, unseal the mystery to receive S-Chip ×800, Stellin, Selection Star II, and the event-limited badge "Witch's Gift"! "Symphony of the Night" Event Shadow of Themis will also be available during the same time, two SSR and two SR cards are having drop rates increased in the event Shadow of Themis, listed as Vyn SSR "Between Good and Evil," Marius SSR "Fabulous Feast," Luke SR "How I Remember You," and Artem SR "Fixated on You."
---
2. Howling Pumpkin
The next limited-time Event, Howling Pumpkin will open from 2021/10/29 11:00 to 11/12 04:00 (UTC+9). During the event period, players can harvest pumpkins of varying shapes and sizes in the pumpkin field, unlock different pumpkin archives, and encounter various mysterious happenings in the pumpkin field.
Participate in the "Howling Pumpkin" event, gaining rich rewards including S-Chips ×480, Event-Limited "Jack-o'-Lantern Badge" badge, and Oracle of Justice!
For more Mobile Gaming news and updates, join our WhatsApp group, Telegram Group, or Discord server. Also, follow us on Google News, Instagram, and Twitter for quick updates.