When Just Cause Mobile was first confirmed by Square Enix during The Game Awards 2020, a lot of mobile gamers had something to look forward to and be excited about. More than a year later, the big question was if it was delivered. And this isn't that easy to answer. The Just Cause franchise on PC and Console was absolutely explosive and filled with action which kept fans satisfied. However, Just Cause Mobile has changed a lot. Here in this article, we will review Just Cause Mobile and share our first impressions of the game.
Square Enix has gone with a top-down viewing angle for Just Cause Mobile so players are further away from the action while the other PC and Console versions of the game usually have a third-person view. This is possibly the biggest issue that players might have with the game since the first or third-person perspective is a lot more immersive.
The game brings the same madness and mayhem but from a top-down view
Starting off with the review, overall, there's not much objectively wrong with Just Cause Mobile. It has pretty good gameplay, good-looking maps with good detail, plenty of stuff that can be blown up and in general, the decent potential for mayhem. There's a decent story that slides its way into the gameplay with cool cutscenes as part of the campaign while the multiplayer action is what you would expect.
The biggest issue is perspective. As mentioned before, the game has a top-down view. In a game where action and explosion are what players seek, a developer like Square Enix could really have done well in terms of this and a first or third-person perspective would be appreciated.
Traverse and complete missions from locations across the Just Cause universe
That being said, there's a lot that players can do. They can fight enemies, blow up walls, buildings, and a lot of other stuff, and even drive around tanks or pilot helicopters. Players can play alongside their friends in squads of up to four players or against other players in multiplayer lobbies with up to thirty players as the game has the option to play in Co-Op and PvP modes.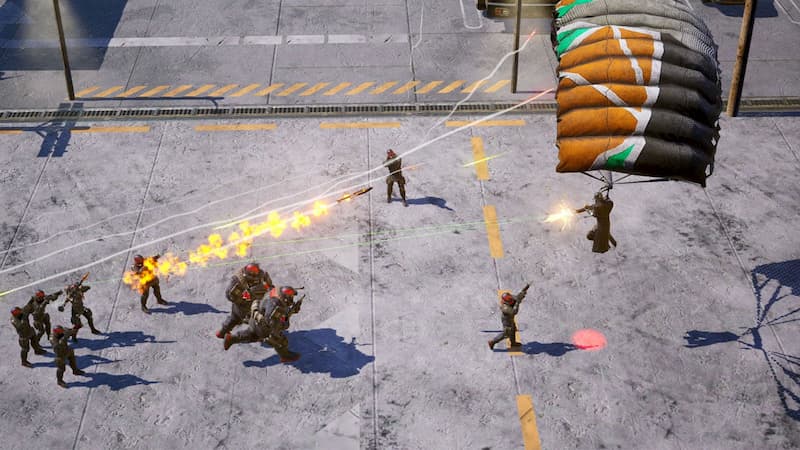 There's a bunch of challenges as well that players can complete. Although the game isn't complete yet and there's only so much content for players to explore. One of the things that people who've played other Just Cause games might notice though is that customizable characters have replaced characters from other games.
However, they'll probably add in those characters in the future. Overall the gameplay is enjoyable with a lot of stuff to do. And once Square Enix starts pushing out more content or drops the full game globally, it'll likely get better.
Enhanced visuals and simple controls make the game all the more explosive
Graphically, the game looks pretty nice. There's a lot of visual details that make explosions and other actions look a lot better. The audio is what is to be expected and pretty standard. Nothing better or worse. However, there were a few glitches here and there. Controls and UI are also pretty standard here. The controls do a good job of not being clunky but the UI is a little clunky and fills up your screen. Making the overall experience look cleaner could definitely help the game in that aspect.
Ads and IAPs are absent from the Just Cause Mobile universe (for now)
Just Cause Mobile does not have advertisements that are pretty good and expected from a game of its magnitude. For now, the game is still in its infancy so there aren't really any IAPs but once it releases globally, players will be able to purchase stuff in-game with real money. Hopefully, the game would be free-to-play friendly.
Final Verdict
Overall, if players can get past the viewing angles which aren't the best, they'll have a good time with the game. It's not the best game that's come out recently but it can be an enjoyable experience. There were a few issues however with some things not loading in or rendering properly but since the game is still not completely finished, that's probably going to get fixed up.
It's important to say here that although some players feel that the game could do a lot better and lacks in major gameplay elements, Square Enix might be working on making it better and up to par with some of the other Just Cause titles
Really the only subjective change that a lot of people would prefer is the viewing angle. However, it's not uncommon for developers to make a bunch of changes to their game while porting them to mobile that makes them look and feel different from previous versions. Epic Games and Psyonix did that when they recently released Rocket League Sideswipe which actually was received pretty well by people. How well Just Cause: Mobile does remain to be seen.
Just Cause Mobile review by Gamingonphone
Gameplay Mechanics - 6
Storyline - 8
Gamemodes - 7
Graphics and Music - 7
Controls and UI - 7
7
Average
Just Cause Mobile is not the best game that's come out recently but it can be an enjoyable experience. If players can get past the viewing angles which aren't the best, they'll have a good time with the game.
What are your opinions on the Just Cause Mobile game and your review of it? Do let us know in the comments!
For more Mobile Gaming news and updates, join our WhatsApp group, Telegram Group, or Discord server. Also, follow us on Google News, Instagram, and Twitter for quick updates.