One of the biggest announcements during The Game Awards 2020 was made by Square Enix with the news of Just Cause: Mobile release. One of the most sought game series in the Action–Adventure genre, the mobile version will come as a free to play action-shooter set in the explosive Just Cause universe, designed exclusively for mobile platforms. Square Enix will globally publish the game with cooperative development projects across Europe, America, and Japan. Just Cause: Mobile will release on Android and iOS in 2021.
---
About Just Cause
Just Cause: Mobile is a free-to-play action shooter set in the Just Cause universe featuring explosive single-player and multiplayer co-op and PVP gameplay. It will come as a brand new story for mobile, told from a different point of view with reimagined gameplay created specifically for mobile.
Although the narrative ties in the main franchise installments, Just Cause: Mobile is not intended as a direct sequel to Just Cause 4, confirmed by the makers. Also, the game will have high-quality 3D graphics powered by Unreal Engine 4. For those who are new to the Just Cause universe, die-hard action fans of the game couldn't stop explaining the diverse gaming experience it offered. Just Cause was first launched in 2006 for PC and Console, and as of now, it has a total of four games in the series. The recent game in the series was in 2018, with the Just Cause 4 release. As of now, the game series had around 20 million copies sold worldwide.
---
What will Just Cause: Mobile offer?
Expanding the series' universe, Just Cause: Mobile aims to deliver the explosive action of the popular Just Cause franchise on your mobile screen in action-packed single-player and multiplayer experiences, offering amazing customization option, thrilling on-the-go grappling, the thrill of gliding, and over the top shooting experience, all presented through exhilarating top-down gameplay.
Gameplay overview
Players can team up with friends online and complete the competitive multiplayer and co-operative missions. These will help them to get gear and upgrades to help tackle enemies during solo-play. There is also an amazing 'create and customize' option which will help to build your own character for a brand-new single-player story campaign. Here, you will rise through the ranks, form alliances with the series' favorite Just Cause characters, and take on intense missions against the antagonist of the game, Darkwater.
---
Just Cause: Mobile Game modes
Just Cause: Mobile will have four distinct game mode during the time of launch:
Story Campaign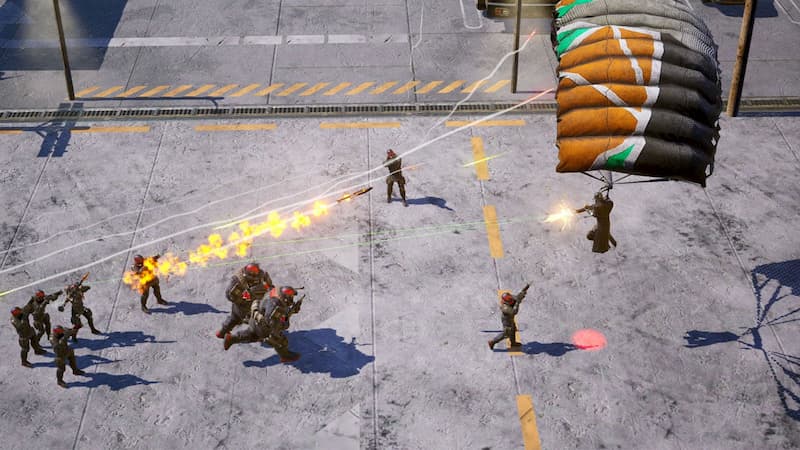 Experience an all-new action-packed story set in the Just Cause universe. It follows similar roots to the original game. Playing the character of whom is a member of the Agency's secret program, Firebrand, you will explore large open-world locations and take on the criminal Darkwater forces and form alliances with well-known characters from past Just Cause series.
Co-op Challenge
Players can team up in a 4-player squad to complete challenging missions which include facing a lot of enemies. Players will have to be ready by choosing the best possible loadout they have, as they try to beat the biggest challenge.
Triple Threat
A 30 person online multiplayer mode that gives you a fast-paced Just Cause action! Three teams of 10 players fight to secure bases and score points as they battle across a sprawling map. They will have to manage the best of the lot by dealing with many weapons & vehicles. Players can also form clans with teammates, which will give them chances to earn big rewards.
Challenge Mode
Challenge Mode will task you with hitting high scores across three distinct challenges. It is ranging from destroying getting the best lap time. Earn extra rewards for your agent by completing the Destruction, Wingsuit, and Race challenges.
---
What are your opinions on the Just Cause: Mobile release? Do let us know in the comment section below!
For more Mobile Gaming news and updates, join our WhatsApp group, Telegram Group, or Discord server. Also, follow us on Instagram, Twitter, and Google News for quick updates.